East Spotlight: Toughest 2024 rankings questions
Who will challenge Jadyn Davis and Michael Van Buren at the top of the East quarterback rankings?
Five-star Jadyn Davis still looks like the top-ranked quarterback in the region, followed by Michael Van Buren. Davis and Van Buren posted impressive junior campaigns and seem to have secured their hold on the top two spots in the East quarterback rankings, but there are a couple other prospects who could challenge them down the road.
Connecticut natives Dante Reno, a South Carolina commit, and Ryan Puglisi, a Georgia commit, have some really impressive traits and we're eager to see their development this spring. Their junior seasons had plenty of high points, but there were some low points as well.
A couple other names that the national audience may not be too familiar with are Samaj Jones and Khristian Martin. Jones plays for powerhouse St. Joe's Prep in Philadelphia and, ironically, he has a similar style to Jalen Hurts. He has a big arm, impressive downfield passing abilities and knows when to use his legs to pick up chunks of yards or just buy time.
Martin is a big quarterback who knows how to deliver the ball on time and throws a very accurate deep ball. They have a chance to really raise their stock in the eyes of college coaches once they see them throw in person in the spring.
*****
Will Jordan Seaton remain the top-ranked offensive lineman in the Rivals250?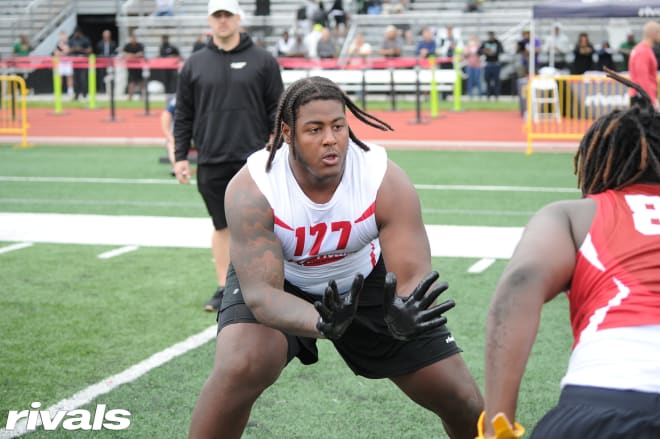 There isn't an offensive lineman ranked higher than Jordan Seaton in the Rivals250, but that could change in this rankings update. Currently listed as a guard, Seaton has a versatile skill set that could allow him to play tackle or guard at the next level.
In the East, Kam Pringle, Guerby Lambert and Peter Jones have really high-end abilities that could help them make a move toward the top of the rankings. Seaton, however, had an outstanding junior season and continues to improve physically, making it more likely that he'll see early playing time once he reaches the college level.
For the moment, it would seem unlikely that Seaton gets unseated by any offensive lineman at the top of the rankings, but the spring camp season could rock the boat.
*****
Can Dylan Stewart push for his fifth star?
Dylan Stewart had an outstanding junior season and really showed off his versatile skill set by rushing the quarterback from the outside, displaying improved strength as a run defender on the edge and even playing off-the-ball linebacker on the interior of the defense.
His elite size, strength and speed could make it difficult to see how he could end up anything less than a five-star. Stewart doesn't play amazing competition in Washington D.C., but there are a few games in which he did play Power Five offensive linemen, and he was able to really show how advanced his skill set has become.
Watching him throughout the season, it's clear that he is one of the best defensive linemen in this class, but is it only a matter of time before he lands among the five-stars? We'll have to see how this rankings update goes before we enter the spring camp season.
*****
Which defensive ends should come next after Stewart?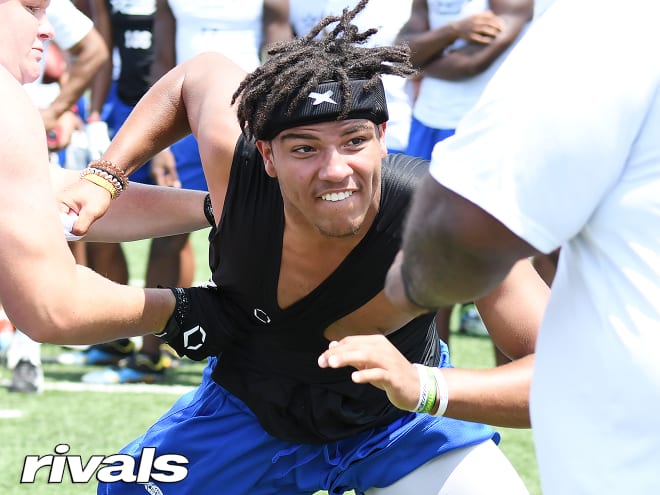 With Stewart setting the pace for defensive linemen in the East, it could be easy to look past some of the other really talented prospects, but there are a few other defensive linemen that deserve recognition and will end up highly ranked prospects.
At weakside defensive end, Jacob Smith, Mylachi Williams and Obinna Onwuka look like potential impact players at the college level. Smith has been on the scene for a long time and had a really impressive offer sheet coming into the season. Williams has continued to pick up major offers over the last few weeks, with his most recent Power Five offer coming from Notre Dame. Onwuka gained valuable experience playing on the same defensive line as Desmond Umeozulu last season, and his high-end abilities have garnered him plenty of college offers at this point.
At strongside defensive end, two names have risen to the top. Darien Mayo out of Good Counsel High School in Maryland has really impressive size and has become one of the more technically sound defensive ends in the region. In Connecticut, Benedict Umeh has garnered a lot of attention for his explosive play along the defensive front and it will be interesting to see how his evaluation changes throughout the spring.
In North Carolina, Amaris Williams has gotten a lot of attention because of his versatile skill set. He can play all over the defensive front, including at linebacker, and can even be seen taking handoffs as a running back or catching passes as a tight end on his junior film. Many college coaches can't wait to get a better look at him during the spring.
Jerod Smith, like his brother, Jacob, has been a well-known prospect for a long time and his continued physical development has been a major talking point. Deshon Dodson out of Philadelphia and DD Holmes out of Washington D.C., have also been on the radar for a long time and continue to see serious college interest.
A new and intriguing name for college coaches to track is Devon Baxter out of Gwynn Park High School in Maryland. At 6-foot-7, 230-pounds, Baxter's junior film shows him making plays against the run and the pass from his defensive end position, but he also lines up as a tight end and receiver, showing off his impressive athleticism for his size.
*****
Where are the high-end offensive skill players in the East region?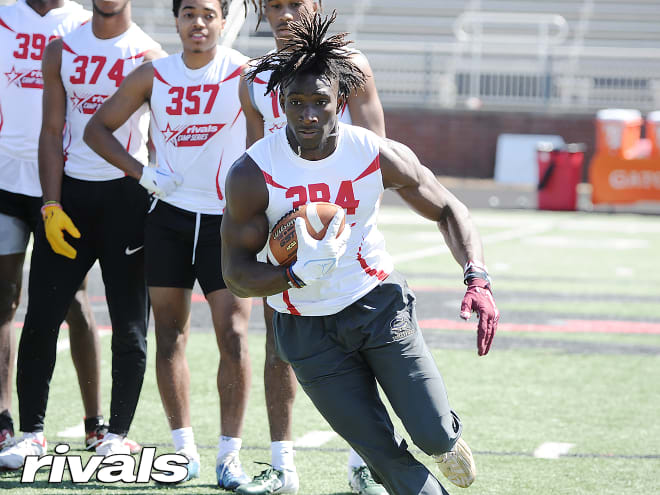 The highest-profile non-quarterback offensive skill players in the East thus far have been running back Quinton Martin and receivers Tyseer Denmark and Jonathan Paylor. These players have a chance to remain some of the highest-ranked prospects in the class but, at this point, it doesn't seem like there are many other players who could challenge their positions near the top of the rankings.
Running backs Dilin Jones and DeJuan Williams have proven to be very solid prospects so far. There are a handful of receivers who look more like middle-of-the-pack four-star prospects, and tight end Jack Larsen (a four-star committed to Notre Dame) is very solid but his ceiling is limited.
Will there be another offensive skill position prospect who elevates himself throughout the spring?