Duke's David Cutcliffe Sees Brian Kelly As Offensive 'Innovator'
Don't let Duke's 4-4 record fool you, it will be a tough out for Notre Dame.
This should be apparent by the fact that the Fighting Irish are just a 6.5-point favorite on the road against the Blue Devils. For comparison's sake, they opened as 17.5-point favorites against Virginia Tech.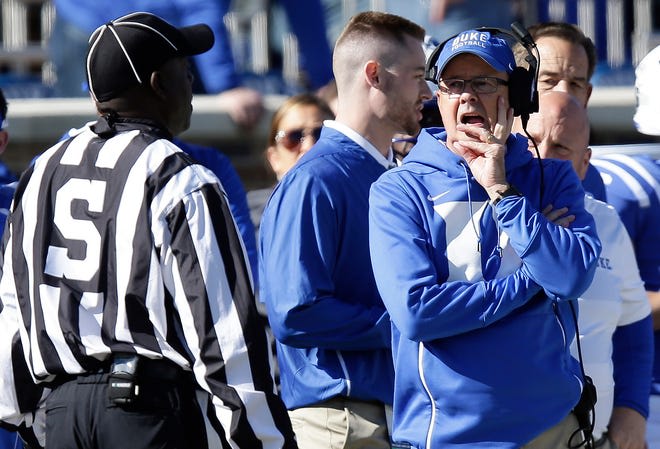 That didn't stop Duke head coach David Cutcliffe from being overly complimentary of Brian Kelly, referring to him as an offensive pioneer.
"Why is Notre Dame good?" Cutcliffe asked. "They are really big and powerful, but at the same time have a lot of people that can run. They're explosively fast, they're skilled on offense, they're skilled in the secondary, their linebackers are extremely aggressive, and Brian Kelly has been one of the better innovators in college football on offense for a long time now.
"I've always watched what he does. And I think he's very much an innovator."
Of course, Kelly relinquished his play-calling duties after the disastrous 2016 season and that responsibility now falls on offensive coordinator Chip Long.
Cutcliffe also praised the work of the Irish defensive staff.
"Coach [Clark] Lea, has got a great pedigree, Coach [Mike] Elston has been there a while … so they're consistent, they're good and solid at every little thing they do," the Duke head coach said. "It'll be a huge challenge, but we're thrilled to have them here."
Duke Must Generate A Pass Rush
After Irish senior wide receiver Chase Claypool had amassed 118 yards against Virginia Tech, Cutcliffe was asked how he planned to stop him and the other Irish pass catchers.
"You have to find some way to generate some pass rush," Cutcliffe said. "You got to make the quarterback uncomfortable about holding the ball."
Unlike its previous seasons, this is something the Blue Devils can accomplish with just their defensive line. Through games played Nov. 2, Notre Dame and Duke are tied for 35th in the country in total sacks with 21. The Blue Devils' defensive line is led by junior end Victor Dimukeje, who has 6.5 sacks on the season.
"Secondly, we've got to mix coverages," Cutcliffe said. "We've got to put ourselves in good positions to avoid giving up explosive plays. One of the best ways to do it is for our offense to stay on the field and make a few explosives of their own."
This also may not seem like a surprising strategy, but again, Duke has the personnel to effectively manage this strategy and Duke ranks in the top 40 in pass efficiency defense.
But overall, the defense is even more stout than that. ESPN has them ranked No. 16 overall in team efficiency defense, just five spots behind Notre Dame.
Irish Tradition Doesn't Come Through On 'Social Media'
Cutcliffe was also asked how his team will be impacted by playing a team with the history and tradition Notre Dame has. His answer is probably not much.
"They do realize just the practicality of how good they are," Cutcliffe said. "They're a team that was in the College Football Playoff a year ago for a reason. Basically, they have a lot of the same team back when they look at film.
"I don't think you have to put them on a pedestal, but I do think that you have to face a reality."
Part of this is because Notre Dame has not won a national championship within the lifetime of any of the Duke players. He also points out his players spend more time on platforms such as Instagram and Twitter, as opposed to reading up on college football history.
"They don't remember what we remember," Cutcliffe said. "The Notre Dame football tradition is as rich and deep, if not deeper than any in all of college football.
"But that's not on social media, so they don't know about that."