David Rivers: Notre Dame Received Its Money's Worth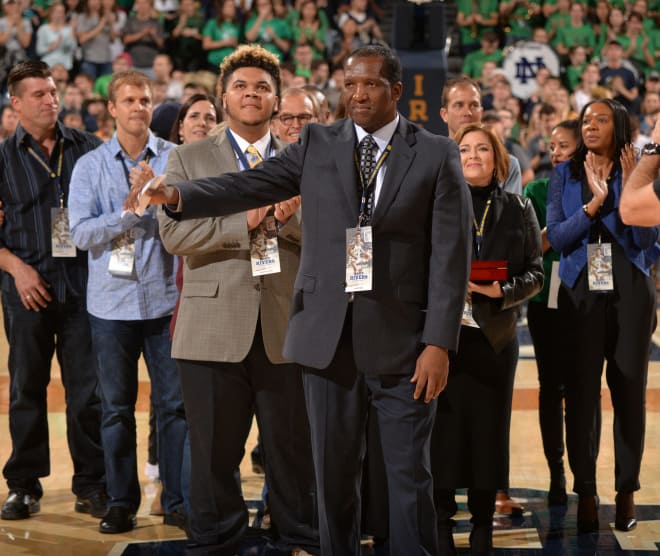 Don't miss out on any of our exclusive football, basketball and recruiting coverage. Click here to get your 30-day free trial!
Measuring 1984-88 Notre Dame point guard David Rivers by mere numbers on the basketball court would be an injustice.
Yes, he became the first Fighting Irish player to lead Notre Dame in scoring four straight years while averaging at least 15 points per contest each season (still the only one to achieve the feat). He also paced the team in assists and steals all four seasons.
Of greater relevance, he elevated the program back into top-15 status after fortunes had slipped in the three seasons from 1981-84 when the Fighting Irish missed the NCAA Tournament each year while posting a 50-39 mark — notably 3-14 against ranked teams. In the second half of 1983-84, head coach Digger Phelps even had to call on 5-9 starting football wideout Joe "Small Wonder" Howard to take over as the point guard at the start of January.
Howard did a laudable job while keeping the seat warm for Jersey City, N.J., native Rivers, who above all would embody Notre Dame's sprit of perseverance, charity and goodness.
That's why this Saturday during halftime of the 84-66 victory versus Syracuse, Rivers became the fifth men's player inducted into Notre Dame's Ring of Honor, joining Tom Hawkins (1956-59), Austin Carr (1968-71), Adrian Dantley (1973-76) and Luke Harangody (2006-10).
Before he was even a high school freshman, Rivers was a folk hero on the playgrounds of Jersey City, which would allow him to enroll at prep superpower St. Anthony's, coached by Bob Hurley Sr.
"My sights were on the NBA," Rivers said. "… That was the means to the end to help me take care of my parents. We were nine girls, six boys, living in the projects. We were struggling economically, so that was my motivation.
"I knew education was important, but when I was out there on the playgrounds, dreaming, visualizing and imagining success, it was I would be able to take care of my family, my parents."
When he was 9 years old, witinh a span of two months Rivers saw one brother, 19-year-old Willie, die from a stabbing, while another, 20-year-old Joseph, was killed by a speeding truck. (Later in Rivers' NBA rookie year, another brother, Jermaine, died from a brain tumor.)
St. Anthony's became both a basketball and life haven, just as Notre Dame would.
"I knew very little about college basketball," Rivers said about beginning his freshman year in high school. "At St. Anthony's as a freshman I was getting letters from every institution on the planet — but I didn't see any of them until end of my junior year. [St. Anthony's] didn't look at David Rivers the basketball player.
"It was all about preparing me academically. … Coach Hurley, we sat down and developed criteria on which to evaluate the schools. Academics were No. 1 because my parents wanted me to graduate from college."
Rivers developed an instant love for Phelps that was predicated in great part on life beyond basketball.
In the fourth game of his college career, Rivers scored 23 points and handed out five assists during a 74-63 upset of Bob Knight's No. 11 Indiana Hoosiers led by Steve Alford. A month later, Rivers would drive the length of the court and convert a short jumper as time elapsed to win 63-62 at Marquette, and he would guide the Irish to their first NCAA Tournament appearance, and win, in four years.
A year later, the Irish finished No. 10 in the final regular-season Associated Press poll with a 23-5 ledger before being stunned as the No. 3 seed by Arkansas Little-Rock in the NCAA Tournament.
With the graduation of seniors Ken Barlow, Tim Kempton and Jim Dolan, Rivers' junior year was projected as a rebuilding campaign. And then on Aug. 24, 1986, while coming back from work, Rivers was thrown through the windshield of a car driven by Barlow, whose quick actions helped save Rivers' life. A 15-inch gash to his abdomen came within an inch of ending Rivers life, per doctors, and he lost three pints of blood.
"I'm thankful for that experience because it validated the many lessons that my parents taught me," Rivers said. "The first lesson that they taught me was to love God through Christ. On that night, August 24, 1986, laying upside down in the ditch, holding my intestines in my left hand, I was disappointed. I'm talking like I'm talking to you now, and the biggest thing was, 'Man, I'm going like this?'
"I didn't get to say goodbye to my teammates, my family. That was my thought process. It just validated my faith in being able to absorb that experience and be committed to my dream."
He nixed the idea of taking a medical redshirt, and he also shot down the uUniversity when it sought a special waiver from the NCAA that would allow him to take less than the mandatory 12-hour class load to be a full-time student.
"Redshirting was not a part of my four-year plan at Notre Dame, and I wasn't going to have any talk of that," said Rivers, who engaged in dedicated and intense rehabilitation.
Unbelievably, he entered as a sub Nov. 16 in Notre Dame's opener versus Western Kentucky, an 80-63 loss that began an 0-2 start and what was expected to be a major rebuild for the Irish.
Instead, from Feb. 1-25, Rivers led upsets of No. 1 North Carolina (60-58), No. 15 Duke in overtime (70-66) and No. 4 DePaul (73-62) en route to an 11-game winning streak and advancement to the Sweet 16 when he converted four first-half threes and then the game-winning free throws in the final minute of a 58-57 win over No. 19 TCU. It would be Notre Dame's last Sweet 16 appearance until 16 years later.
Rivers' senior year included a win over that year's national champ, Kansas, and he finished his Irish career 88-32 (.733).
Rivers said his greatest memories of Notre Dame are often more about the student body, faculty and 1952-87 school president Rev. Theodore Hesburgh than the games.
"I guess some people find it rare that the first thing you want to talk about is maybe the student body and the faculty," Rivers said. "Coming from Jersey City to a place like this, it's quite shocking."
His fondness for Phelps also remains, even though he's heard the same stories hundreds of times, including the epic 1974 upset of UCLA.
"He's played a tremendous role in the man that I am today because of this Notre Dame experience," said Rivers of Phelps, who refers to him as the greatest player he coached in his 20 years at Notre Dame (1971-91). "He embodies this place. He keeps the tradition and family alive, and I love him for that."
Above all, he wants his legacy to be about all-out commitment.
"I did the things I was able to do because I was dedicated, I was devoted, I was committed to persevering through anything," said Rivers, a father of three (including son Sebastian at nearby Holy Cross College) who turned 52 on Friday. "The success came because of the way I practiced. The games were the easiest part.
"I was always conscious of people paying money to come see me play. That resonated with me, especially coming from the background I came from. It's just the desire to win, compete and be the best and overcome any obstacle."
A first-round pick (25th overall) of the Los Angeles Lakers in 1988, Rivers played only three years in the NBA before embarking on a sensational career in Europe that included stops in France, Greece, Italy and Turkey through 2001. In 1997, he was named Euroleague Final Four MVP after being instrumental in Olympiacos triumph. He is remembered as a legend by Olympiacos fans.
Today, his involvement includes his work around the world through his sports and education camps with eGlobal Nexus, which markets and promotes academic curriculum in 3-D to elementary schools, high schools, universities and even private corporations.
He also is in Europe frequently working with the American International Players Association for Americans who are competing abroad. It educates in business, and encourages entrepreneurship, what it means to own and operate a business, work through government applications, speak the language.
"They all involve education, they all involve post career activities, technology," Rivers said. "It's indicative of my experience here at Notre Dame and what it's prepared me for.
"I don't think I could have gone anywhere else and been prepared for the path that my life's journey took. Being at Notre Dame and being in the midst of a truly international, diverse student body and just the academic approach and the values. … All of that embodied the road that I traveled, and it prepared me."
Notre Dame received more than its money's worth from Rivers.
----
• Talk about it inside Rockne's Roundtable
• Subscribe to our podcast on iTunes
• Learn more about our print and digital publication, Blue & Gold Illustrated.
• Follow us on Twitter: @BGINews, @BGI_LouSomogyi, @BGI_CoachD,
@BGI_MattJones, @BGI_DMcKinney and @BGI_CoreyBodden.
• Like us on Facebook