Cormac Ryan Commits To Notre Dame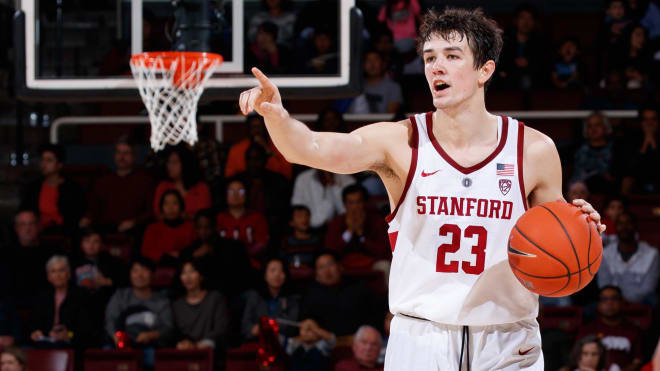 The Notre Dame men's basketball recruiting drought is over.
Per Jeff Goodman of @GoodmanHoops, who broke the news on Twitter, former Stanford 6-5, 190-pound guard Cormac Ryan will transfer to Notre Dame this August to use his final three years of eligibility. Notre Dame did not sign a prospect in the 2019 cycle after inking five in 2018, and Ryan is the first since then.
Goodman took his official visit to Notre Dame this past Monday and Tuesday (June 24-25). Now a sophomore, Ryan originally chose the Cardinal over the Fighting Irish, Michigan, Northwestern, Villanova and Yale in the 2018 recruiting cycle.
Both of Ryan's parents, Michael and Rosemary, graduated from Yale, where brother Thomas also graduated this spring after playing for the Elis as a guard. Yale, which has been to two of the last four NCAA Tournaments, lost to LSU in the first round this year.
During his senior year at Milton Academy in Massachusetts — where 2015-18 Notre Dame kicker and the school's all-time leading scorer Justin Yoon also graduated — Ryan was a consensus four-star prospect who was ranked No. 79 nationally by Rivals. Current Notre Dame sophomores Nate Laszewski at forward (No. 56), and guards Robby Carmody (No. 91), Prentiss Hubb (No. 99) and Dane Goodwin (No. 110) also were ranked among the outlet's top 150 prospects.

Although slowed by injuries most of his freshman year at Stanford, Ryan started the opener and 17 of the 24 games he appeared in for the 15-16 team that was 8-10 in the league. His 28.5 minutes per game were the third most on the squad while averaging 8.7 points, 3.5 rebounds, 1.9 assists and 1.0 steals per contest.

Like the other Irish freshman, Ryan had his share of shooting woes in his transition to college basketball, converting 33 percent from the field and 31.6 percent from three-point range — although he led Stanford in both three-point attempts (155) and conversions (48). Per Sports Reference, Cormac finished with an offensive efficiency rating of 96.9 and a defensive efficiency of 102.3 against the D-1 average of 104.
Blueandgold.com has learned he will not be seeking a waiver from the NCAA to be immediately eligible in 2019-20 season.
A main selling point on Notre Dame's end is the playing time available right away in the 2020-21 backcourt because fifth-year senior Rex Pflueger and senior T.J. Gibbs are entering their final seasons of eligibility. Plus, head coach Mike Brey believes it is imperative this season to continue the development of Hubb, Goodwin and Carmody, medically redshirted last year, while Ryan bides his time.
While most schools recruited Ryan as a combo guard, part of the attraction to Stanford was working at the point position. Notre Dame recruited him to help at both.