{{ timeAgo('2023-03-03 14:43:52 -0600') }}
football
Edit
Confident Michael Mayer isn't putting on a front at NFL Combine
INDIANAPOLIS — Only during the silly season comprised by the months leading into an NFL Draft can an observation that seems so painfully obvious to anyone remotely familiar with a draft prospect be treated as a morsel of inside information.
"A couple players receiving rave reviews for interviews with teams- Tyree Wilson & Michael Mayer," NFL Network's Daniel Jeremiah tweeted Wednesday afternoon. "I've heard both of those names come up multiple times. Polished pros."
That Mayer, Notre Dame's consensus All-America tight end, would impress NFL teams in interview settings is about as surprising as a recruit being impressed by Irish head coach Marcus Freeman on a campus visit. Yes, Mayer set virtually every Notre Dame receiving record for tight ends during his three seasons with the Irish, but he also established a reputation as a great teammate, a fervent leader and a compelling interview subject.
"I'm going in there and being myself," Mayer said Friday during his NFL Scouting Combine media session in Indianapolis when asked what he's done to impress in team interviews. "I'm intense about the game of football. I love the game of football. For me, it's going in there and not trying to be any fake person, not trying to be anybody else.
"Explaining how I play the game of football, how I attack the game of football, how I prepare for the game of football, things like that. It's all been about being myself and showing these coaches, showing these scouts how much I love football and how I prepare for the game of football."
SUBSCRIBE TO INSIDE ND SPORTS TO STAY IN THE KNOW ON NOTRE DAME ATHLETICS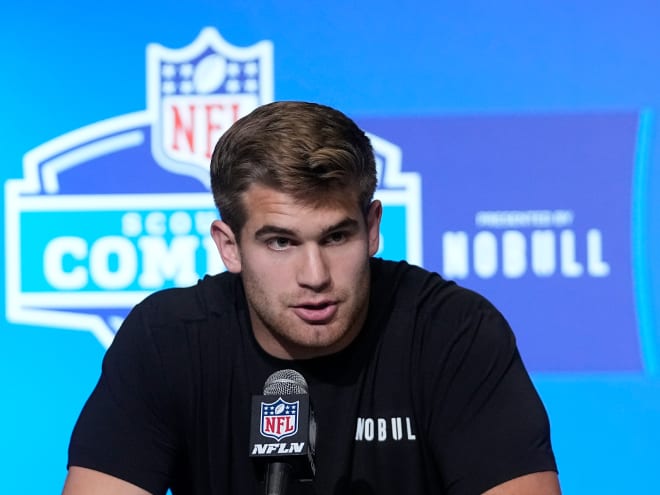 The 6-foot-4, 265-pound Mayer tackles questions with the same intensity he brings onto the football field.
"I just tell people it's how I was born," Mayer said. "Because it kind of was how I was born. I just grew up like this. My intensity about sports — I played a lot of basketball growing up. My intensity and a little bit, you could say, controlled anger, controlled madness about the game of football.
"I don't try to change for anybody. I attack the game of football like I do anything else in life. I had a great two parents that raised me. Learned about respect, dignity and things like that. I've been taking life things and taking football things and combining them these past four or five years. It's been working out well for me."
So ask Mayer what about his game is underrated, and you should know what answer is coming.
"I don't think any part of my game is," Mayer said.
What about the narrative that he might not have the athleticism that would warrant a first-round selection for a tight end?
"I'm not worried about that," Mayer said. "These teams know how I play football. They know I can play football. I know I can play football. I know what I can do. These teams know what I can do. I'm not worried about what anybody's saying on the outside at all."
Spoken like a guy who was snubbed by the John Mackey Award by not being named a finalist in 2021 and not winning the award for college football's best tight end in 2022 and took it all in stride.
Saturday's tight end workouts will give Mayer another opportunity to prove how well-rounded he is as at the position. Just in case his 180 receptions, 2,099 receiving yards, 18 receiving touchdowns and numerous key blocks in three seasons at Notre Dame weren't enough evidence.
"I can do anything any team asks me to do," Mayer said. "I can be in the backfield, and I can block. I can be a fullback and block. I can be at the end. I can be out by the numbers. I can be in the slot and run routes. I can do it all, and that's really how I feel. I think there's a lot of teams here that believe the same thing."
For all the growth Mayer made as a blocker during his Notre Dame career, it's hard to deny that his receiving ability is the most notable aspect of his game.
"I can block anybody you need me to block. But I feel like my red zone, my third down, I can really go up and get the ball," Mayer said. "I can make contested catches. I can really route people up. I can have that connection with that quarterback also. He knows where I'm going to be, how I'm going to run my route, and I know where that quarterback's going to be putting that ball."
In recent weeks, some draft analysts have started giving voice to the idea that Mayer isn't the top tight end in this year's draft class, though Mayer has long been considered the top prospect. That could be a product of Mayer fatigue given how long he's been the consensus top tight end for the 2023 draft class. Or maybe there are some legs to that idea coming from NFL personnel. It can't be ruled out as a smokescreen either.
Regardless, Mayer doesn't feel pressure whether he's considered the top tight end or not.
"All I'm trying to do here is play my best ball, show these teams my personality and how intense I am about the game of football," Mayer said. "There's no pressure to this. It's coming out here, playing my best ball, being the best person I can be just like I've done the last three years at ND and just keep doing that."
Reporters surrounding Mayer's podium Friday asked about the specific teams he's met with throughout the week. Some were about teams with a clear need for a tight end like the Cincinnati Bengals and the Green Bay Packers. Others teams were a bit more curious like the Carolina Panthers, Buffalo Bills and Chicago Bears. Both the Panthers and Bears already have former Notre Dame tight ends — Tommy Tremble and Cole Kmet, respectively — on their rosters from recent drafts.
Mayer reached out to Tremble, who he played with in 2020, for pre-draft process advice.
"I talked to him a little bit, FaceTimed with him a little bit," Mayer said, "just asking general questions like, 'Look, how were the meetings? How were the formal and informal meetings? What did you kind of do to prepare?' Things like that. He helped me out tremendously. That's my guy, and I can text him whenever I want."
Former 2020 teammate and Detroit Lions tight end Brock Wright also gave Mayer some advice. Mayer looks forward to passing on his own knowledge in the future.
"What the University of Notre Dame is about is guys like that helping out," Mayer said. "When I get to the league, anybody on that team can call me — they know that — and I'm going to help them out too. That's what Notre Dame's about."
The last time a Notre Dame tight end was selected in the first round, the Cincinnati Bengals selected Tyler Eifert with the No. 21 overall pick in the 2013 draft. Maybe the Bengals will look to the Irish again for Mayer, who grew up in Kentucky less than 30 minutes from Cincinnati cheering for the team in the era of Chad Johnson and T.J. Houshmandzadeh.
"I remember thinking they look like they're having fun out there," Mayer said. "That's what I'm going to do. I'm going to try to go out there, play the best football I can and have some fun doing it."
All while being a polished pro.