{{ timeAgo('2023-03-07 17:07:56 -0600') }}
football
Edit
Cave can relate to coming adjustments for Notre Dame's offensive line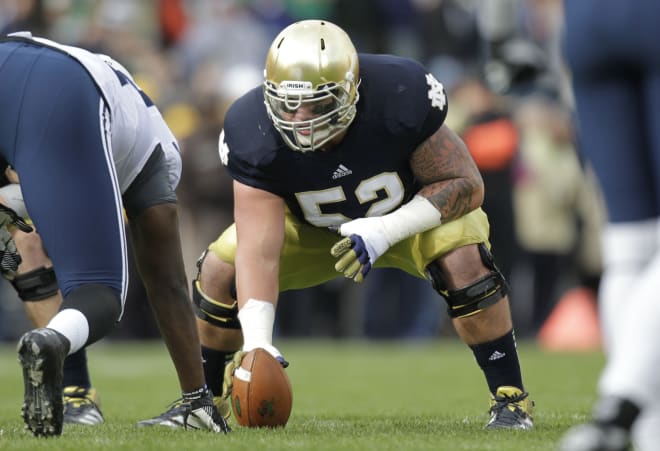 More than a decade after Braxston Cave's college football career ended with third-team All-America honors, the former Notre Dame center still gets intermittent unsolicited critiques.
"They're from Harry Hiestand," Cave said Tuesday, now living in the corporate world and helping to raise his three children, ages 6, 3 and 1.
"Every now and then he'll shoot me some old game film that he'll be watching, and he'll have comments on my technique. So, we get a good laugh out of that. We text back and forth quite a bit. He's still coaching me."
And yet heading into Cave's fifth and final season at Notre Dame back in 2012, Hiestand initially represented culture shock. A new offensive line coach, with a new way of doing things and a new way of getting his point across. Way new.
It's a similar process to what Notre Dame's current crop of offensive linemen will start undergoing on March 22, when the Irish open with their first of 15 spring practices with a new leader of their position group, Joe Rudolph.
They'll also have a new grad assistant in Rob Delaney, after ND had former Irish standout guard Chris Watt in that role last season. Watt had exhausted the NCAA max of grad assistant years after the 2022 season but had initially agreed to stay on staff as an analyst.
But the Indianapolis Colts hired Watt over the weekend to be an assistant offensive line coach to Tony Sparano Jr., a move made official on Tuesday.
The 50-year-old Rudolph, meanwhile, also had his new role officially recognized Tuesday a little more than a week after landing the job. He replaces the retired Hiestand after a one-year second tour of duty at Notre Dame.
"We are excited to add offensive line coach Joe Rudolph to our staff," head football coach Marcus Freeman said Tuesday via prepared statement. "He has a proven track record of developing elite college football players, many of whom have gone on to also experience great success in the NFL. We look forward to Joe having a similar impact in our program."
Rudolph, though, will be notably junior All-America left tackle Joe Alt's third different offensive line voice in three years.
Cave's got him — and a big chunk of the Irish O-line roster — beat, with four O-line coaches in five years. John Latina (2008) was replaced by Frank Verducci in 2009, who was replaced by Ed Warinner in 2010, when Brian Kelly took over as head coach from Charlie Weis. Then came Hiestand in 2012.
The now 64-year-old coached Cave during his initial season of a six-year run at ND that ended with the Joe Moore Award — for nation's best offensive line — at the end of the 2017 season.
"Harry ended up being the biggest adjustment of all those I had to make," Cave said. "He just really had a tenacious way of going about it. He was a technician. We drilled more with Harry than we had ever drilled in our entire lives. And it was exactly what we needed at that time."
Rudolph, like Hiestand, is old school. He also pushes the technique like Hiestand, yet brings his own personality and history to the position, most recently from Virginia Tech (2022) but most successfully during his run at alma mater Wisconsin (2015-21).
Both produced All-Americans and NFL draft choices with remarkable regularity.
"The current players have a real solid foundation to build upon," Cave said. "But every O-line coach has their niche of drills and words and handwork and footwork and different ways of going about trying to bring the best out of you.
"There's some good and some bad to that. The bad is having to kind of start all over again. But that's also part of the good. If you're going to play in the NFL, you're going to have to get used to different O-line coaches and different philosophies. So this gives you a head start on that.
"What I tried to do is pick the best pieces of those different philosophies and use those that complemented my skills the best."
Sometimes there's depth chart upheaval. Sometimes not.
"It might give an opportunity for young guys to move up or guys whose talent may been hidden to have a fresh set of eyes on them," Cave said. "Maybe that may not seem fair to the guys who have been playing.
"The way I look at it is your position is never set in stone. If you're playing big-time football at school like Notre Dame, you've got to go out and earn it every day."
Cave earns his way these days as senior vice president of operations and administration for Lippert Components Inc., back in the South Bend area after bouncing around a few NFL rosters trying to gain traction for a pro football career.
He said his 6-year-old daughter loves everything Notre Dame, including football. And as far as his 1-year-old son, it's too soon to tell.
"Now, my 3-year-old son, Copeland, you can already tell he has that 'it' factor," Cave said. "He's very advanced for a 3-year-old and is big, as you can imagine. And he has kind of got things figured out. It'll be fun to keep an eye on him to see how this turns out."