Brianna Turner, Notre Dame Women's Basketball On The Mend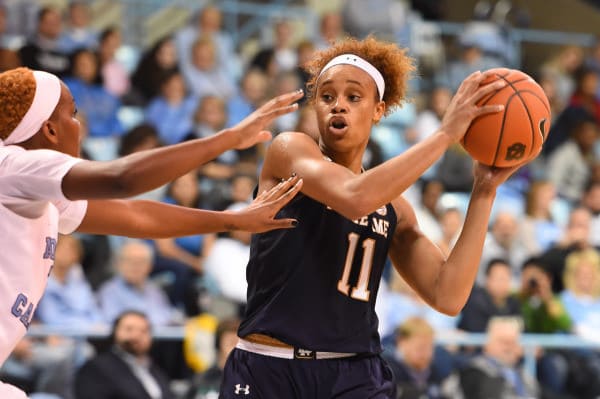 Don't miss out on any of our exclusive football, basketball and recruiting coverage. Click here to get your 30-day free trial!
Twenty years ago while leading the Notre Dame women's basketball to its first Final Four, head coach Muffet McGraw had seven scholarship players available during that dramatic run in the tournament.
The situation became so dire toward the end that she had student manager Christy Grady suit up and appear in four games (while still performing the managerial duties).
Just having seven able to practice this summer might have been a relief for McGraw this year, too.
• Seniors Kathryn Westbeld and Mychal Johnson both will be sidelined through August after undergoing surgery this spring and given four months apiece of convalescence.
Westbeld underwent ankle surgery to repair some tendons, and McGraw is still amazed how the 6-2 starting forward played most of the second half of last season at about "60 percent" strength.
A bad shoulder and sprained ankle forced Johnson to sit out 10 games during the conference stretch last year, but shoulder surgery eventually was performed following the season.
There have been no setbacks in their recovery, leaving McGraw cautiously optimistic. For now, Westbeld can shoot without jumping and Johnson is involved mainly in stationary handling of the ball.
"They haven't been cleared yet, so that's usually when the setbacks come, once you start doing more," McGraw said. "The timetable for recovery was going to be four months."
• Junior guard Marina Mabrey, who led last year's ACC champs and 33-4 team in threes made (75), was second in assists (92) and third in scoring (14.6 points per game) was injured just prior to summer school.
"She's been out all summer," McGraw lamented. "She had an ankle injury that turned into a bone bruise. It's still bothering her. She had the MRI ... the doctors shut her down for the summer."
Continued rest has been the recommendation.
• Most notably, All-American 6-3 senior forward Brianna Turner's status for the 2017-18 campaign remains unsettled. Turner tore her ACL last March 29 during the second-round victory versus Purdue, requiring surgery on April 12. The Irish advanced to the Elite Eight before falling by one point to Stanford.
"Maybe October we'll know for sure," said McGraw on whether Turner will sit out this season. "It's one of those things where you have to get to a certain point before you decide. We're clearly planning that she won't be ready for the start of the season [in November], so I don't think it will change too much. It would be a bonus if she played."
The Irish head coach has remained consistent in her stance that it's either play at 100 percent or take a medical redshirt for Turner, and she would rather not have her play a half season even if cleared for action in January, because then there's still the matter of basketball stamina, getting back into a rhythm, clearing mental hurdles…
"I don't think that's fair to her," summarized McGraw of Turner playing only part of the season.
Notre Dame has 11 scholarship players this year, but the injury bug that hit the team last season and this summer has McGraw looking at many contingency plans.
"We're probably taking a walk-on this year, which we haven't had in a while," she said.
'Guard'ed Optimism
If Turner is unable to play, the Fighting Irish still likely would be deemed Top 10 timber, but probably not as viable a Final Four contender as they have been throughout this decade — unless 6-4 Nebraska transfer Jessica Shepard is granted an NCAA waiver to play this season.
A top 5 recruit in 2015, Shepard averaged about 18 points and nine rebounds per game the past two years with the Cornhuskers before enrolling at Notre Dame this summer.
Paperwork still needs to be filed and an answer might not be forthcoming for another month. Possibly, both Shepard and Turner could be on the 2018-19 roster, if not 2017-18. Just having one available this year would make the Irish the favorite for a fifth straight ACC crown (and sixth consecutive league title overall when including the Big East) and a bone fide contender for a sixth Final Four berth in eight years.
If neither is available, then the four-guard lineup around Westbeld would feature Mabrey, 2016-17 leading scorer Arike Ogumbowale (15.9 points per game), sophomore Jackie Young and Stanford graduate transfer Lili Thompson, all of whom possess double-digit scoring ability.
This past week Ogunbowale won her fourth international gold medal by helping the United States capture the Four Nations Tournament in Japan, including a team high 17 points in a 107-61 rout of Canada. Thompson started 96 games at Stanford, was named All-Pac 12 twice and was vital to the Cardinal upsetting the Irish in the 2016 NCAA Tournament.
Finally, McGraw believes Young's athletic skills could match any she's coached in her three-plus decades that has landed her in the Naismith Basketball Hall of Fame. While battling some of her own health issues last season, Young, the 2016 Naismith Player of the Year in high school, still averaged 7.3 points and 4.6 rebounds per game as a freshman while playing 21.4 minutes per game.
"She is ready to make the jump because she's capable," McGraw said. "As a freshman, she just deferred too much to the upperclassmen. We need her to play a much bigger role."
Thompson takes over for four-year starter Lindsay Allen at point guard, and then it will be "by committee" after her.
"Right now, Marina, Mychal, Lili all have time [at point guard]," said McGraw, adding that even Young could see spot duty there. "Marina did some last year, so she is the most ready. Mychal has the head of a point guard."
The huge question mark is at the low post if neither Turner nor Shepard can play. The two options there when the Irish aren't playing four guards, with Westbeld in the high post, would be 6-4 graduate student Kristina Nelson and 6-3 freshman Mikayla Vaughn.
Nelson averaged 3.5 points and 2.9 rebounds per game last year in a limited role. Vaughn arrived relatively under the recruiting radar but has made an impression this summer with her work ethic.
"She's a rebounding ... like the Energizer Bunny," McGraw said. "She moves constantly …everybody likes being on her team because she works so hard. She needs some work skill wise. She can rebound, she can block shots, she's smart, pick things up pretty quickly.
"She's built like 'Bri' and can run the floor, but not in her ability to catch and score in the air. That's something we'll work on. Good athlete who I hope can help us defensively and be a presence there."
The other freshman, 6-2 Danielle Patterson, is more of a "stretch 4' player not low post, although she does not possess the shooting prowess of 2016-17 freshman Erin Boley, who transferred to Oregon. McGraw has compared Patterson's skill set to Erica Haney, who averaged 11 points and 5.7 rebounds per game while overshadowed as a junior on the 2001 national champions unit.
"We're hoping she can defend on the perimeter because we have to get better defensively," said McGraw, noting Patterson's range.
Recruiting Update
McGraw and staff have three players verbally committed for 2018: 5-11 combination guard Katlyn Gilbert from Indianapolis, 5-10 guard Abby Prohaska from Ohio, and 6-3 post Danielle Cosgrove from New York.
Gilbert is ranked the nation's No. 16 player overall by Prospects Nation and No. 24 by ESPN Hoopgurlz. Cosgrove is No. 52 overall on the latter.
Although Notre Dame has a verbal from the nation's No. 1 point guard in 2019, Anaya Peoples, McGraw is seeking to add a "true" point to the 2018 class, although Gilbert does play the position on her AAU team.
Slated to visit for the Sept. 2 Temple opener in football is 5-8 Jordan Nixon, who plays at Mary Louis Academy in New York — where freshman Patterson was recruited. Nixon currently is rated the No. 16 player nationally on Prospects Nation and No. 38 on ESPN Hoopgurlz.
With Thompson and Johnson graduating after this year, and sophomore Ali Patberg transferring to Indiana University, Mabrey would be the top option at point guard in 2018 as a senior, unless a freshman such as Gilbert or possibly Nixon could help right away.
Scheduled to be on campus Sept. 30 is 5-11 Arkansas guard Christyn Williams, ranked the No. 1 prospect by Hoopgurlz and No. 3 on Prospects Nation. McGraw said there is room to add at least three more recruits if there is mutual interest.