Brian Kelly Transcript: Notre Dame QB Situation Is 'Day To Day'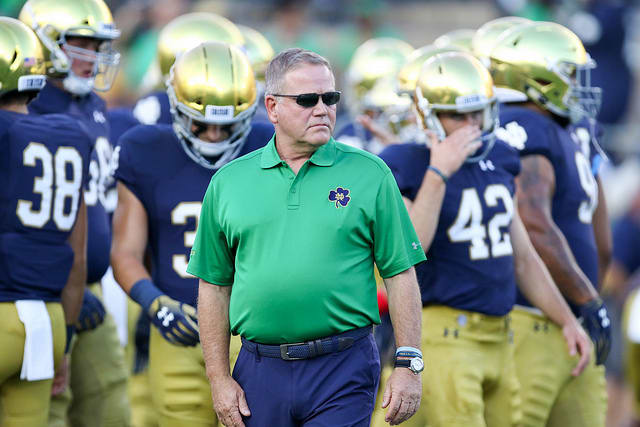 There have been occasions in press conferences where Notre Dame head coach Brian Kelly has been forthright to a fault.

Following Thursday's practice, though, he was as close to the vest as possible when it came to answering questions about whether junior quarterback Ian Book would be available to play Saturday night against Florida State.
Reports throughout the day surfaced that Book would be sidelined with an injury to the ribs/kidney area incurred in last weekend's 31-21 win at Northwestern. How long he would be shelved was uncertain.
Here is the transcript from Kelly's meeting with the media:

Question: What's the status of Ian Book?
Brian Kelly: It's a day-to-day situation right now.
Question: Is it ribs? Is it back?
BK: Upper body.
Question: Has he been practicing this week?
BK: He's been at practice, but he has been limited.
Question: Do you expect Brandon [Wimbush] would start Saturday?
BK: Right now he's gotten the bulk of the work, but we'll see what happens Saturday.
Question: If Phil Jurkovec had to play…
BK: He's gotten a lot of reps. He got a lot of work this week.
Question: How confident are you that he could come in and run your offense?
BK: We can win if Phil has to play. We can win, no doubt.
Question: When did the injury occur?
BK: In the game.
Question: Was it when he got hit in the first quarter?
BK: I'm not exactly sure. I want to say it was in the second quarter, but I'm not exactly sure. I'd have to check.
Question: When did you first realize there was an issue, because it seemed like he was fine throughout the game?
BK: We knew that obviously he was banged up during the game, and in subsequent follow-ups on Sunday that we were going to have to keep an eye on him throughout the week.
Question: How beneficial is it to have a guy like Brandon who has started and won 12 games?
BK: It's awesome. To have a guy like that … Our players really respect [him]. We're excited if he has the opportunity to play. They'll rally around him. He doesn't have to come in, if he has to play, and go win the football game. We've got some other pretty good pieces. We've got a pretty good defense. If he's called upon, he'll do a great job. He's prepared himself.
Question: You mentioned that he's still been engaged in practice. What has his workload been like the last six weeks or so?
BK: A typical backup. Obviously he had to take more work this week.
Question: How much does the offense have to change if you go with Brandon on Saturday night?
BK: The offense just kind of moves more toward — he's a good runner of the football, so you're going to see him run the football a little bit. But you don't change a ton of what we do, other than, 'What has he been successful at?' You maybe [put] a little bit of that into what you're doing. I don't think if you watch us play go, 'Oh, well that's a totally different offense.'
Question: Was there any way for Brandon to improve over the last six weeks to fine-tune some things?
BK: Oh, yeah. Absolutely. Balance. A lot of it was fine-tuning some mechanics and really being just a lot sounder. To throw the ball with accuracy, there is a lot of carryover to so many other sports. You watch pitchers that lose the strike zone, and they come back and make a couple of tweaks in a bullpen session, and all of a sudden they're throwing strikes again. He just needed to make a couple of fine-tune mechanical things, and he's thrown the ball pretty good this week.
Question: The quarterback you've seen in practice is different than the one we saw the first three weeks of the season?
BK: The quarterback that is taking reps for us is a guy that you would say is of championship quality. He's 12-3 for a reason.
Question: Has it helped him to see Ian Book run the offense the way he has?
BK: Yes, and I think just that quickness, delivering it, and moving quickly through progressions, I think that helps when you're looking at it from his perspective.
Question: Was it a regular 60-40 split in reps with the first and second quarterbacks, and what have you seen in Phil that makes you confident?
BK: I don't know if it was always 60-40. It was a little bit mixed up, we had some different reps this week because we had a bunch of quarterbacks going. Phil is, obviously still some learning to do, but he can run our offense. Not the entire playbook, but we're not going to put a guy out there that is lost. He's going to be able to run the offense, he can throw the football down the field, he can run some RPO's, he can run some screen game, option. There will be plenty for you to defend if Phil's on the football field.
Question: Has Ian been taking snaps this week?
BK: Ian's been part of the practice.
Question: Has Ian done enough that you'd be confident in being able to [play him]?
BK: Oh yeah, he's done enough.
Question: Is the weather a main concern (or) does it affect both teams equally?
BK: Those things are much more about field position and special teams than they are operational from an offensive standpoint. There may be things like — I hate to say it — but I may have to consider deferring (on the coin toss), which I hate to do. I might have to think about that. You have to consider wind and things of that nature.
Question: Do you think a colder night favors a quarterback like Wimbush with his legs than Ian?
BK: I couldn't tell you. Both of those guys will thrive in any conditions. As long as it's not The Ice Bowl. If it's cold and there's snow in the air, both of those guys would be fine in those kind of conditions. I think we're overplaying the conditions here. Thirty miles per hour winds — we're not expecting that. It's going to be cold.
Question: Just to clarify. You're not naming a starter. That is a game-time decision all the way around Ian, Brandon and Phil?
BK: Yes. Correct.
Question: Brandon played really well against pretty much the No. 1 defense in the country. Do you have him kind of tap back into that experience when you're working with his confidence and so forth?
BK: We've got to look at it from his perspective. He's gotten plenty of time to think about not being the starter and what he needs to do. He's worked really hard on the things that he wants to be better at. He's an incredible competitor, and if he's given the opportunity, he wants to stay the starter. He's going to look back on all the things he's done and if he's given the opportunity, he'll play really well.
Question: Does that freshman red-shirt rule benefit you now?
BK: If Phil's called upon, this would be a great kind of usage of this particular rule. You'd hate to lose a kid like Phil's year of eligibility because you're forced to play him under these conditions.
Other Injury Notes:
• Senior tight end Alize Mack has been cleared to play after sitting out last week because of concussion protocol.
• Fifth-year senior Buck linebacker/captain Drue Tranquill, who took 18 snaps last week, mostly in nickel package situations and late, will likely be much more active in his final home game.
"Sore earlier in the week, and he progressed to where he's going to be an every-down player for us," Kelly summarized.