Brian Kelly Transcript: Dec. 8
Click HERE to sign up for an annual subscription to BlueAndGold.com and get your FREE gift code for $99 in Irish apparel and gear!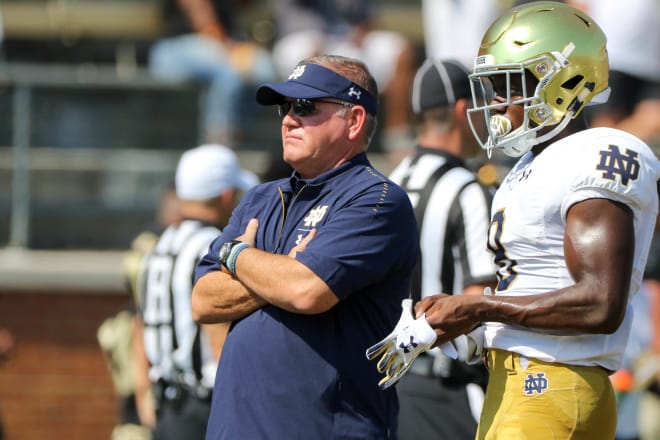 Notre Dame head coach Brian Kelly met with the media on Saturday afternoon following his team's practice as they prepare for the College Football Playoffs.
Check out what Kelly had to say below.
Q: How was it to practice for the first time in a bit?
KELLY: "I like doing this a whole lot better than being on the road, sleeping in hotels and going to awards shows where we should get the awards but we don't."
Q: You've flown a lot the past two weeks, so does it feel good to settle in and get prepared
KELLY: "I'm looking forward to being with my team. That's the fun part about it in terms of getting with the guys. We had a great banquet last night, so that was a great celebration of our seniors and their accomplishments this year. Just getting back out there with the guys, who are obviously excited with a great deal of energy. That's energizing as a coach to go back out there with your team and watch them run around here today with so much energy. Very purposeful and intentional. This doesn't feel like in any way another practice in the postseason that I've been a part of it. Very locked in and purposeful in terms of their work. As a coach, that's as good as it gets."
Q: How do you pace yourself the next three weeks?
KELLY: "We have a good plan. Preparation is key, right? I think we have a very good plan put together bringing us right up to when we send them home … We have a very good plan that will get them peaking at the right time."
Q: Did you decide to leave for the game on the 23rd?
KELLY: "Yeah, I did. I made a change in our schedule where we'll no finish up on the 20th and send them home. Still same amount of time off, but I felt like reporting on the 23rd I wanted to get settled in. We have the earlier slot for practice, so we'll be done by 2 o'clock. It will get them a chance to enjoy Christmas Eve, FaceTime their families and enjoy that a little more. Instead of taking Christmas Eve away from them essentially because of travel, this allows them to enjoy that."
Q; Coach Swinney is 95-15 the last eight years I think…outside of the talent he has been able to gather…is there a common thread among his teams to have that success?
KELLY: "He's only played us once … Yeah, the consistency he's shown has been amazing. The last four years being in the playoffs, winning the ACC. He's built a really strong culture of success and winning. I would point to a couple of things. One, they've kept their players in the programs. You don't see a lot of guys leaving early. They stay, so that environment and culture is one where guys don't get us and leave early and play in their games. That says a lot to what he has built as the head coach. Those guys really enjoy being there. For example, Christian Wilkins has played as a freshman to his senior year. That says a lot."
Q: What do they do well consistently every year?
KELLY: "First of all, continuity. Great continuity with their defensive coordinator. Brent Venables has been there for a long time. To keep a defensive coordinator for a long time is not an easy thing to do. Their co-coordinators on offense have kept their system in place. Having that system that is very similar to what they've done the past five or six years. Then they have really invested in their program with facilities. They've done a great job recruiting."
Q: So they're no overrated? I've been told they're overrated.
KELLY: "I would not be on that train. I would not be on the overrated train."
Q; What's your early read on Myron Tagovailoa-Amosa?
KELLY: "He's not in any football shape. He's moving around fine. It's going to take him all of these three weeks. We'll get him ready to compete. But, we're going to need all three weeks to get him back into football conditioning."
Q: Is it realistic he could play 10 or 15 snaps?
KELLY: "I think so. He did our two runs the last couple of times we were out. He ran without any ill-effects and felt good after. He's going to need these three weeks of football-related activities to give us 15-20 really, really good plays. I think he is capable of doing that."
Q: This is a really focused group, but agents aren't playing the games sometimes. You have kids that have some NFL decisions. How do you handle that this month? Do you ask your kids to put that offer?
KELLY: "We've been proactive. We began this process in their spring of senior year. We lay out a timetable where we don't get into distractions. We've had some success with players that have had to answer these kinds of questions of when you deal with the agent and how you deal with it. We take the time in spring to sit down with all of our guys and talk through a timetable of how to handle it and how we will help them. They're in no stressful situation as we prepare right now. Their parents can handle any decisions for them relative to representation. We will handle evaluations for them and inquiries. They know that we will put them in the best position moving forward, so they can focus on what's most important."
Q: Are you going to have five guys that you submit for evaluation?
KELLY: "We put five out. I don't like to [share those names]. They are able to if you want to. I stopped doing that a couple of years ago just in case they didn't want that information to be out there .We put our five in to get evaluated. We've vetted all of our guys and have a good sense where we are relative to the NFL."
Q: Have you had anyone say they are coming back? As anyone indicated anything like that?
KELLY: "We have a good indication on where we stand with our players in relative to the NFL that have eligibility remaining. We feel pretty good about the group coming back."
Q: What's your plan for guys that may be working back from injuries?
KELLY: "We're all hands on deck really. Today, this was all about our first two groups getting all of the work. This was not about the traditional bowl where you get the young guys work. The young guys didn't get any work. They were watching. This was about skill development work. Te'von Coney got all the work at MIKE, Drue at BUCK. This was about getting them back to football. This was the first day of spring ball for them. That was their mindset. We wanted fundamentals. Today, we had 20 minutes of individual, so that mirrored a spring practice per se."
Q: Back in August, Mike Elston said the defensive line would be very good. We asked about comparing it to 2012 and he said he thought it would be better. When did you see it where you get to the quarterback with those four guys?
KELLY: "I think we had an inclination in the spring that was coming together. Their offseason work gave us a good indication that we had some things that were going to continue on that path … You were seeing Khalid [last year] to start to show himself … That was starting to show itself. Maybe you have to strain a little to see it, but from the inside we could start to see that stuff coming together."
Q: Did they made it difficult to get an evaluation of the offensive line with the new guys there?
KELLY: "We never really talked about it. But, it wasn't easy. It made it a little bit more difficult to find the continuity because guys are getting driven back into the backfield, you have to look at who he is and who he is going against. It's Jerry Tillery, so let's be careful here and not leave the day saying he can't play yet. There was a little bit of that going on as well."
Q: With Aaron Banks, was there any advantage from early enrolling? Is he benefiting from that as a sophomore?
KELLY: "I think so. I'd have to go through every one of them, but I can't see a downside of our early enrollees in terms of them acclimating to Notre Dame and from a football standpoint. I would say yes. Getting that extra semester certainly helped him accelerating it. It could have been another year for him of learning and figuring it out if he didn't. I'm such a proponent of that. That half semester is almost a full year for those guys. We have 10 coming in."
Q: With him in December and not be in game plan mode all the time, what kind of improvement might you see from him?
KELLY: "First of all, the academic piece is so large that when you can feel comfortable handling the academics then you're able to come over here and really invest yourself without a lot of distractions. I think you start there than anything else. When you have your academics at least under control, you can come over here and really give everything that you have. When you're distracted academically, it's hard to give everything you have."
Have any of your assistants turned down opportunities for head coaching jobs?
KELLY: "There's always inquiries for our guys. But, I'm pretty confident that our group right now is in a very good position and expect to have continuity as I stand in front of you right now … I didn't say there hasn't been inquiries and opportunities. I think we're going to have very good continuity with our staff right now."
Q: You mentioned Sunday you thought Dabo Swinney should win Coach of the Year…are you surprised that you won?
KELLY: "What I'm happy about more than anything else is … when you win a Coach of the Year award, it has to come from everybody pulling in the same direction. An individual award for me is not why I got into this. When you look at it, it's about your entire team. It's about your support staff. It's about having really good players. That is satisfying because everyone shares in that … The individual Coach of the Year..look, you can make the case for anyone to win. There are so many candidates. I'm happy about that team approach and they can share in that."
Q: You've also mentioned you wanted to get some young guys integrated…
KELLY: "Some of the guys that I think could possibly help us beat Clemson. Those are the younger guys that I want to integrate in. We're looking at maybe are there a couple of guys that haven't played much maybe can help us in the game. That was my comment."
Q: When do you start doing that?
KELLY: "I did today."
Q; With guys like Braden Lenzy or Lawrence Keys who maybe could provide that speed option…what kind of held them back?
KELLY: "If you're talking about those two guys, it's Chris Finke was clearly established at that position. Our ability to use a tight end as the next guy in at the position in terms of how we were going to run our offense. If we were going to be a strictly an 11 personnel team, it may have opened the door for those guys. Then there was going to be a curve there of learning. As we were kind of working through the year, there were other areas that we had to focus on and that was the offensive line. It wasn't to develop a third wide receiver … Now, we're looking for maybe one speed guy that could do some things for us in a limited role … We'll see if there is someone that can up and do something."
Q: is there any reservations about putting someone into a competitive environment right off the bat?
KELLY: "He's going to be in a role that we are going to craft and create where it will only be a positive. He's not going to be required to catch six, seven or eight balls. He's going to do some things to create opportunities where it will be a hero or zero play for us."