Brian Kelly Takes A Defensive Stance After Notre Dame Defeat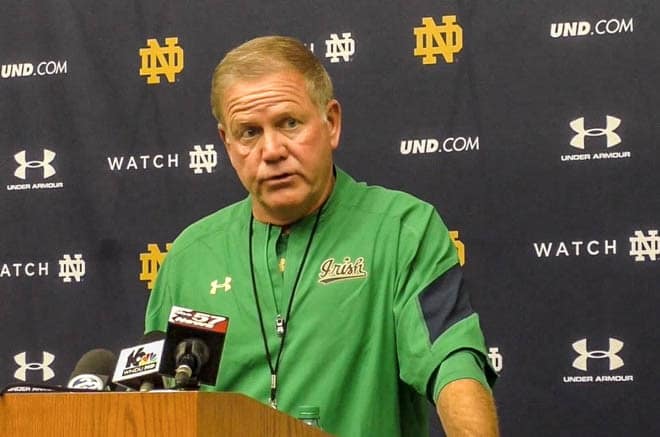 During his Monday afternoon teleconference, Notre Dame head coach Brian Kelly found himself getting defensive about the mostly defenseless 50-47 double-overtime loss to Texas in Austin on Sunday night.
Just don't expect him — or anyone else — to be taking over the maligned Fighting Irish defense in coordinator Brian VanGorder's third season. Against a Texas offense that ranked near the bottom among Power Five conference teams in 2015 and now started a true freshman quarterback and true freshman center, Notre Dame allowed 50 points, six touchdowns on seven red-zone possessions and 517 yards total offense (280 passing and 237 rushing).
Consequently, Kelly was asked if he might start taking a larger coaching role with the defense, a la former Irish head coach Lou Holtz in 1990-91 when that side of the ball was struggling.
"Everything that we do is collaborative," Kelly replied. "At the end of the day the defensive structure and what we're doing is run through me. Anything that we do from a defensive standpoint has my signature on it. I'm in the meetings. Brian and I are in communication, so anything more would be me taking a role in more of a play calling — I'm not in that role, and I have somebody that can do that quite well."
VanGorder's complex scheme has been under fire for all but the first five games of his career at Notre Dame, and the performance against the Longhorns added to the woes that reached a crescendo after last year's 38-36 loss at Stanford to end the regular season, followed by the 44-28 defeat in the Fiesta Bowl versus Ohio State.
The performance against Texas added more gasoline to the fire, but Kelly channeled his best Aaron Rodgers, the Green Bay Packers Pro Bowl quarterback who told the fan base to R-E-L-A-X after a 1-2 start in 2014.
"Everybody should just tap the breaks and relax," Kelly said. "This is a football team that showed great resolve."
After falling behind 31-14 midway through the third quarter, Notre Dame's defense helped it take a 35-31 lead in the fourth quarter, but some miscues on offense and a shanked 24-yard punt by the Irish helped put the game into overtime at 37-37.
"This narrative about it's all the defense's fault is just Monday morning quarterbacking," Kelly said.
Still, the early problems, especially in the secondary, prompted the decision to replace sophomore cornerback Nick Coleman and junior safety Drue Tranquill — after the Irish had already lost projected starting safety Max Redfield (dismissal) and starting cornerback Nick Watkins (broken arm) in August. Consequently, three freshmen in safeties Devin Studstill and Jalen Elliott, plus nickel Julian Love, and sophomore cornerback Shaun Crawford, medically redshirted last year, were regulars in the secondary during the second half when the Irish rallied.
"We're a young group of guys," Kelly said specifically of the defensive backfield. "It's going to take some time. … They're athletic kids, they'll all continue to develop and they'll all get better each and every week.
"… Last year was last year. We evaluate week to week. We have to coach better. We have to play better. It's college football."
Decisions, Decisions
The Monday morning quarterbacking included a couple of other questions on at least two calls.
One, when junior quarterback DeShone Kizer connected with sophomore slot receiver CJ Sanders on a 25-yard catch-and-run for a score on Notre Dame's initial play in overtime to cut Texas' lead to 44-43, did Kelly think about going for two points and the win right there? After all, the offense was the team strength, while the defense was having problems, especially in the red zone.
"No," Kelly said about the two-point, winner-take all situation. "We battled so hard to get back into the game and take the lead, it just didn't feel like the right time to go for two. With the rules being as they are, you're going to go for two in the third overtime anyway. It's not going to be a prolonged situation. You're going to get it decided if it goes to a third overtime."
Also, with about 5:30 left in the fourth quarter and the Irish leading 35-31, they faced fourth-and-one at their 44. Kelly decided to not to go for it over the powerful left side of his line but instead try to pin Texas deep in its territory, which it had done throughout the second half. The punt traveled only 24 yards, but Kelly believes it was the right decision.
"The circumstances of the game, the way the guys battled, resiliency —I've never coached a game where the team's down 17 points in the second half and they expend that kind of energy to get back into the game, to roll the dice like that," Kelly said.
As for making a decision on whether to use two quarterbacks this week against Nevada or to go more solo with Kizer, who accounted for all six Notre Dame touchdowns either passing or running, Kelly said that will be decided on after conferring with his staff and the QBs.
Despite Kizer leading Notre Dame to a quick 78-yard touchdown march on the game's opening series, Kelly inserted senior Malik Zaire on the second series rather than stay with the hot hand.
"I felt like we wanted to get these guys in early and give them the opportunity in the first few series to get into the ball game," he said. "In my estimation it doesn't do very much for them if they're just sitting and watching, so I wanted to get them [both] in early."
Torii Hunter Jr. Status
Senior wide receiver Torii Hunter Jr. took a huge hit to the head in the end zone during the third quarter of Sunday's game that had him prone on the ground for a few minutes and sidelined the rest of the game. Whether it will shelve him against Nevada this weekend is uncertain.
"Too early to tell," Kelly said. "We will go through a battery of tests and proceed from there."
What Kelly is certain of is Texas safety DeShon Elliott should have been dismissed from the game for the hit instead of playing the rest of the way.
"We sent the clip to the supervisor of officials in the ACC," Kelly said. "We got confirmation back that that would have most likely been a targeting call. We just don't understand why that was not reviewed by the Big 12 [replay booth]. I guess they're going to be reaching out to them to find out why it wasn't reviewed.
"Clearly, win or lose, player safety should be at the front of this game and we don't believe that was the case in this instance."