Brian Kelly/Notre Dame Notebook: Saturday, March 23 Practice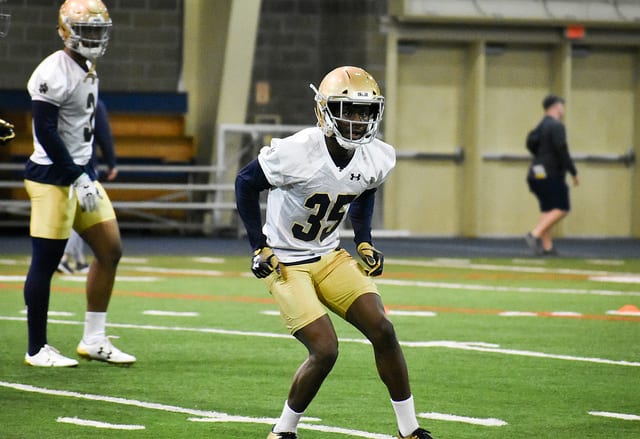 The Rubik's Cube that is Notre Dame's linebacker positions this spring at Mike, Buck and rover has added some new options.

The rover position in particular has become one of intrigue after the move of fifth-year senior Asmar Bilal — who started 10 games at rover in 2018 while three other contests opened with a nickel back — to the inside, where he has aligned at both Mike and Buck.
The projected replacement at rover, sophomore Shayne Simon, was training at Buck linebacker in today's open session to the media, while junior Jeremiah Owusu-Koramoah and sophomore Paul Moala — a safety last season while earning a monogram for his work on special teams — are complementing each other at rover.
Earlier this spring, head coach Brian Kelly singled out Owusu-Koramoah, sidelined last season after breaking his foot in September, as one of the young players making a strong early impression. Owusu-Koramoah came out with the ones throughout most of the practice, but Moala is basically deemed a co-starter there.
"He's show a real propensity to get his nose to the football, really good tackler," said Kelly of the 5-11 1/2, 210-pound Moala's shift from safety to rover. "When you're in big spaces like that [at rover] you've got to be a really good tackler … He's a guy that we feel comfortable [with] in space."
As a freshman in 2017, the 6-1 1/2, 215-pound Owusu-Koramoah was on the cusp of starting on special teams because of his speed and athletic skills. But because the Virginia native didn't even turn 18 until that November, the staff opted to redshirt him while he continued to develop physically.
"He's always been an explosive player, it's just been about working on the other things — assignment correct," Kelly said of Owusu-Koramoah. "He gets a little bit out of his lane here and there. We have a good complement with him and Moala out there. Moala is very assignment correct, they're a good balance. Jeremiah continues to learn the position. He's explosive, he makes plays, but we've got to get him to continue to learn the position, too."
As for the 6-3, 230-pound Simon, who cross-trained at rover and Buck as a freshman last year, he provides some exceptional range and physicality along the inside.
"He's a big-body guy that can add some more competition at that position," said Kelly of Simon. "Again, we're just finding to find the right player at the right position. We really like everything about him, so we need to get him more film and more technique work inside and how he fits there.
"This is not just about throwing guys out there. We're taking our time out here putting guys in that first and second rotation."
When spring drills conclude April 13 with the Blue-Gold Game, the staff is not necessarily looking to name a starting group as it is to define where everyone fits best when he returns for August training camp.
During the final 40 minutes of work that were moved outdoors, the first linebacker corps that usually took the field in scrimmage situations was Bilal at Mike, Jordan Genmark Heath at Buck and Owusu-Koramoah at rover. However, there was regular mixing and matching, including Bilal also at Buck when sophomore Bo Bauer was at Mike.
Sophomore Receivers Progressing
Among the five freshmen receivers recruited last year, only Kevin Austin (five catches, 90 yards) saw action, and even that was limited at the end (43 snaps the final seven games) while trying to acclimate to the demands at Notre Dame.
Austin for now boasts the highest ceiling — "I don't think you leave any practice and not say he's extremely talented," said Kelly of Austin — but the other four also had their moments on Saturday. Although Lawrence Keys III, has a tendency to misalign, which Kelly reminded him of during practice, he especially had more opportunities in the slot with senior Chris Finke indisposed while taking a class (see News & Notes below). And while Braden Lenzy arrived mainly with a reputation as a deep ball threat, he has shined in other areas.
"We like the toughness he's shown," said Kelly of Lenzy. "Play in and play out he'll stick his nose in there and get some tough yards for us."
The number of potential targets, especially when including junior tight end Cole Kmet — "he's going to catch a lot of footballs," Kelly predicted — and junior running back Jafar Armstrong, are split wide is especially appealing to create mismatches. Armstrong was recruited originally as a receiver.
Junior Michael Young is the next elder statesman at wideout with Finke and senior Chase Claypool, but the competition for catches will be fierce. Young and Lenzy also either took a jet sweep or served as a decoy on them during a short scrimmage.
The goal this spring is to continue to have starting quarterback Ian Book keep his eyes down the field and look for more deep-ball opportunities. In one seven-on-seven goal-line drill, Book connected with five different targets on six consecutive plays , not locking in on any single figure (Kmet was the multi-catch figure).
With backup sophomore quarterback Phil Jurkovec, whose talent is conspicuous, it's about closing the learning curve.
"He's seeing the field a lot better," Kelly observed of Jurkovec. "He gets a little low with his mechanics. His elbow drops a little bit and he has a tendency to push the football a little bit. He's cleaning that up. That's going to come just with repetition and [quarterbacks coach] Tommy [Rees] working with him. We're really high on him. He's not at a championship level yet, but you can win with him. We'll get him to a point where he can play at a high level."
News & Notes
• Starters Finke, senior left tackle Liam Eichenberg and senior safety Alohi Gilman were not at practice while involved in a class.
Keys played extensively in place of Finke, while junior Aaron Banks, who started the final six games at left guard last season, replaced Eichenberg at tackle. Sophomore Derrik Allen and sophomore D.J. Brown have worked extensively with the first team at safety because of the confidence the staff has in the production and leadership of incumbents Gilman and senior Jalen Elliott.
With Banks, he's the next option at tackle should an injury occur there, but his starting duty likely would remain at guard, where classmate Josh Lugg also is pushing for playing time.
"He's better suited to play out there than Lugg," Kelly said of Banks. "He's played out there, he's got really good feet. So Lugg would plug in inside as the first man in and Banks would kick out."
• Under Kelly, senior backs such Jonas Gray (2011), Theo Riddick (2012), C.J. Prosise (2015) and Dexter Williams (2018) prospered after trying to find their way the majority of their first three seasons. Senior Tony Jones Jr., who totaled 624 yards rushing his first three years (compared to Williams' 641), appears to be on a similar path.
"We're seeing a guy that is running with low pads, playing physical, and it's the same guy every day," Kelly said. "We got an A-plus Tony one day and [then] a C-plus Tony [the next]; we're getting a consistent Tony every single day. He's made those adjustments to come out here and practice at a high level every day."
• During a special teams segment held inside, 6-3, 230-pound sophomore Ovie Oghoufo, recruited as a linebacker but now at defensive end, displayed tremendous physicality on several occasions that could well earn him at least some time on the coverage and blocking units this season.
Kelly described Oghoufo as a younger version of current standout senior defensive end/pass rusher Julian Okwara with his quick twitch ability, but is even more physical at the same age.
• The defensive line is considered by Kelly as good as any he's had in now his 10th season at Notre Dame, while offensive right tackle Robert Hainsey's unconscious competence makes him so taken for granted with his consistent excellence.
• Junior kicker Jonathan Doerer, the heir apparent to highly reliable four-year starter Justin Yoon, converted his lone PAT indoors, and 6 of 8 from 25 to 45 yards. However, in the late scrimmage situation, his lone attempt, from 42 yards, sailed right.
• There were four series run to conclude the practice, with ones going against mainly ones and twos versus the twos.
On the first from his 30, Brook drove the offense to the defense's 25-yard line, highlighted by 19- and 21-yard completions to Young and Keys, respectively, but a loss on a run-pass option, Armstrong rushing for only two yards, and a play blown dead by good coverage resulted in a 42-yard field goal attempt by Doerer missed.
On the second with the twos against twos, Jurkovec completed a four-yard pass to sophomore tight end Tommy Tremble, but two short scrambles left it fourth-and-one, leading to a 39-yard punt with limited hang time (and no return man) by freshman Jay Bramblett, the first and only time we've seen him in action this spring.
On the third series, with both ones, Book found a wide open Kmet down the right sideline for 36 yards, connected with Claypool for 12 and threw across the field to Joe Wilkins for a 19-yard gain. Two running plays later, Jones took it in for a score from short yardage on a sharp cut to his left.
The final series saw a screen by Jurkovec to sophomore running back C'Bo Flemister pick up 18, and then Flemister, after a jet sweep fake to Lenzy, raced for seven up the middle. Simon threw Flemister for a two-yard loss, and then later in the drive Jurkovec went deep down the right sideline two plays in a row.
Sophomore cornerback TaRiq Bracy's strong coverage on Isaiah Robertson forced an overthrow on the first. Then on the second, Bracy did an excellent job of press coverage on Austin, forcing him to the inside. Jurkovec threw the ball to the outside, where it was supposed to be, but Bracy's work enabled him to be in the right spot to make a leaping interception.