Brian Kelly/Notre Dame: Close Encounters, Part II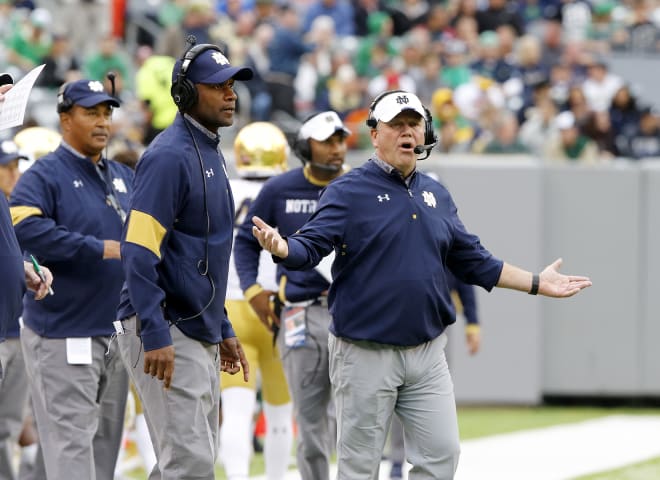 For at least three reasons, our feature Tuesday centered on close games at Notre Dame under Brian Kelly.
One, Notre Dame is 0-3 this year in games decided by seven or fewer points, plus lost 36-28 to Michigan State. Overall, it has lost four games in a row when the result was decided by seven or fewer points — starting with last year's 38-36 defeat at Stanford.
Second, the Notre Dame-Stanford contest the last four seasons has been decided on the final series, and twice on the final play. Both teams won twice (at home), with the Irish holding a 93-92 edge in scoring margin during that time.
Finally, of the 84 games coached by Kelly at Notre Dame (57-27 record) 44 percent of them (37) were decided by seven or fewer points. He noted accurately that he has won 21 of them. Indeed, he was a solid 21-12 in such contests (.630 winning percentage) before losing the last four such contests has now dropped him to 21-16 (.568).
Measuring whether that is a positive or negative stat can be tricky because strength of schedule also must be taken into account. Some credit also much be given to the game not being as close as it has to be against certain opponents.
During the Ara Parseghian era (1964-74) in which the Irish were 95-17-4, only 23 of those 116 games were decided by seven or fewer points. That makes it 19.8 percent. The outcome of those contests was 13-6-4, a .652 winning percentage.
Under Lou Holtz (1986-96), the schedules were far more treacherous while building a 100-30-2 record. Consequently, 41 of those 132 games (31.1 percent) were decided by seven points or less, still a far cry from Kelly's 44.0 percent. Holtz was 21-18-2 in such contests, notably 1-5 his first season.
The only Notre Dame coach who has played a higher percentage of games than Kelly that were decided by seven points or less was Elmer Layden, who had a seven-year run from 1934-40. He and Kelly are the only two Fighting Irish coaches to last more than five years without a national title.
Layden coached 63 games (47-13-3), and just more than half of them (32) were decided by seven or fewer points. He was 22-7-3 (.734), highlighted by a school-record 12 straight wins from 1937-39 in such contests. Kelly is tied for second on the all-time chart with 10 consecutive wins, 5-0 in 2012 and then starting 5-0 in 2013 before losing 28-21 at Pitt later that season.
The current four-game losing streak in games decided by seven or fewer points is his longest — and the lengthiest by any Notre Dame coach since Charlie Weis lost the final four games of his tenure in 2009 to Navy (23-21), Pitt (27-22), UConn (33-30 in two overtimes) and Stanford (45-38).
Here is the year-by-year breakdown, chronologically, under Kelly:

2010: 2-3
Lost to Michigan 28-24
Lost to Michigan State 34-31 (OT)
Beat Pitt 23-17
Lost to Tulsa 28-27
Beat USC 20-16
2011: 3-3
Lost to South Florida 23-20
Lost to Michigan 35-31
Beat Pitt 15-12
Beat Wake Forest 24-17
Beat Boston College 16-14
Lost to Florida State 18-14 in Champs Sports Bowl
2012: 5-0
Beat Purdue 20-17
Beat Michigan 13-6
Beat Stanford 20-13 (OT)
Beat BYU 17-14
Beat Pitt 29-26 (3OT)
2013: 5-2
Beat Purdue 31-24
Beat Michigan State 17-13
Beat Arizona State 37-34
Beat USC 14-10
Beat Navy 38-34
Lost to Pitt 28-21
Lost to Stanford 27-20
Note: The 10-game winning streak in games from 2012-13 is tied for the second longest, behind Elmer Layden's 12 from 1937-39. Knute Rockne won his last 10 such games from 1927-30.
2014: 3-3
Beat Stanford 17-14
Beat North Carolina 50-43
Lost to Florida State 31-27
Lost to Northwestern 43-40 (OT)
Lost to Louisville 31-28
Beat LSU 31-28 in Music City Bowl
2015: 3-2
Beat Virginia 34-27
Lost to Clemson 24-22
Beat Temple 24-20
Beat Boston College 19-16
Lost to Stanford 38-36
2016: 0-3 so far
Lost to Texas 50-47 (2OT)
Lost to Duke 38-35
Lost to North Carolina State 10-3
----
• Talk about it inside Rockne's Roundtable
• Subscribe to our podcast on iTunes
• Learn more about our print and digital publication, Blue & Gold Illustrated.
• Follow us on Twitter: @BGINews, @BGI_LouSomogyi, @BGI_CoachD,
@BGI_MattJones, @BGI_DMcKinney and @BGI_CoreyBodden.
• Like us on Facebook