Brian Kelly March 19 Notre Dame Transcript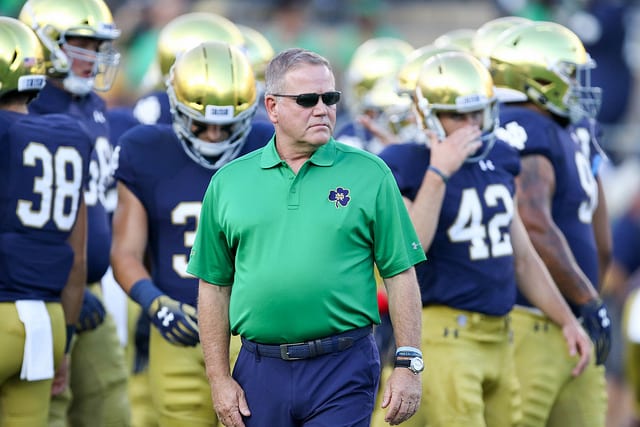 After the first three spring practices were completed from March 2-6, the Notre Dame community was on spring break from March 9-17 before the football team returned to practice on Tuesday morning. The session, the fourth of 15, was closed to the media, whereas this Thursday and Saturday will be open.
Here was head coach Brian Kelly's update on the team's current status:

Regarding special teams and how much work they have received so far this spring, especially junior kicker Jonathan Doerer, with all the practices indoors:
Brian Kelly: "We'll do that this weekend where we think the weather is going to be good enough that we can get outside. We're focused primarily right now on punt team and [freshman punter] Jay Bramblett, getting him comfortable with our structure.
"PAT, field goal has been really one where we feel like we've got a pretty good situation with our snapper [third-year starter John Shannon]. It's really been just two guys working with the hold and the timing. They go out in the morning, get some kicks in, but we're really saving the bulk of that work for Saturday with Jonathan."
On the progress of Bramblett, who was recruited to replace four-year starting punter Tyler Newsome:
BK: "We've been impressed, but we're kicking into a very shallow — he hits the heck out of those iron grates up there. We see a guy that's extremely consistent, athletic, handles the ball very well. He's got good hands. You look at the fundamentals early on and you can tell he's a really good athlete. Catches the ball well, steps are consistent. I think we're going to get what we expected there."
The running back situation and how it has played out so far:
BK: "Tony Jones, Jafar [Armstrong], Kyren [Williams], Jahmir [Smith], those guys have gotten the bulk of the work. We've been pleased in particular with Tony Jones' consistency. A lot of it has to do with getting a good rotation there, because you're not going to play just one guy. I think they complement each other well. As we know, Jafar can play receiver, catches the ball extremely well — Tony certainly does as well.
"We're looking for that every-down consistency from Tony and we're getting that. I think he's having a really good spring. Kyren gives you that elusive quickness at that position as well. We're seeing some real diversity at the position early on in the spring. We haven't done a ton of tackling. We'll get a little bit more now over the next two or three practices as we pick up the pace a little bit. Pretty pleased with what we've seen early on.
"C'Bo Flemister is coming back from a patella tendon strain, so he's getting a little bit more work … The biggest thing there is getting the consistency from Tony."
Avery Davis' progress at cornerback after shifting from running back this spring:
BK: "We thought he had all the skills necessary to make that move, and now it's just turning the guy from running forward to running backward, which is never an easy proposition. But he's making progress at that position. It's going to take some time.
"We're not disappointed in any way. We're not ready to name him the starter, either. We're exactly where we thought we'd be — a young guy that's got a lot of athletic ability, reacts well to the ball in the air, has good instincts, but it's a process."
On the progress of the sophomores who have been in the program for a year, including linemen beyond center Jarrett Patterson and defensive backs beyond Houston Griffith, both of whom could be starters:
BK: " [John] Dirksen has done a nice job physically … [Cole] Mabry probably of all the offensive linemen. If you look at where they have tested out, Mabry — I think he ended up second across the board in all of our testing, when we take all of our different tests and put it all together. All of those guys have made physical gains.
On the field, [D.J] Brown has made a lot of strides since we've made him a safety. He really stands out with his athletic ability. We'll see how the other part of his game fits together when we fit him into our run fits and start to play 11 on 11 football. When we talk about 7 on 7, 1 on 1, when we talk about the individual drills, he looks really good, looks fluid. He can flat-foot at 12 yards really skilled players. We feel really good about him on the hash as a pass defender. Now we have to see how he fits in the run game when things get to 11 on 11…
"The other guys have made significant progress, the bigger guys, in the weight room … [Jeremiah] Owusu has made some significant progress too."
Is Davis involved in the nickel defense?
BK: "We haven't gotten into our nickel package. We're still down-and-distancing some third-and-short. We just got into second-and-10 today. We'll get into the nickel this weekend. We 're still having some conversations about that right now."
Are the coaches counting on Shaun Crawford to be 100 percent physically later this year to maybe help at nickel?
BK: "He's done everything that we've asked him, and more. We hope that he's 100 percent and that we can plug him in. Look, we know that he's a capable player for us, so he will get every opportunity to compete for that position. We have other issues that we're trying to deal with right now. The nickel's going to kind of play itself out. We think we've got some really good options there moving forward.
"We're trying to sort out some other things defensively at rover and linebacker right now — which has kind of kept us away from really jumping into the nickel battle at this time."
Defensive coordinator Clark Lea has stated that he doesn't believe linebacker will be sorted out until right before the start of the season. Does Kelly concur?
BK: "I don't think we could. If you ask me right now, I'm not sure I could give you … We're just trying right now to get a handle on contact skills, innate natural ability to find the ball, downhill instincts, things like that that just require reps. We're firing as many reps at these guys as possible.
"My practice schedule has changed a little bit in terms of trying to get those guys into contact situations without taking the ball carrier down. You can do only so much by NCAA rules relative to tackling, but I need to get those guys into live, inside drill work. We're mixing and matching. Who looks good with who? What's a good tandem? Is it [Asmar] Bilal with [Jordan] Genmark Heath? Is it [Bo] Bauer with Bilal?
"We're not really even married to a particular Mike and Will combination, either. That's kind of in the process right now."
On whether the quarterbacks did anything out of the ordinary during spring break such as working with a personal instructor, and how they came back from spring break.
BK: "Not that I'm aware of.
"This is the first year where we didn't do a test when we brought the guys back [from spring break]. We let them know deliberately that we felt like when we left that they were in a great spot physically. Yesterday it was meetings and weight training, and we got after them today, and they handled the two-hour practice quite well.
"From that standpoint, I think we've set a standard as to what the expectations are when you're away. Get away, relax, enjoy yourself — but there are expectations on what you do on spring break. You can't let yourself go, either. Have fun, relax, but you've got to come back ready to go, and I think our guys for the most part did that."
On the lack of available bodies in the defensive interior behind Kurt Hinish at nose and Myron Tagovailoa-Amosa and Jayson Ademilola at three-technique.
BK: "When you break it down, you're getting [Jacob] Lacey most of that work right now because Ja'Mion (Franklin) and Hunter (Spears) are on the sideline [recovering from surgeries]. They would be in that battle. But Lacey looks good. He's got some quickness and size, because you're not really talking about Myron in that [nose tackle] mix.
"We moved Darnell [Ewell] back over there, a big, strong physical kid, but he was slowed with an injury earlier in spring ball. It's really Hinish's position at this time until we get more competition from those young kids."
On Tagovailoa-Amosa handling the physicality inside.
BK: "He's 285 pounds. He's close. We'd probably like to see him in the 290 range, so he's in striking distance right now."
Why freshman linebacker Jack Kiser had shoulder surgery on Feb. 7 that will keep him from drills this spring.
BK: "Pre-existing condition. When we got him here we suspected that we had an issue. Tried to train it, went through our training program to strengthen it, but it was just too loose, so we made that decision. We wanted to make sure that if we did some things early on, that we still left ourselves enough time to go in there and repair it and have him back in time."
On the third receiver position competition.
BK: "You have some established players that can play at a high level with [Chase] Claypool and Chris Finke … The third receiver doesn't have that kind of production. But I think we've had a number of guys from Michael Young … I think Joe Wilkins had a good day today coming off his cartilage [injury]. He's a guy that will get a ton of work the next few days — you'll get a chance to observe him …
"Braden Lenzy has looked really good in the spring. Inside, we're playing Lawrence Keys, so he's giving Chris Finke a blow. Certainly a number of guys that can give us the kind of play that we need out on the perimeter."
On the effect of Matt Balis' strength and conditioning program through two years, especially in the light of some outstanding Notre Dame performances in the NFL Combine.
BK: "They were pretty close to all those numbers when they were here. Miles [Boykin] was jumping 40 inches in the vertical … that's a testament to their physical ability, their work ethic and certainly having a program and a strength and conditioning program, a nutrition program — all those things — that good, established programs have. We're not the only ones who have that. Other really good football programs have those established programs.
"I think it just says that we have in place a really good development program. If you come in and certainly have the ability and have the desire and drive, you're going to flourish in this program.
"Now they have to go out and do position drill work [on Pro Day]. They have to go translate that. There's a Part B here. Part B is you've gotta move, run through some drills now, and they'll get their eyes on them from a different perspective."
On Pro Day tomorrow and having former players return as well to work out.
BK: "They were out there this morning. I always judge by who the real guys are that get out there at 7:30 for stretch, and who are the guys that meander in about 9:45. It's great to see those guys come back and we always work really hard to build that bridge where they feel comfortable coming back … and are proud to be back here and working out for us. We're hoping they all have their best days and it turns itself into big things for them later in April."
On whether current players will be involved in watching Pro Day tomorrow.
BK: "I don't know that we necessarily advertise the opportunity in a sense this is the end result. It's certainly there if you want it. We tell them what the schedule is and they're certainly open to going there. Our kids are pretty sharp. They want to follow our guys. They want to see them do well … I'm sure we'll have quite a few guys out there because they want to pull for their teammates. Some of them are interested in going to the NFL, others aren't. I think what drives them more than anything else is it's their buddies and they want to see them do well."