Brian Kelly Lays Out Blue-Gold Game Rules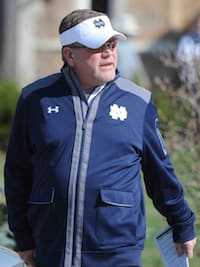 In its penultimate practice prior to Saturday's Blue-Gold Game, Notre Dame focused mostly on game-situation drills Wednesday morning, including two-point conversions, fourth-down plays and tempo drills.
Following practice, Irish head coach Brian Kelly also announced details of the spring game, which will be held at LaBar Practice Fields at 12:30 p.m. on Saturday on NBCSN:
• The first two quarters will be 12 minutes with stopped time. Kelly estimated that Notre Dame got roughly 30 plays in per quarter under this format last year.
• The quarterbacks will be live in the first half.
"Both [Everett Golson and Malik Zaire] are guys that require that element in their game," Kelly explained. "We'll have a quick whistle with them and our guys know we're not going to take shots at them. They're in a compromising situation. Both of those guys need to be who they are and that's who they are. They're guys that need to move in the pocket and they make plays with their feet. They both can run the football and we want to be able to run both."
• With the running clock in the second half, Kelly said to expect somewhere around the 19 plays per quarter they averaged in last year's game.
• Lastly, the scoring system will be altered to avoid a situation like last year when the offense led by such a lopsided margin.
"We've pared down the point system a little bit," he said. "I thought we got too many points on the board last year, it was like 55-5 after the first quarter last year. We've pared the points down a little bit, given the defense a little bit more of a chance to score some points. Big plays for the offense is 25 yards for a pass and 20 for a run. It's going to be harder to get some points for the offense unless they score. Just some of the nuances there relative to the Blue-Gold Game."
All eyes will be on Notre Dame's dueling quarterbacks on Saturday, though Kelly has said on multiple occasions that no decision will be made on which will start this fall until August.
"There are certain areas that I think at the quarterback position, maybe other than Ohio State, I would take our two quarterbacks," he said. "I would take our two over Ohio State's, but in terms of depth I don't know that anybody has a better situation than we do with the two quarterbacks that we have."
Defense Has Improved Against Tempo
The defense's 2014 struggles against tempo have been covered ad nauseam, but Kelly thinks a combination of simplifying the scheme and the roster acclimating to the scheme in year two under coordinator Brian VanGorder will lead to a better performance this fall.
"We've learned a lot in terms of moving personnel in and out of the game," he said. "We got hurt a lot of times on having nickel personnel in the game on third down and when there were conversions on third down, we had nickel in the game and we're running them out and we're getting quick tempoed on that conversion on first down. We've learned a lot in our defensive substitutions and I think we've cleaned up terminology and I think in some instances we made it easier for our guys and they've adapted quite well. I've challenged them. We've run really fast out of this spring.
"I think our defense has done a nice job. I would add one other thing to that: We're getting much better communication from the back end of our defense with both Redfield and Shumate as well."
Quick Hits
• Senior defensive lineman Jarron Jones (Lisfranc injury) and fifth-year senior linebacker Joe Schmidt (ankle) will "absolutely" be ready to go when Notre Dame opens fall camp in August, Kelly said.
"Both of those guys are already moving at a level that when they come back in June, they'll be ready to condition and we'll get them ready through summer conditioning program, no question," Kelly said. "They'll be available for us, we'll have nine OTAs beginning on June 5 and going to June 25."
Sophomore safety Drue Tranquill (ACL) is moving "extremely well," per Kelly. Had it been the season opener against Texas this weekend instead of the Blue-Gold Game, he would have able to play.
• Speaking of Jones, he and fellow senior defensive lineman Sheldon Day expressed on Twitter their desire to get in at quarterback in the Blue-Gold Game, but Kelly said there will be no repeat of former Irish lineman Louis Nix's 2013 cameo appearance at signal-caller this year.
"Yeah, I've heard about this only because it's been brought up to me because they clearly feel as though they should be involved in the offense," Kelly said. "I think when we gave the ball to Irish Chocolate there a couple years ago, Louis Nix, they felt like they should be part of the offense. I will tell you they will not come near the offense. That will be reserved for both Everett and Malik."
• Kelly confirmed that each of Notre Dame's seven fifth-year candidates have submitted their applications to the academic-athletic review committee, adding that decisions should be rendered "pretty soon."
As for narrowing the roster to the 85-man limit by Sept. 5, Kelly quipped that it's like the situation in the NFL.
"We've got until we kick off against Texas to get to 85," he said. "It's a salary cap, right? We'll get to 85."