Brandon Wimbush's Status For Notre Dame-North Carolina Game Is Uncertain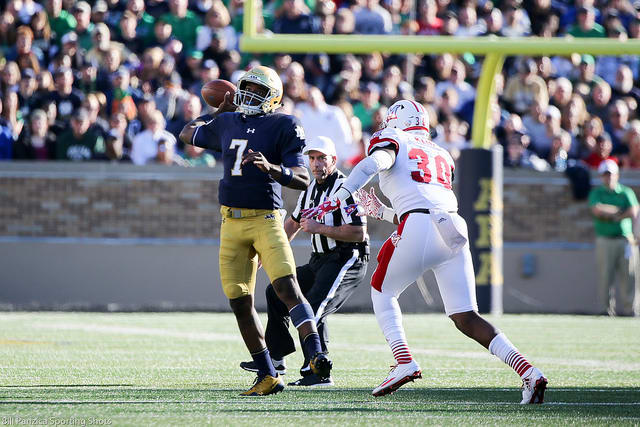 Notre Dame junior quarterback Brandon Wimbush is healing from a right foot injury incurred this past weekend and his availability for this Saturday's game at North Carolina (1-4) is uncertain.

In his Tuesday afternoon meeting with the media, Fighting Irish head coach Brian Kelly emphasized that an MRI and X-ray taken of Wimbush's foot showed neither structural nor ligament damage, but that the staff will take a day-to-day approach of assessing whether the signal-caller will play against the Tar Heels.
"He experienced some foot soreness after the [Miami (Ohio)] game, so we put him in a walking boot, which is fairly typical relative to procedures," Kelly said. "We just want to be really cautious with him, and we'll begin the process of practicing and see how he progresses during the week."
Kelly also said during the conference that "we took the crutches from him" because walking boots don't require crutches. Yet after the conference, Wimbush coincidentally walked past media members outside the practice field with crutches.
Rumors have abounded that Wimbush's injury occurred in an off-campus incident. When asked directly if it was possible that Wimbush was injured in a non-football activity, Kelly stood by his player.
"Is it possible?" Kelly replied. "Well, I'd talk to anybody that has speculative information out there, and I trust what Brandon tells me. I have no reason not to trust 100 percent what Brandon tells me.
"He went out and felt his foot was not right, and he went home. That's what he told me. I believe him. I have no reason not to believe him based upon my relationship with him over the last three years."
Kelly reiterated that the injury to Wimbush's foot occurred during the Miami (Ohio) game, but couldn't say exactly when it transpired. That's why all players are required to check in for medical evaluation at noon the Sunday after a game.
"We get a lot of soft-tissue injuries that don't show themselves right after the game and will show themselves later after a period of time," Kelly said. "At the mandatory noon check in — he actually started feeling it that evening. … Was out and then went home because he felt the foot starting to flare up on him."
The first practice session for North Carolina will be Tuesday, but Kelly said that day will be more of a rehab session for Wimbush, and by Wednesday there should be a better read of his status for Saturday.
When asked if Wimbush were to miss all the practices through Thursday but suddenly feel better on Friday and Saturday and whether he would play him then, Kelly said only time will tell.
"This is really just about feeling good, because we know we've done our due diligence here," Kelly said of all the medical procedures. "He's got to feel comfortable — and a lot of this is not just medical. He's got to feel comfortable and he's got to feel 100 percent like he can put his foot in the ground and do the things that he can do.
"This will be a decision that we'll have to make together."
Because Notre Dame has its bye week after the North Carolina game, that would buy Wimbush more time to rehab prior to the Oct. 21 showdown with rival USC. That too will be taken into consideration, but won't be the sole reason on whether Wimbush will or will not play versus the Tar Heels.
"He wants to play," Kelly said of Wimbush. "He's a competitor. We've seen how competitive the young man is. We'll examine all of those possibilities."
Should sophomore backup Ian Book be called upon to start, Kelly is confident he's received the training to be prepared because Book gets 40 percent of the reps in practice situations while Wimbush receives 60 percent.
"This is not an NFL operation where the starting quarterback gets all the work," Kelly said. "[Book's] gotten quite a bit of work leading up to this point. … If we've got to increase his reps, that would be the first thing that we would do."
Through his five starts, Wimbush has completed 69 of 132 passes (52.3 percent) for 782 yards with six touchdowns and two interceptions. His 114.0 pass efficiency rating ranks 106th among 119 Football Bowl Subdivision quarterbacks who have attempted enough passes to qualify in this individual standing.
However, Wimbush's effectiveness has been maximized with his legs. His 68 rushing attempts have totaled 402 yards (5.9 per carry). His eight rushing touchdowns tie him for ninth place nationally and second among quarterbacks, behind only Georgia Tech's Taquon Marshall's nine while operating a triple-option attack.
Book has seen spot duty or mop-up work in four of Notre Dame's five games this season, completing 3 of 8 passes for 51 yards, with all the completions coming against Miami (Ohio) last week. He also has five carries for 40 yards, with a 26-yard run last week against the RedHawks.
Regardless of what transpires during the week, Kelly has told Wimbush he is and remains the starter.
"All I've told him is that we're with you," Kelly said. "I was a pretty bad coach last year and people stuck with me, and I'm sticking with you. So we're in this together.
"We're going to see this through. He's going to get better each and every week in some fashion, and I just think that there's going to be better days ahead for him."