Brandon Wimbush Joins Unique Notre Dame Quarterback Club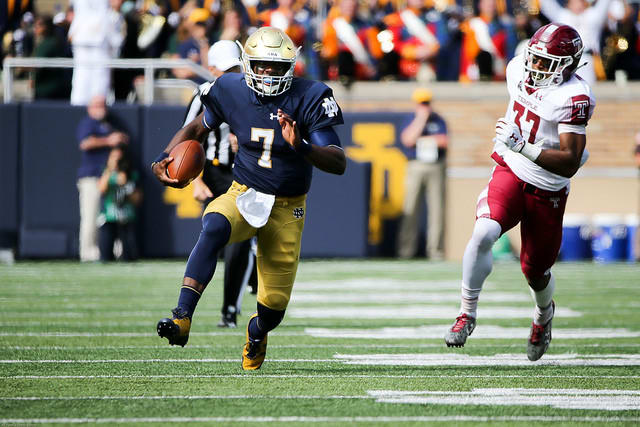 Don't miss out on any of our exclusive football, basketball and recruiting coverage. Click here to get your 60-day free trial!
This past Saturday against Temple, junior Brandon Wimbush became the 60th Notre Dame quarterback — by our count — to start a game since the advent of the T-formation at the school in 1942.
Wimbush instantly made history by becoming the first Irish signal-caller to both pass and run for more than 100 yards in his starting debut. He completed 17 of 30 throws for 184 yards and rushed 12 times for 106 yards in Notre Dame's 49-16 victory versus the Owls.
During the preseason, Wimbush lamented that he hadn't truly been hit since November 2015. With his ability to extend plays and as a dual threat, getting hit by defenders won't be a problem from here on out, and he recognized the way he absorbs them, and how wisely he can avoid them, has to be part of his game.
"I have to get down a little bit more than I did today," Wimbush said after the Temple game. "But I'll learn. Obviously, I learned today, took a couple shots. I wanted to get hit, that felt good for me. I've got to be smarter a little bit and slide when the opportunity presents itself.
"I'll be sore tomorrow, but right now I'm great."
He became only the sixth quarterback at Notre Dame to pull off the 100-100 double play in a game, and it was the eighth time it happened overall. Sixteen more yards passing by Wimbush and he would have joined the even smaller 200-100 club.
Here is a chronological list of the previous 100-100 efforts:
1. Sept. 22, 1956 — Paul Hornung
The Heisman Trophy winner began the awful 2-8 campaign at SMU in 87-degree heat by completing 5 of 9 passes for 113 yards, with a 55-yard score to Jim Morse. He also rushed for 101 yards on 11 carries — most of it on a 57-yard fake punt for a score. Alas, the Irish lost 19-13, a harbinger to the season.
2. Oct. 3, 1970 — Joe Theismann
In Notre Dame's first game ever on artificial turf, the Heisman runner-up guided Notre Dame to a 29-0 drubbing of Michigan State — the school's first win in East Lansing since 1949. He completed 12 of 17 passes for 147 yards and added 107 rushing yards on 13 carries.
3. Oct. 1, 1988 — Tony Rice
En route to the national title, this 42-14 victory against Stanford was a breakthrough for Rice when he completed 11 of 14 passes for 129 yards and rushed 14 times for 107. Coming into the contest, Rice was only 9 of 27 (33.3 percent) through the air, but practiced throwing darts during the week to help improve his technique.
4. Oct. 3, 1998 — Jarious Jackson
The Cardinal, coached by future Irish boss Tyrone Willingham (2002-04), was the victim again in this 35-17 Irish victory. Making his fourth career start, Jackson completed 11 of 15 passes for 163 yards and rushed 18 times for 100 yards. This was the second of eight straight wins under second-year head coach Bob Davie.
5. Oct. 2, 1999 — Jackson
Almost a year to the day later, Jackson made history by becoming the first 200-100 performer in a game at Notre Dame as he rallied the Irish from a 30-14 deficit against first-year head coach Bob Stoops' Oklahoma Sooners to a 34-30 triumph.
In a game played in the rain, Jackson completed 15 of his 21 passes for 276 yards, and ran 15 times for 107 yards (nearly identical in the latter to Theismann in 1970 and Rice in 1988).
6. Oct. 31, 2015 — DeShone Kizer
In the 24-20 victory at 7-0 Temple — which already has had its fill of Notre Dame dual threats at QB — Kizer almost established his own 300-100 club, completing 23 of 36 passes for 299 yards while adding 17 carries for 143 yards for a remarkable total of 442 yards of offense.
His 79-yard touchdown run off the zone read put Notre Dame ahead 14-10, and his 17-yard touchdown toss to Will Fuller with 2:09 left was the game winner.
7. Nov. 28, 2015 — Kizer
Another stellar outing by the Kizer this time resulted in a 38-36 loss when Stanford converted a field goal as time elapsed. Kizer completed 13 of 25 passes for 234 yards with a score, and ran 16 times for 128 yards, including a go-ahead TD with only 30 seconds left in the contest.
It was the third time Stanford was the opponent in at least a 100-100 performance by the Irish QB.