Bonzie Colson And Matt Farrell Named To Naismith Trophy Watch List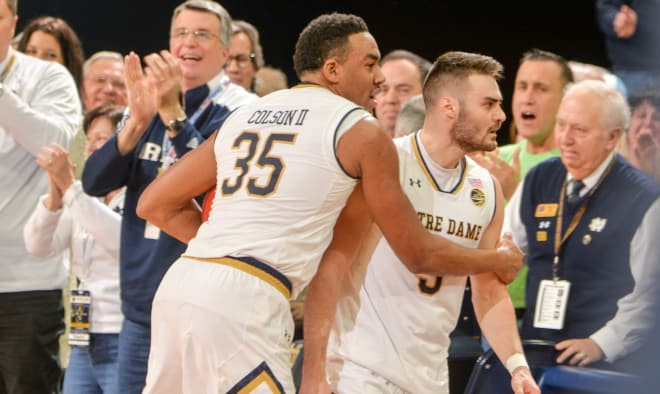 With Notre Dame's 2017-2018 season set to tip off in Chicago on Saturday against DePaul, the preseason recognition continues to roll on in for members of the Irish.
The watch list for the Citizen Naismith Trophy, which honors the top men's and women's player in college basketball, was released today by the Atlanta Tipoff Club and Notre Dame senior forward Bonzie Colson and senior point guard Matt Farrell were among the 50 players placed on the watch list on the men's side.
Former Irish great Austin Carr is the only Notre Dame player to win the award which he did in 1971.
According to the release, a midseason list of 30 will be released in mid-February. Frank Mason of Kansas won the men's award last season. The award will be presented for the 50th time this season and will be announced on April 1, 2018.
The full list of all 50 players can be FOUND HERE.
Colson has been no stranger to the preseason distinctions leading into his final campaign being named a preseason first-team All-American and ACC Player of the Year by various outlets and National Player of the Year honors as well.
Farrell was also named to the Bob Cousy Award watch list earlier this offseason which recognizes the point guard in college basketball.
Notre Dame will count on both players this season to lead the Irish and recreate their junior seasons where Colson averaged 17.8 points and 10.1 rebounds while Farrell notched 14.1 points and 5.4 assists per contest. The Irish were selected to finish third in the ACC this season behind Duke and defending national champions North Carolina.