Bonanza Night For Notre Dame In WNBA Draft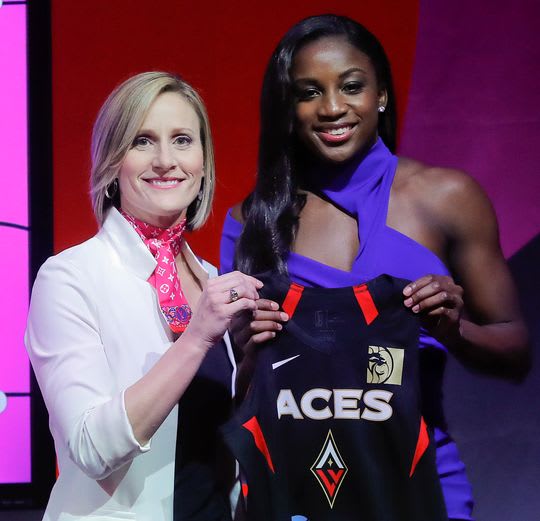 Throughout the 2018-19 women's college basketball season, opposing coaches often commented that playing Notre Dame was akin to facing a WNBA team.
That proved prophetic Wednesday night when all five Fighting Irish starters under Naismith Hall of Fame head coach Muffet McGraw were selected among the first 19 picks in the three-round WNBA Draft (12 players per round) .
• Junior guard Jackie Young, who announced her intent to turn pro on Monday, was chosen No. 1 overall by the Las Vegas Aces.
That made her the second Fighting Irish player in the last four years to be the top pick, joining Jewel Loyd, who also was a junior in 2015.
The Aces are coached by former 1975-79 Notre Dame center Bill Laimbeer, who also played 14 years in the NBA and won two NBA titles with the Detroit Pistons. Later he coached the Detroit Shock to WNBA championships in 2003 and 2008, including with former Irish star Ruth Riley. Also on the Aces roster are Fighting Irish alumnae Kayla McBride (2010-14) and Lindsay Allen (2013-17).
• Senior guard Arike Ogunbowale was picked No. 5 by the Dallas Wings.

Notre Dame's all-time leading scorer (2,626 points in 149 games) will join the individual she eclipsed on the all-time Irish chart — Skylar Diggins-Smith (2,367 points in 150 games), who announced her pregnancy in October with husband Daniel Smith, a former Notre Dame wide receiver.
A second-team AP All-American, Ogunbowale's 21.8 scoring average this past season eclipsed her previous school record of 20.8 set for last year's national champions.
• Chosen No. 11 overall by the Atlanta Dream was graduate student/forward Brianna Turner, Notre Dame's all-time record holder in rebounds (1,048) and blocked shots (372), surpassing Riley in both. She and Riley are the only two players who played their entire career with the Fighting Irish and scored more than 2,000 points (2,017) while also hauling in at least 1,000 rebounds.
However, the Phoenix Mercury later traded for the rights to Turner, who will be heading out West instead.
• Taken No. 16 by the Minnesota Lynx was senior forward Jessica Shepard, whose 19 double-doubles this season tied the single season school mark set by Natalie Achonwa in 2013-14. The third-team AP All-American Shepard averaged 16.7 points and 10.3 rebounds this season.
The Lynx has had one of the top WNBA organizations, winning four of the last eight championships.
• Finally, senior sharp-shooting guard Marina Mabrey was selected No. 19 by the Los Angeles Sparks. Her 272 three-pointers are the most in Notre Dame annals, and she joins Diggins-Smith and Karen Robinson (1987-91) as the lone Irish players to tally more than 1,500 points and 500 assists.
Mabrey had an NCAA semifinal record 12 assists in the win over UConn, and in the championship loss to Baylor (82-81) drilled three three-pointers in a span of 2:05 to help the Irish take a temporary fourth-quarter lead.
Overall, this quintet totaled 10,230 career points, the most ever by a starting group together in NCAA history. The breakdown was Ogunbowale (2,626), Shepard (2,340, with 1,228 in two seasons at Notre Dame after first starring at Nebraska), Turner (2,017), Mabrey (1,896) and Young (1,351).
The 2017-18 Ohio State squad is in second place among women's teams with 8,492 points (even excluding Shepard's first two years at Nebraska, the Irish finished at 8,891). The highest total on the men's side was the 2008-09 national title North Carolina team, led by Tyler Hansbrough, with 8,216 points.
Under the late Pat Summitt, Tennessee was the only other school to have five players selected in the same season. Per USA Today, that occurred in 2008 when Candace Parker was taken No. 1 overall, Alexis Hornbuckle No. 4. Shannon Bobbitt No. 15, Nicky Anosike No. 16 and Alberta Auguste No. 35.
In 2016, Connecticut's Breanna Stewart, Moriah Jefferson and Morgan Tuck were taken 1-2-3.
The 12-team WNBA season begins May 24, with training camps opening up a few weeks earlier.