BGI Staff Predictions: Notre Dame vs. LSU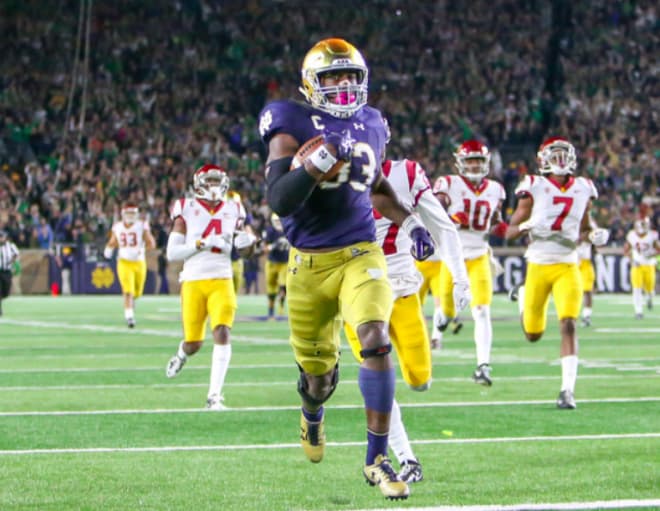 We are now one day away from the Citrus Bowl matchup between No. 14 Notre Dame (9-3) and No. 17 LSU (No. 17). It is a tremendous opportunity for the Fighting Irish to end their season on a strong note after dropping two of its final three games of the regular season.
Blue & Gold Illustrated has brought you coverage of the game, and now it is time to make our predictions.
LOU SOMOGYI, SENIOR EDITOR
I picked LSU in the print publication, hoping for some reverse psychology, because every time I pick the Irish in these type of pick 'em games, they tend to falter. But I'll rationalize Notre Dame again here because it has lost nine straight games in the month of January (dating back to Jan. 2, 1995) and also has lost six straight games in the state of Florida, dating back to the Jan. 1, 2003 Gator Bowl. I go more by intangibles and am a "due" guy — and the Irish are way, way overdue for a win in January and a victory in the state of Florida. Of course, I thought they were overdue for a win at Stanford, too.
PREDICTION: Notre Dame 28, LSU 24
BRYAN DRISKELL, FOOTBALL ANALYST
I've gone back and forth about this prediction for the last two weeks. It really is a hard game to predict because we don't know what Notre Dame team is going to show up, and we don't how which team will be hurt most by the personnel losses in the month leading up to the game.
Notre Dame's vaunted offensive line is matched up against a LSU front seven that is missing three starters. The Irish pass game has struggled all season, and now it must go against LSU's outstanding secondary without its second, third and fourth leading receivers. Which team missing key players will handle it the best?
I completely understand why everyone is picking a close Notre Dame win, but I'm going a different way here. I feel that if the Notre Dame team we saw in November shows up the Irish won't win this game. The offense will turn the ball over, the defense will wear down and LSU will make too many big plays.
I'm predicting a big Notre Dame win because I believe the team we saw in September and October will show up. That team will be able to run the ball on LSU, it will keep the LSU ground game in check and quarterback Brandon Wimbush will get back to making plays with his arm and legs.
PREDICTION: Notre Dame 34, LSU 16
COREY BODDEN, RECRUITING REPORTER
It's going to be interesting to see the chess match on both sides of the ball and how two of college football's best defensive coordinators — Mike Elko and Dave Aranda — make adjustments throughout the 60 minutes.
Both teams are of course going to try and establish the run and impose their physicality. LSU is missing several key defensive players in Arden Key, Corey Thompson and Donnie Alexander, but the Tigers will still boast a talented front seven to go with its defensive backfield. On the flip side, Notre Dame will be without wide receivers Chase Claypool and Kevin Stepherson, which will put more pressure on Equanimeous St. Brown and others like Miles Boykin to step up and make plays.
Quarterbacks Brandon Wimbush and Danny Etling have been on the receiving end of criticism this season for their play at times. Both will be counted on to make plays through the air to help open up their team's respective run games.
The month off for both teams could cause some rust and sloppy play early on as they get back into the flow of a game. Given that and the game plan these two teams are expected to implement, I think this game could be a low-scoring affair. Notre Dame wins a close one and enters 2018 with some momentum.
PREDICTION: Notre Dame 28, LSU 27
DAVID MCKINNEY, RECRUITING REPORTER
On the Notre Dame side of things, everyone is asking the same question heading into this game: After a few weeks off, which Irish team is going to show up?
Will we see the world beaters that made NC State and USC look like MAC teams, or the team that had its season derailed in South Beach and completely crash and burn in the forth quarter in Palo Alto?
If the Irish from September and October show up, Notre Dame should be able to take care of an LSU team that feasted on bad teams down the stretch. But if the November struggles continue, LSU will take advantage like they did against teams like Arkansas and Texas A&M.
I'm going to take the optimistic route here and pick Notre Dame to win. I truly believe that Brandon Wimbush is inches away from turning it around, and when his physical talents and mentality link up, good things happen.
PREDICTION: Notre Dame 27, LSU 24