BGI 2015 Football Preview: Excerpts With Brian Kelly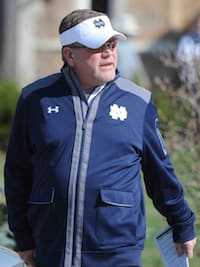 While putting the finishing touches of our 160-page, full glossy 2015 Football Preview in June, we were granted an exclusive one-on-one with head coach Brian Kelly specifically for that publication.
We asked 10 pertinent questions about the offense, 10 on defense and also had a chance to delve into some other topics, including his thoughts on coaching in the NFL in the future and about dealing with academics at the University. Here are a few excerpts:
Question: There is a popular perception that you have become frustrated with the limits here and the first opportunity you get after another good season, comparable to 2012, you will bolt for a potential NFL job. What is your response?
Kelly: "I don't know how to stop that other than to say there's no other place, first of all, in college that I would want to coach. No. 2, I get to pick the players that play for me, I get to negotiate the contracts. I've got the salary cap, I've got all that. In the NFL, you don't get to do any of that. Look what Chip Kelly's going through. He tries to control all that and he gets killed for it. I can do all that here at Notre Dame.
"…Bill Belichick gets control over that but he's won [four] Super Bowls. I needed to know that to make sure I wanted to do what I was doing. After seeing that and after talking to a number of guys that I know in the NFL, it's crazy."
Can this team take on the identity you had versus LSU where you rushed for 263 yards and emphasized physicality?
"It's taken us a while to build the depth necessary to pound the football. We haven't had that, and we've got that now. We've built this to get back to being physical. …What I feel we have to be able to do is the quarterback has to be part of our running game. If the quarterback is part of the running game, we will be one of the top rushing offenses.
"…"The No. 1 personnel grouping today in college football and the NFL is 11 personnel (one running back, one tight end, three receivers]. You can't pound the football like Notre Dame pounded it 20 years ago. There's not a fullback on the field. It's not built that way. So how are you going to do it?
"You can do it with the quarterback. If you have a quarterback that is central to the running game like at Ohio State or Oregon, the teams that are rushing for a lot, they're including the quarterback as runners. That's where we think our edge is this year. The quarterback is going to be central to the running game, which is going to open up everything else for us."
Other topics addressed on offense included tempo, whether quarterback Malik Zaire's inexperience will help or inhibit tempo, where he needs to improve as a passer, the progress of his backups and how the offense might need to change with them, and much more.
Defensively, Kelly addresses some potential shifting of personnel along the front seven to aid the pass rush, what KeiVarae Russell's return has done in elevating the summer workouts alone, and whether he thought coordinator Brian VanGorder's new NFL-style scheme was too complex last year for college players.
We asked Kelly what he defined as wanting to get to the "next level" when he hired VanGorder.
"The defense we played in 2012 was exposed in the championship game," he said. "It was all based upon that premise. Everything that we've done has been based upon getting to the national championship game - and then what we had to do at this program to get to the next level. One answer was more depth in our football program. We were woefully inadequate with depth on the offensive line, defensive line and then a few other position groups. We weren't there yet [in 2012].
"Defensively, we were too vanilla. If you had any time to scout us - we had two defensive calls, we had issues, we had no situational substitution groups. So that was the next level. We were going to change personnel groups and get into all those things anyway, and we were starting to evolve to it when we got to Brian. That's the next level for us defensively, and having the ability and depth to do it."
Want More?
To order your 160-page 2015 Notre Dame Football Preview for just $11.95 -
click here
!