Badger bites on Irish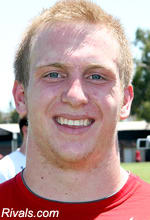 The 6-foot-0, 178-pound safety from Provo, Utah, grew up a Notre Dame fan but never really gave the Irish a chance during his recruitment before committing to Stanford in March.
That all changed during the spring evaluation period.
Badger picked up an offer from Notre Dame and started building a relationship with defensive line coach Randy Hart, which rekindled his interest in the Irish and convinced him it would be worth a visit to South Bend.
After clearing it with the Stanford coaching staff, Badger made the trip to Notre Dame this weekend and was "blown away" by what he saw.
In a matter of hours Badger was no longer a Stanford commitment.
Instead, he's all blue and gold. Badger is the ninth verbal commitment in Notre Dame's recruiting class and the fourth in the past week, following quarterback Andrew Hendrix, defensive end Blake Lueders and cornerback Lo Wood.
"My thought process I think was that I had to come out and at least visit," Badger said. "Or I'd go the rest of my life saying 'what if I would've visited Notre Dame.' I felt that that was the decision that was best for me. So I called the coaches (at Stanford) and said I'm just gonna visit. They were OK with it. I wasn't really expecting how blown away I was gonna be when I got here."
Badger spent the weekend on Notre Dame's campus soaking in all aspects of life, including hanging out with players and meeting with head coach Charlie Weis and his staff. He said Hart and associate head coach Corwin Brown went out of their way to make his visit go well.
Among the most important parts of the trip was time spent with top incoming recruit Manti Te'o. Badger, like Te'o, is Mormon and the two had a chance to talk about their faith.
"We went to church together on Sunday for a little while," Badger said. "We both think it's great being out here and representing our church and doing our best to represent our church and being great people and great football players."
Badger's decision to switch from Stanford to Notre Dame didn't come lightly, nor did he necessarily think it would come so fast.
But after spending the weekend in South Bend, Badger is leaving convinced he's made the right decision.
"The coaches and players, and really getting to know them and feel comfortable there stood out to me," Badger said. "Touring the stadium. I walked around the stadium with coach Brown. I could really see myself playing there."
Soon enough, Badger will get to feel himself playing there.