Arizona Receiver Marcus Libman Enjoys First Look At Notre Dame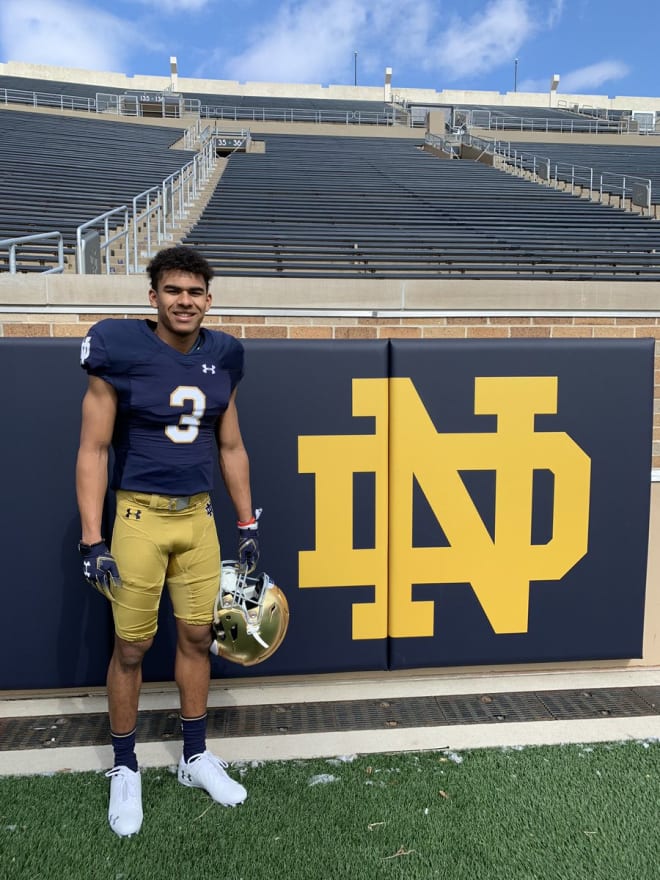 Notre Dame will have prospects coming on campus for visits almost every day over the next few weeks, and Tuesday was no different.
Marcus Libman, a 2020 receiver from Phoenix Pinnacle, got his first look at Notre Dame Tuesday and was blown away.
"The visit overall was one to remember," Libman said. "I loved how everything was set up, they're always building something new."
According to Libman, he was invited out to visit Notre Dame shortly after receivers coach DelVaughn Alexander came to Pinnacle to watch Libman and teammate Tosh Baker, a top Irish target and Rivals100 offensive tackle, in a basketball game.
Libman told Blue & Gold Illustrated the history surrounding Notre Dame, in and out of the classroom, caught his eye in a big way during the trip to South Bend.
"The traditions really stood out to me," Libman said. "How unique they were. It seemed like a ton of fun."
The Arizona talent spent a little time with multiple members of the coaching staff during the trip, but mostly talked to Alexander.
Libman said he's quickly become a big fan of Alexander.
"The coaches were all great and the relationship clicked right away," Libman said. "I met each coach and heard a little about each of them. Coach Alexander definitely was the one I hung around the most and our conversations and the relationship was very strong."
Libman's recruitment hasn't quite taken off yet. He holds just one offer, Cornell, but it hopeful that more are on the way.
If Notre Dame were ever to jump in the mix, Libman would certainly be fired up.
"After that visit, a Notre Dame offer would be a dream come true," Libman said. "I loved everything about the campus, the coaches, the environment and everything else. They know how to win and how important the game of football really is to them."