Andrew Kristofic Took Strength & Leadership To Another Level As A Senior
Click HERE to sign up for an annual subscription to BlueAndGold.com and get your FREE gift code for $99 in Irish apparel and gear!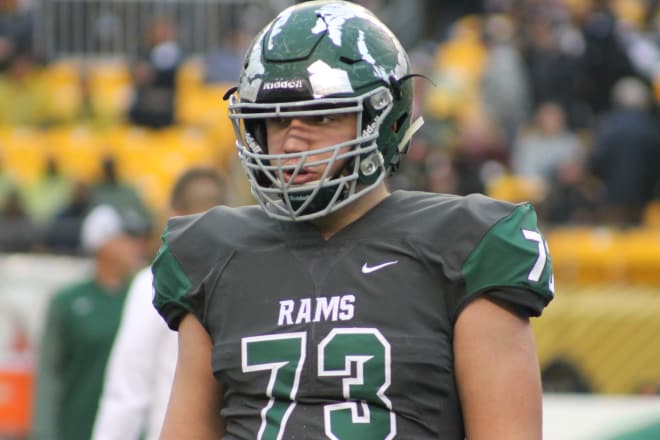 It was a banner year for Gibsonia (Pa.) Pine-Richland in 2017 with the program capturing its first Class 6A state title.
Several key players departed for college, but expectations remained high for the Rams with Notre Dame commit and offensive tackle Andrew Kristofic among the seniors leading the charge.
After starting the season with a loss to Bradenton (Fla.) IMG Academy, Pine-Richland reeled off eight-straight wins and eventually captured their second-straight Western Pennsylvania Interscholastic Athletic League. The Rams eventually advanced the PIAA Class 6A state finals.
"I have nothing but great things to say about the season," Kristofic told Blue & Gold Illustrated. "It was a really young team we had this year. While expectations are always high around our program, you were kind of fooling yourself if you think you aren't going to go through some growing pains with almost every skill player being a first-year starter.
"Winning back-to-back WPIAL championships and being able to accomplish that on top of having a good year for the most part was great. Didn't end the year on the note that we would have liked, but that doesn't take from the body of work that we put together throughout the whole season. The guys and everyone should be excited for the future of our program for the next few years."
With a younger team in 2018, Kristofic knew his voice needed to be louder during his final year in the program to go with becoming more of a physical offensive lineman.
"I hope I was able to give as much to the younger guys as the older guys when I was younger were able to did," Kristofic stated. "That would be the biggest thing. In terms of my play, I think I took a big step in my development with the strength with another year of working out and learning about the position. Just being a more physical and finishing type of player where before I relied on my athleticism for much of that."
During the year, Kristofic kept much of his attention on his team and their goals. Now that his season is over, the reality of arriving at Notre Dame in January began to set in. Kristofic knows the biggest jump in his development during 2018 will need to continue in the early stages of his career in South Bend.
"Strength will be the biggest thing," Kristofic said of his goals for improving. "Like most young guys coming in playing this position, you're going to be competing against guys that are a couple years older that have been in the program having professional nutritionists and trainers with them. It's all about making up that time on top of being able to learn and grasp everything the game entails at the next level."
The four-star prospect is looking forward to getting a jump start on the next chapter of his student-athlete career.
"It's going to be huge," Kristofic said of his early enrollment. "Five or six months ahead of the normal June enrollees, so you get in school and adjust to college education while you aren't in the middle of the season. Also, having the professional dietitians and strength coaches where it's their job to help you grow into the best athlete you can be.
"You get to take advantage of all the resources available for an extra few months."
Kristofic is one of 10 players planning to enroll early at Notre Dame along with his fellow offensive line pledges in Quinn Carroll, Zeke Correll and John Olmstead. Running back Kyren Williams, punter Jay Bramblett, linebacker Jack Kiser, defensive tackles Jacob Lacey and Hunter Spears and defensive end NaNa Osafo-Mensah.