Alohi Gilman Named Finalist For 2018 Polynesian College Player Of The Year
Click HERE to sign up for an annual subscription to BlueAndGold.com and get your FREE gift code for $99 in Irish apparel and gear!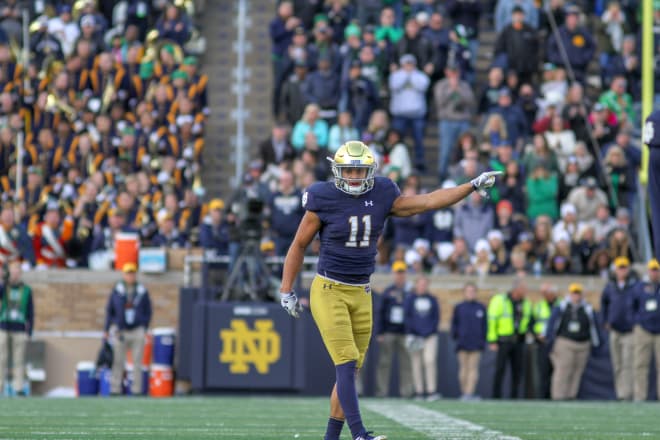 Notre Dame junior safety Alohi Gilman is one of five finalists for the 2018 Polynesian College Football Player of the Year, presented by the Polynesian Football Hall of Fame.
The other four finalists up for the award: defensive end AJ Epenesa (Iowa), offensive line Dru Samia (Oklahoma), quarterback Tua Tagovailoa (Alabama) and wide receiver John Ursua (Hawaii).
"The Award is presented annually to the most outstanding college football player of Polynesian ancestry that epitomizes great ability and integrity," the press release stated.
Gilman finished the 2018 regular season with 76 total tackles and two interceptions while starting all 12 games. Former Irish offensive lineman Ronnie Stanley won the award in 2015.
The winner of the award will be announced Dec. 13.
"The Polynesian College Football Player of the Year Award allows us to showcase the tremendous impact of our Polynesian student-athletes," said Jesse Sapolu, Chairman and Co-Founder. "We congratulate the finalists on an incredible season and look forward to celebrating their success."