Alizé Jones Having A Big Spring For Notre Dame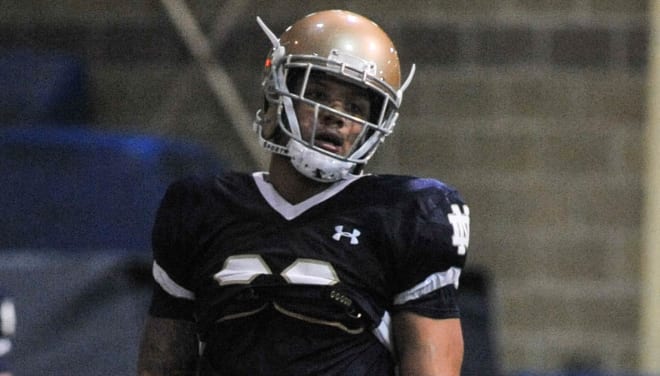 Perhaps the biggest addition to Notre Dame's offense this season spent last year on the practice squad.
Alizé Jones, a 6-foot-4, 245-pound matchup nightmare at tight end, is back working with the first- and second-team offensive groups this spring after sitting out all last season due to academic suspension.
"Alizé can be as good as he wants to be," offensive coordinator Chip Long said.
Jones looked strong in Saturday's scrimmage, running good routes and using his athleticism to find openings in the defense. He caught a short diving pass from junior quarterback Brandon Wimbush and tallied two red zone touchdowns from sophomore quarterback Ian Book.
Afterwards, head coach Brian Kelly called Jones "virtually un-coverable."
"You can't cover him, he just has that kind of talent," Kelly said.
As a freshman in 2015, Jones caught 13 passes for 190 yards. Now a junior, Jones appears to have taken his game to the next level by becoming a better blocker.
Jones is part of a deep tight end group that includes fifth-year senior Durham Smythe, seniors Tyler Luatua and Nic Weishar and early enrollee freshman Brock Wright.
"The one thing that really stands out to me in the few days is he's committed himself to being a blocker and playing physical," Kelly said of Jones. "If he continues to do that, we're going to find ourselves with a lot of tight ends on the field."
Long, who works directly with the tight ends in Notre Dame's offense, has a history developing the position. He said last week he's never had a deeper group, and early glimpses at practice indicate the Irish will likely use plenty of two tight end formations.
Jones can be a big part of that if he focuses on the details, Long said.
"Detail your position, take care of what you can take care of and each day maximize it," Long said. "He's doing that. He's growing up each and every day. Great joy to coach and that whole group is. He doesn't want to let that group down. There's no question he can be as good as he wants to be."
Jones was considered one of the best tight ends in the country entering last season, named to the Mackey Award watch list.
Instead of having his Irish career derailed, Jones is back on track to being a force in 2017.
"With everything he went through last year and how he handled that situation, I gained a lot of respect for him," Smythe said of Jones. "A lot of the guys gained a lot of respect for him. He's been great so far. On the field he's been doing well, he's handling the offense extremely well.
"On and off the field, this offseason he's been one of the hardest working guys. It's exciting to see and I'm excited to be able to work with him next year."