Talented CB Landen Bartleson Commits To Notre Dame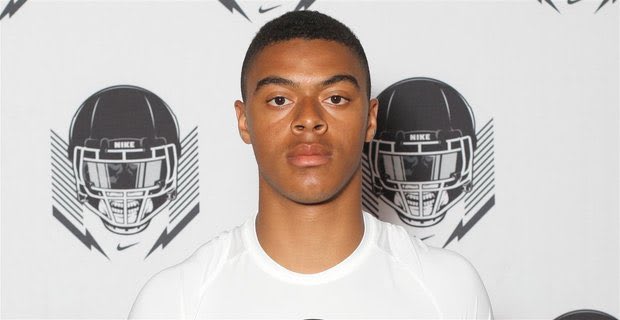 Notre Dame's defensive back board is becoming clearer, as the Fighting Irish landed a commitment from Danville (Ky.) Boyle County cornerback Landen Bartleson on Monday.
The 6-foot-1, 190-pounder has been a top prospect for the Irish for the past few months, and he told the Notre Dame staff the news of his commitment during his official visit this past weekend.
"They were definitely excited," Bartleson told Blue & Gold Illustrated hours after he gave the Irish his verbal pledge. "It was actually a conversation with Coach [Brian] Kelly. He asked me when I was going to get back to Notre Dame, and I was just like 'Well, I'm trying to pull the trigger' and that's when we got on the topic [of committing] and kept talking about it. That's how it went."
Notre Dame is a national powerhouse football program, but the academic and personal side of things was very important to Bartleson as well in his decision making process.

"One big thing is the people at Notre Dame," Bartleson said. "Everyone has good, positive things to say about Notre Dame. To be honest, it's hard pass up the education and life after football that Notre Dame offers. Football doesn't last forever."
Bartleson has been to Notre Dame a few times. He didn't necessarily see anything that he hasn't seen on prior visits, but he got a better feel of the Irish football players.
"Same energy as always," Bartleson said of his visit. "I got to interact more with the football players this time -- that was a good thing. I got to learn some people's personalities; I got to see how the team is."
Of the Notre Dame coaching staff, Bartleson spent most of his time with defensive coordinator Clark Lea and defensive backs coaches Todd Lyght and Terry Joseph.
"That's who I was mainly with, but all of the coaches were around, so I spoke to everybody," Bartleson explained. "They showed a bunch of love."
Bartleson has been featured at running back for Boyle County H.S., but he's going to play cornerback for the Irish and feels confident in his abilities.
"I'm a lockdown corner," he noted.
Bartleson committed to Notre Dame over offers from Kentucky, Louisville, Michigan, Ohio State, Purdue, Vanderbilt, West Virginia and others.
He is Notre Dame's 14th commitment in its 2020 class.