A Look At Nevada: Q&A With Beat Writer Chris Murray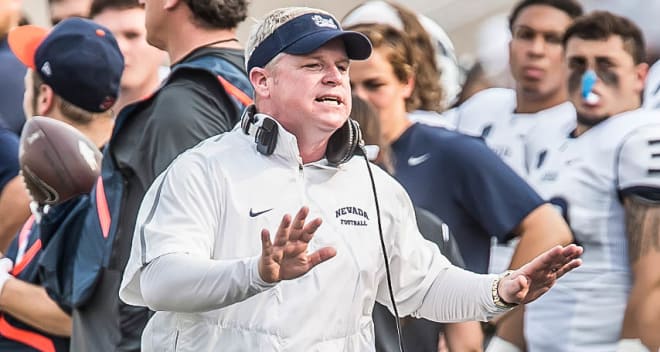 In previewing Nevada, Blue & Gold Illustrated spoke with Chris Murray, who covers Nevada for the Reno Gazette-Journal.
----
Blue & Gold Illustrated: What does Nevada have in quarterback Tyler Stewart?
Chris Murray: Last year I would not say it was a position of strength and I don't think it was a position of weakness. Coach Polian has said that they did not lose any games because of their quarterback, and Tyler completed about 58 percent of his passes for 2,200 yards, 15 touchdowns, and seven interceptions. He finished 89th in QBR.
As a first year starter he didn't have a dynamic season that the Wolf pack is accustomed to … In the last 32 seasons, in all but four they had an all-conference QB during their career. It's always been a huge position of strength, and last year it was a position of being average. The hope is after 13 starts last season that Tyler is ready to take the next step forward.
BGI: Is he poised to improve in 2016?
Murray: He does look like he has a lot more confidence, he's not really that charismatic guy who's going to rally the troops. He's 6-4, 220 pounds and has a very strong arm. Pretty athletic, can do the read-option game. He was average last year and they need better than average this year if they're going to compete for a conference championship and compete for nine or 10 wins.
BGI: What's the offensive line look like?
Murray: They have five returning starters back on the offensive line. They rank in the top-25 in career starts among linemen among FBS. Three of them are seniors. Their left tackle is a third-year starter.
BGI: Is there talent around the QB to win games?
Murray: He has a lot of veteran talent around him. He's still going to have to lead the team and make big plays. It's going to be a run-oriented team, but he's in a better position heading into this season than he was last year.
BGI: Is the linebacker position still a question?
Murray: It's still the biggest question mark on the team if you're going through positions, and they only return one of the front seven players, nose guard. You're kind of throwing out guys that haven't been on the field. They're not very big. ...It's going to be a smaller, faster defense that's going to run and hit.
BGI: What's the expectation for Nevada this year?
Murray: They're coming off back-to-back seven-win seasons which is not bad, but you look at the schedule they've been lined up against the last couple years and they should've won seven games. They should've won eight or nine games, and it's the same this year.
He's said, '7-6, I'm done with those. That's not going to be good enough anymore.' That's kind of the rallying cry entering this season.
BGI: What does this year mean for Polian?
Murray: I would probably say there's a ⅓ chance that Coach Polian is not the coach at Nevada next year, but I don't which way it's going to go. If it goes poorly he doesn't get retained, or it goes well and he wins nine or 10 games and then a lower-level Power Five school ...makes him an offer. It's a swing season for sure.
BGI: What's Nevada's expectation for this game?
If you go play Notre Dame tough on the road, you're heading in the right direction. If you go and beat Notre Dame, that's one of the best wins in program history. If they go in and it's competitive, they'll take that as a win.