5 Telling Stats From Notre Dame-NC State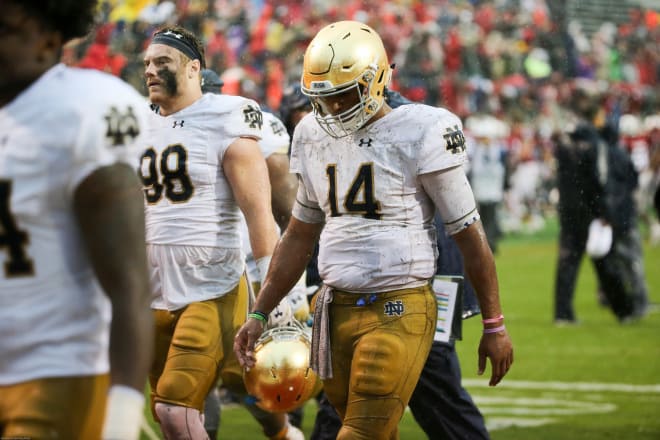 Five telling stats from Notre Dame vs. NC State…
1 for 15 on third down
The Irish converted just 6.7 percent of their third down opportunities, their worst performance on that down offensively since going 0-for-10 against Virginia last season. Junior quarterback DeShone Kizer threw the ball nine times on third down, completing twice for a total of three yards, throwing incomplete five times, getting picked off and taking a sack.
On the 15 attempts, Notre Dame gained 27 total yards.
10 first downs
The Irish had just 10 first downs against the Wolfpack, their lowest mark since tallying just four against Southern Cal in 2008, a 38-3 loss in Los Angeles. Against NC State, five came via the pass, four via the ground game and one on a penalty.
"It's really just about having that demeanor and toughness and that will that regardless of the circumstances, we're going to get it done," Notre Dame head coach Brian Kelly said on his Sunday teleconference. "The players are fine; coaching is fine. There is just a fine line between winning and losing, and we're not making or executing as a unit. Not any one person, but as a group we're not executing effectively in the closing minutes to win football games.
11 runs, 12 passes on first down
Notre Dame's offense ran 23 plays on first down against the Wolfpack, attempting 11 runs and 12 passes. Those 12 passes resulted in 33 yards for Kizer. He threw incomplete four times and was sacked the final four times he attempted to pass on first down.
When running the ball on first down, Notre Dame tallied nine yards on its 11 attempts. The longest gain was a 6-yard rush by sophomore running back Josh Adams.
NC State, meanwhile, skewed much more toward running the ball on first down. The Wolfpack ran 25 plays on first down — 21 runs and four passes. Sophomore quarterback Ryan Finley completed just one of those passes for 11 yards. On the ground, NC State went for 74 yards on first down, including gains of 23 and 11 yards.
1 "chunk play"
Adams' 12-yard run in the fourth quarter was Notre Dame's only offensive play that is considered a "chunk play" — a pass play of 15-plus yards or a rush of 10-plus yards.
Compare that to the 13 chunk plays against Syracuse, 17 against Duke, 10 against Michigan State, nine against Nevada and 15 against Texas.
"We don't have any excuses. We were atrocious offensively," Kelly said.
3 total points
In arguably the worst offensive game in Kelly's seven seasons at Notre Dame, the Irish tallied just three points, the fewest points in his tenure.
The main criticism following the game was that Notre Dame should have called more running plays due to the inclement weather.
"So if we were going to have any struggles, we were going to do what we do," Kelly said. "In terms of altering the game plan, you have some specific runs and certain passes that you're going to lean on within your game plan when come to the stadium and see the conditions as they are."