2024 three-star CB Leonard Moore verbally pledges to the Irish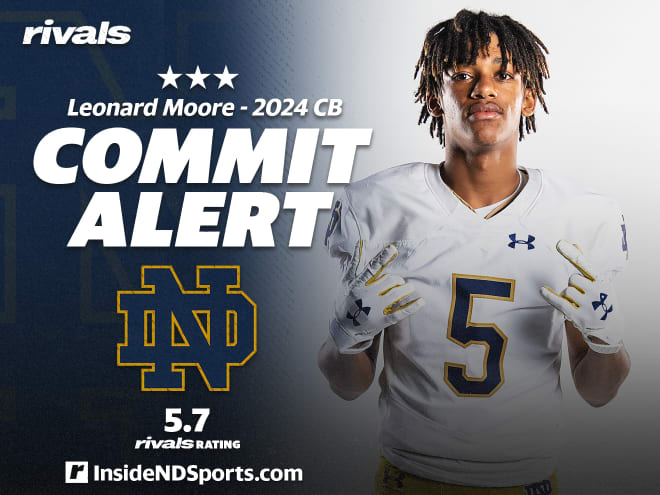 Notre Dame has prevailed again in its recent recruiting hotbed of Austin, Texas.
On Saturday, Round Rock (Texas) High junior cornerback Leonard Moore announced his Irish verbal pledge. Rivals ranks the 6-foot-2, 170-pound three-star recruit as the No. 34 overall cornerback and No. 6 cornerback in Texas. His commitment comes six days after his first trip to South Bend for an unofficial visit.
During that visit, Moore reconnected with mid-year enrollee Braylon James, a wide receiver from Round Rock Stony Point High. Moore has a strong friendship with the former Rivals250 wide receiver, and their families share a close bond. Moore has also crossed paths with fellow mid-year enrollee Jaden Greathouse.
In the 2023 cycle, Notre Dame landed two of the top five Rivals-ranked recruits in the Austin area in James and Greathouse. Both of those battles required months-long legwork, whereas the Irish secured Moore's commitment after offering him a scholarship Jan. 18.
Moore reports 14 other scholarship offers and unofficial visits to six of those schools. Notre Dame's academic prowess attracted the quick turnaround in landing Moore's pledge. His father, Dr. Leonard N. Moore, is an award-winning American History professor at the University of Texas.
Texas and Southern California hosted him on unofficial visits but opted not to offer a scholarship thus far into the 2024 recruiting cycle.
JOIN THE CONVERSATION ON THE INSIDER LOUNGE MESSAGE BOARD
Notre Dame cornerbacks coach Mike Mickens also expedited the recruiting victory by paying a visit to Moore's high school Jan. 25. The Irish previously offered 20 cornerbacks in the 2024 class before turning to Moore.
Over the last month, the Irish only prioritized four other cornerbacks — Kaleb Beasley, Aaron Scott, Jeremiah Newcombe and Jon Mitchell — by making visits to their high schools. They already have one commitment in three-star recruit Karson Hobbs from Cincinnati Archbishop Moeller — the second-lowest rated cornerback recruit among those 20 offers.
Rivals gave a 5.7 rating to Moore in October, which projects him as an All-Region level player that is generally among the nation's top 800-850 prospects overall. However, after a productive junior season, Moore is due for a rating and rankings boost during the next Rivals update.
During the 2022 season, Moore had the same number of interceptions (3) as receptions allowed in 11 games. He also had nine pass breakups, 31 tackles (20 solo) and two caused fumbles. That season garnered him all-district honors.
"Moore's length on the boundary makes him a matchup nightmare, even when guarding bigger-framed receivers," Rivals national analyst Nick Harris said. "His technique and hip fluidity stands among the region's best, and it has made him one of the more feared defensive backs in the state of Texas in the 2024 class."
Moore's commitment helped the Irish maintain a lead over LSU for the No. 2 spot in the 2024 Rivals team rankings. The Irish have 1,032 points, which trails Georgia and its 10 commits by 518 points.
Notre Dame's 2024 class has eight commits, headlined by the nation's No. 4 pro-style passer in CJ Carr. In addition to Carr and Hobbs, the Irish have also received four-star pledges from tight end Jack Larsen, offensive lineman Peter Jones, defensive lineman Owen Wafle, running back Aneyas Williams and wide receiver Cam Williams.