2024 Rivals250 WR Cam Williams commits to Notre Dame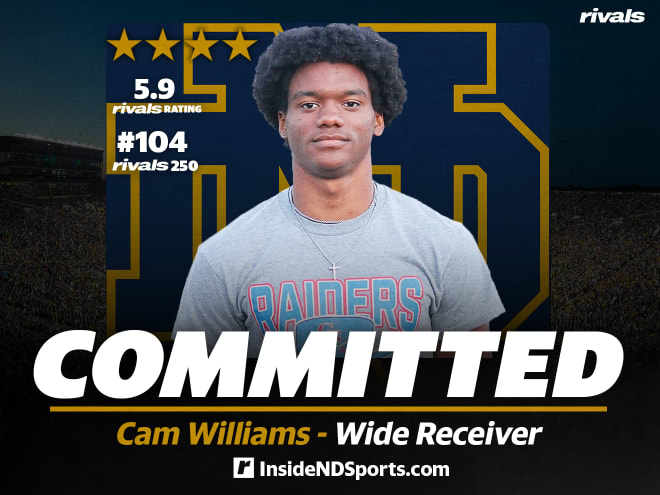 Notre Dame is not wasting time building up its 2024 offensive recruiting class. And it has now found a skilled wide receiver to add to it.
On Wednesday night, Cam Williams from Glen Ellyn (Ill.) Glenbard South announced his Notre Dame commitment. The four-star recruiting target chose the Irish over finalists Cincinnati, Iowa, Michigan and Wisconsin.
The 6-foot-2, 180-pound recruit earned offers from 24 schools, 16 of which were from Power Five teams. Rivals ranks him as the 11th-best wide receiver in the 2024 class and the No. 104 prospect overall.
Williams' commitment is Notre Dame's fifth in the 2024 class, and keeps the Irish atop the Rivals team recruiting rankings for that cycle. ND has amassed 735 points in the early stages of the 2024 recruiting cycle, and its commits hold a 3.8-average star rating.
The rising junior's pledge comes less than a month after his third trip to campus. During it, Williams connected with quarterback CJ Carr and tight end Jack Larsen — both have since committed to the Irish. Afterward, Williams started to have an idea about his future home, too.
SUBSCRIBE TO INSIDE ND SPORTS TO STAY IN THE KNOW ON NOTRE DAME ATHLETICS
JOIN THE CONVERSATION ON THE INSIDER LOUNGE MESSAGE BOARD
"When you know, you know," Williams told Rivals national recruiting analyst Clint Cosgrove. "It's that gut feeling that I genuinely felt that I don't need to go anywhere else. All the buttons were clicking at the right time. (Notre Dame) is the place. I saw it and knew right away. I did not want to waste any more time."
Offensive coordinator Tommy Rees offered the Rivals250 wide receiver after stopping at his high school in early May. Before he earned it, Williams had seen Notre Dame twice.
His main contact was running backs coach Deland McCullough. But wide receivers coach Chansi Stuckey has become an integral part of Williams' recruitment, especially after camping at Notre Dame's Irish Invasion earlier this month.
"I enjoyed (Stuckey) on and off the field," Williams previously told Inside ND Sports. "He's invested in teaching the guys and making them better. He could tell how determined I was to learn."
In June alone, the Irish have secured pledges from five offensive players — offensive linemen Elijah Paige and Joe Otting in the 2023 class and Carr, Larsen and now Williams in the 2024 class. Its latest is only scratching the surface of his potential.
"(Williams) an exceptional athlete," CBS Sports recruiting analyst Tom Lemming said. "He's a national guy — a big catch for Stuckey. He could be an All-American wide receiver, safety or corner. He's a phenomenal athlete. He averaged 18 yards per catch last year and runs a 4.5 (40-yard dash). He has great height and length.
"He can run. He's got good speed and size at 6-2, 185 pounds. He also has great hands, confidence and is super smart. He's a smart route runner with real crisp routes. He knows how to get open and knows how to attack the ball."
Williams is the first of what Notre Dame hopes will be several commitments over the next five days — all from the 2023 class. During that period, the Irish expect to learn the destinations of Charles Jagusah (Thursday), Micah Bell (Friday), Rico Flores (Sunday) and Christian Gray (Monday). Inside ND Sports has predicted all five to become Irish.