2024 Rivals100 quarterback CJ Carr commits to Notre Dame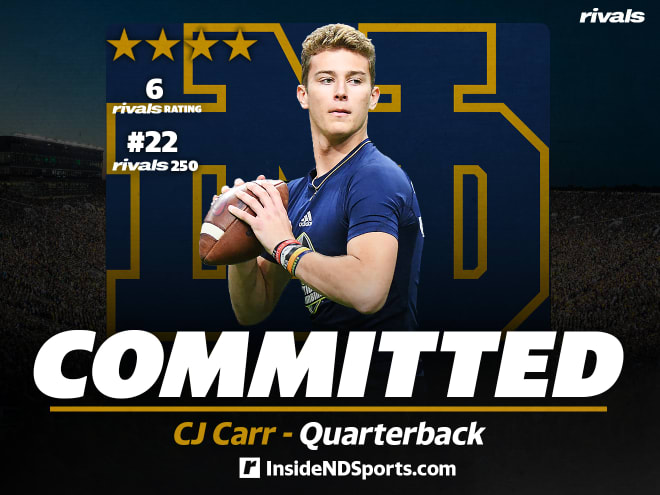 Notre Dame has landed its first highest-profile quarterback commit in over a decade.
On Thursday, 2024 class four-star quarterback CJ Carr announced his Notre Dame pledge. Rated by Rivals as the No. 22 overall player and No. 3 pro-style quarterback, Carr chose the Irish over finalists: Georgia, LSU, Michigan, Michigan State and Wisconsin.
The Saline (Mich.) High product is the first quarterback ranked within Rivals' top 25 overall players to choose ND since Gunner Kiel (No. 20) in 2012. Carr is also the highest-rated offensive player to select Notre Dame since offensive tackle Blake Fisher debuted as the No. 17 overall player in the 2021 class.
As long as Carr stays within the Rivals100 when he signs with the Irish in December 2023, he will be the top passer offensive coordinator Tommy Rees has added since joining the coaching staff in 2017. Phil Jurkovec — the No. 87 overall player in 2018 — was already committed to ND before Rees' hiring.
Rees is the primary reason Carr is Irish.
"Honestly, it's Tommy Rees' relationship with me," Carr told Inside ND Sports of his continued interest in Notre Dame. "But also, the way he's going to develop quarterbacks. He's really smart in the way he attacks defenses. That's something that's driving that relationship."
Although Rees was at the forefront of Carr's Irish interest, the four-star quarterback gave Notre Dame a more comprehensive look before finalizing a decision. Once he did, it was a no-brainer.
"I fell in love with the campus and all the coaches," Carr told Inside ND Sports before making his commitment public. "The culture around Notre Dame is second to none. I have enjoyed talking to (head) coach Marcus Freeman and the coaching staff during my visits.
"That's what pushed it over the edge."
Carr marks Freeman's first quarterback commitment since taking over as head coach in December. Notre Dame pulled off a coup in doing so.
SUBSCRIBE TO INSIDE ND SPORTS TO STAY IN THE KNOW ON NOTRE DAME ATHLETICS
JOIN THE CONVERSATION ON THE INSIDER LOUNGE MESSAGE BOARD
The No. 1 player in Michigan is the grandson of Wolverines former head coach Lloyd Carr. CJ's parents, Jason and Tammi Carr, both attended Michigan. Jason played quarterback for the Wolverines as a reserve from 1992-95. CJ plays his high school ball less than 10 miles south of Ann Arbor, Mich.
As a sophomore at Saline High School, Carr threw for 2,696 yards, 28 touchdowns and four interceptions while completing 64.2% of his passes. In his first year as the starting varsity passer, he led the Hornets to a 9-1 record and the first round of the Division I playoffs.
"I see a limitless ceiling for him," national recruiting analyst Clint Cosgrove said. "He has a great understanding of the game and coverages already. So, I can only imagine what he will be like after studying hours of film with some great coaches at the college level.
"One thing you tend to worry about with a kid like Carr is that many recruits like him are close to reaching their ceiling when they are as refined and talented as he is at a young age. However, I am not concerned with Carr because he is just scratching the surface of what he will eventually become as a player."
Notre Dame offered the 6-foot-3, 180-pound pro-style quarterback during a camp session on June 6, 2021. One year later, he announced that he was ready to reveal his commitment. Ultimately, the decision came after attending the ND Irish Invasion camp Sunday.
Carr previously visited Notre Dame for the USC game on Oct. 23 and spring practice on April 14. During his April visit, he met Freeman for the first time. The two hit it off.
"He's down-to-earth," Carr said after the visit. "I like what he preaches to the team and what we talked about privately. We went to the team meeting, and the first thing he did was have the offense and defense competing right away."
That competitiveness immediately resonated with Carr.
"What I want to do is win," he said. "Compete against whomever I am playing."
Before Carr's commitment, the Irish offered four other quarterbacks in the 2024 class. Meanwhile, ND is still seeking its first QB commitment in the 2023 class, with Detroit quarterback Dante Moore as the top target. Following Carr's pledge, Notre Dame's status with Moore is unknown.
Carr is Notre Dame's third commit in the 2024 class. After it, the Irish rose to No. 2 (434 points) in the 2024 Rivals team rankings; Florida State has the top-ranked class with 516 points. The Irish currently hold the No. 1 spot in the 2023 Rivals team rankings with 14 commits and 1,818 points.