2021 TE Cane Berrong Calls Notre Dame A 'Dream School'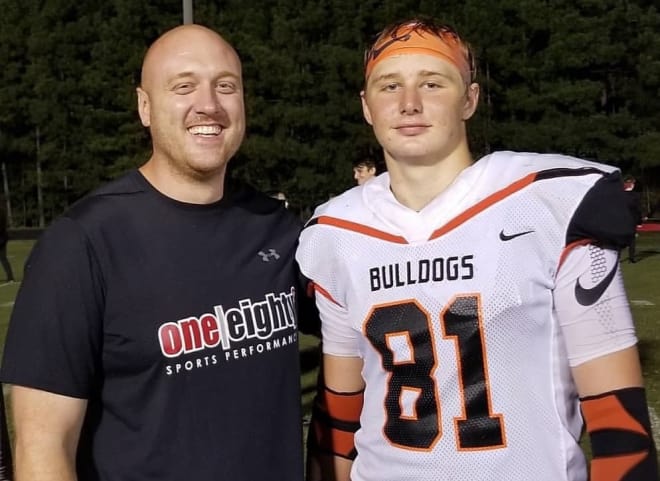 Last week, Notre Dame extended an offer to Cane Berrong, a class of 2021tight end from Bowersville (Ga.) Hart County.
The 6-foot-4, 225-pound Berrong said the offer was one he'd wanted for a long time.
I was extremely excited, It was huge," Berrong said of the offer. "Notre Dame is one of my dream schools."
The offer came for Berrong personally from offensive coordinator/tight ends coach Chip Long, and the Georgia talent said he's looking forward to get to know Long as his recruitment continues.
"Coach Long sounded like a good guy," Berrong told Blue & Gold Illustrated. "I can't wait to meet him and the other coaches in person."
Even though he's all the way in Georgia, Berrrong knows plenty about Notre Dame, and is very intrigued by what the Irish have to offer.
"The academics, the history and the tradition," Berrong said of what sticks out to him about Notre Dame. "You commit to Notre Dame for years to set yourself up for the next 40."
With an offer extended, Berrong immediately set up a visit to South Bend. The standout tight end said he jumped at the chance to camp at Notre Dame and workout in front of the coaches.
"I'm probably the first kid to sign up for Irish Invasion," Berrong joked. "I asked my dad to get me signed up as a Christmas gift. I've heard so many great things about how new everything is but the history is still there and the campus is like its own town."
When he visits, Berrong said he wants to get a full feel for Notre Dame, from academics to football and everything else.
"I want to be a strength and conditioning coach," Berrong said. "If I choose Notre Dame I will most likely go the business route and get the certifications for training after school. For football I want to see how they use their tight ends. Notre Dame has had good ones come through lately like Tyler Eifert and Kyle Rudolph. I like watching those guys."
In fact, Berrong said he sees a little bit of Eifert in his own game.
"I like to think I'm a lot like Tyler Eifert," Berrong said. "I'm a little shorter at 6'4 and still growing, but I'm very athletic like him and I feel I have good body control."
The fact that he's in Georgia would leave most to believe that Berrong is pinpointed to be a Bulldog, but Berrong said his recruitment is wide open heading into the summer.
"I want to visit as many as possible to see if it's a place I can live for three or four years," Berrong said. "I will be up at Penn State during my spring break in April and Florida next month. I'm going to get up to Notre Dame at some point this spring before the camp."