2021 QB J.J. McCarthy Recaps 'Awesome' Return Irish Visit
Click HERE to sign up for an annual subscription to BlueAndGold.com and get your FREE gift code for $99 in Irish apparel and gear!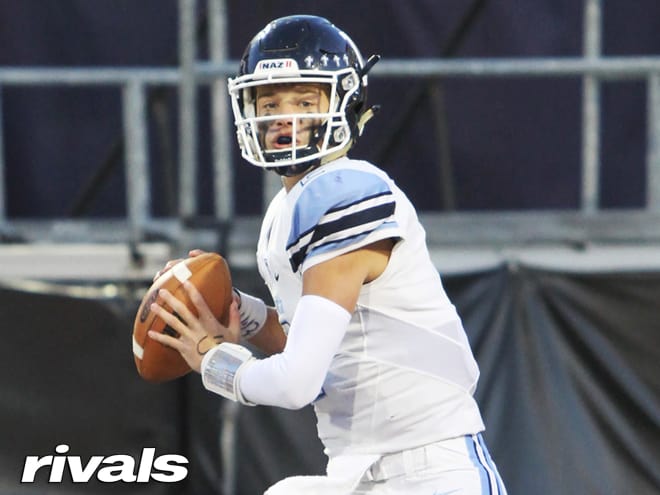 With an early commitment from 2020 quarterback Drew Pyne of New Canaan (Conn.) High, Notre Dame has the luxury of putting a ton of attention on potential 2021 targets.
The Irish staff hosted one of the top rising signal-callers in the country this weekend in La Grange Park (Ill.) Nazareth Academy product J.J. McCarthy for the program's Junior Day.
McCarthy has been to South Bend multiple times this year, but Saturday gave him more of a chance to spend one-on-one time with the staff.
"It was awesome," McCarthy told Blue & Gold Illustrated. "I loved it a lot. I went into the visit loving the school, and I just love it even more. There's nothing you can't love about the school.
"The visit was really good. We talked with the strength and conditioning coach, the nutrition, watched practice, went into a quarterback meeting and toured the campus."
For the 6-2, 180-pounder, there was one clear highlight of the visit.
"Definitely sitting in on the quarterback meeting and seeing how well coach Tom Rees coaches and how he does everything," McCarthy stated. "Just seeing how Coach Rees takes everything to the field along with coach Brian Kelly and coach Chip Long was really cool."
McCarthy also spent more than an hour with Rees throughout the day one-on-one along with some time with offensive coordinator Chip Long.
"He said he loves everything that I've shown with grit playing with a broken thumb, I have that chip on my shoulder that he loves and I have this competitiveness inside me," McCarthy explained. "He's a great coach and he's going to make you a better quarterback. He gives me the same feel that my coach at home does, which is really nice.
"I loved Coach Long. Everything he said was right on. He was talking a lot about how he likes my film and everything I've been doing leading my team. I definitely could see him calling my plays in the future."
It's been a hectic few weeks for McCarthy adding double-digit offers since Nov. 29, including Ohio State, Penn State, Michigan, Wisconsin, Northwestern and others. Notre Dame has yet to jump on board as well, but the Irish would be up high there for the talented sophomore if they do. A decision about one, McCarthy noted, should come in January.
"It's good news either way because it's a blessing to even be recruited by Notre Dame," McCarthy began. "A decision will be made in January I'm told. That would be huge for me.
"Notre Dame checks all the boxes my family and I want for the future. Knowing it's close to home and how important family is to me, that would be big if they offered."
In his first year as a starter, McCarthy accounted for 3,448 yards of offense and 39 touchdowns (37 passing) while completing 76 percent of his passes to lead Nazareth Academy to a Class 7A state title.