2021 OL Pat Coogan Commits To Notre Dame
Notre Dame has landed its newest commitment in the 2021 class.
Chicago Marist offensive lineman Pat Coogan took to social media to announce his pledge to the Fighting Irish, choosing Notre Dame over LSU, Michigan, Michigan State, Nebraska, Ohio State, Oregon, Texas A&M and others.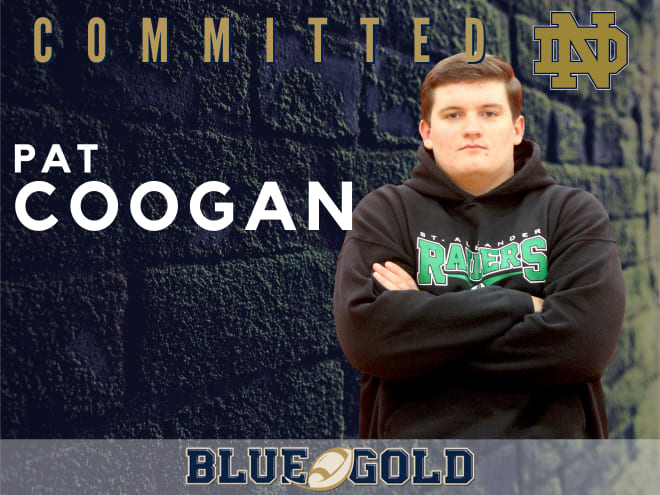 Rivals ranks Coogan as the No. 36 offensive tackle in the nation, but the Notre Dame coaching staff sees Coogan's talents best translating to the interior, whether that be center or guard.
Coogan added Notre Dame to his offer sheet March 26, and the Irish shot right to the top of his list. It didn't take long for Coogan to make his pledge to the Irish either.
"Being from the Chicagoland area, there's a big Notre Dame pull," Coogan told BlueandGold.com. "My family has always been a Notre Dame family. On any given Saturday, we'll turn on the Notre Dame game instead of any other team and watch them."
Coogan recently had a conversation with Irish head coach Brian Kelly, which helped seal the deal for the 6-5, 275-pounder.
"Coach Kelly and I really hit it off," Coogan said. "I really liked him and he was very personable which was great. We talked about my recruitment with Notre Dame, the coronavirus, and then both our backgrounds."
Coogan is Notre Dame's eighth commitment in the 2021 class, and joins Avon (Ind.) High's Blake Fisher as Jeff Quinn's offensive line verbals.
The state of Illinois' No. 6 recruit visited Notre Dame for the Lineman's Challenge camp last June and for the Irish's triumph versus New Mexico last September.