2021 OL Greg Crippen Excited For Third Notre Dame Trip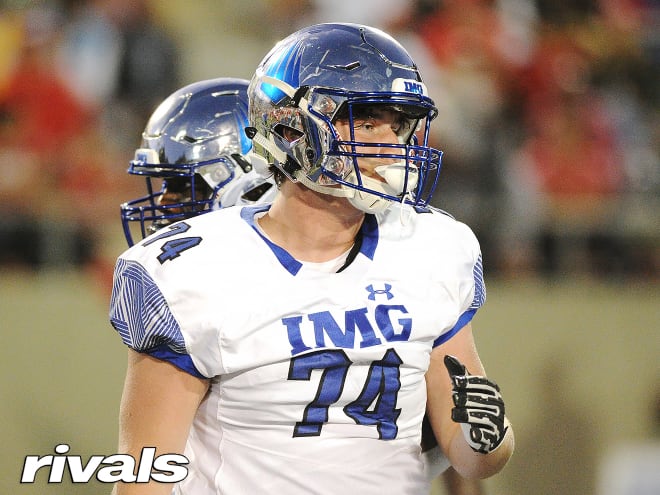 Bradenton (Fla.) IMG Academy 2021 offensive lineman Greg Crippen visited Notre Dame during the 2018 football season and for a lineman camp over the summer, and will return to South Bend on Thursday for another look at the program.
The 6-foot-4, 270 pound Crippen said the visit has been on his mind for a while.
"I have been looking forward to this for a while," Crippen said. "I'm Looking forward to getting there early and spending the day watching practice, talking to academics and talking to coaches and players."
For Crippen, the main focus of Thursday's visit will be time with the Irish coaches, something he said he didn't get a ton of during his first two trips.
Both of the first trips were good," Crippen recalled. "The camp was all business, so I didn't have time to see campus. The November game was great, but was a huge recruiting weekend, so not a lot of time with Coaches. The game day atmosphere stood out the most."
Since his last visit though, Crippen has kept in contact with offensive line coach Jeff Quinn.
Crippen said even with the limitations on coaches contacting 2021 prospects, he and Quinn have still been able to bond.
"Coach Quinn and I talk a few times a month," Crippen explained. "We have really built a good relationship. We talked about out weeks, Notre Dame football and the O-Line. He is a great guy."
So far, Crippen holds offers from Alabama, Michigan, Boston College, Pitt, Purdue, Syracuse and Duke.
As he continues to take visits, Crippen said he'll mostly be looking for a place he can excel on and off the field.
"Academics with athletics," Crippen said of what's most important in his recruitment. "I'm looking for a great combination of them both."
Following his visit to Notre Dame, Crippen will return home to Massachusetts for Spring Break and will visit Boston College next month.