2021 ATH Jaquez Smith Previews Notre Dame Visit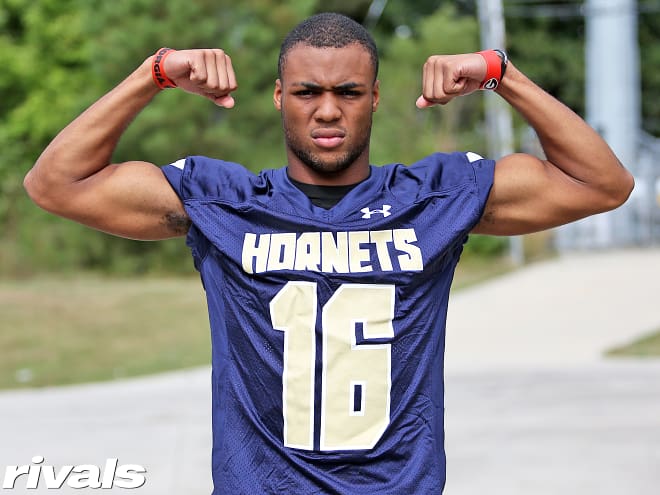 Jaquez Smith, a 2021 athlete from Atlanta Hapeville Charter, will visit Notre Dame this weekend and is looking forward to the trip.
The visit will mark Smith's first look at Notre Dame, and the 2021 standout said he's excited to see what the Irish have to offer.
"It's going to be good," Smith said. "I'm going to be taking some pictures up there and it will be fun,"
For Smith, a trip to Notre Dame was a must during the offseason based on how much interest the Irish have shown in him so far.
"I have an offer from them and I want to see they have to offer," Smith said. "That's why I wanted to visit."
Smith was offered by Notre Dame on Jan. 22, and knew right away it was a big deal.
"I was like 'wow," Smith said. "They're one of the top schools in the country."
At Hapeville Charter, Smith plays both wide receiver and defensive back, and said Notre Dame hasn't designated a specific position for him yet.
That could become more clear over the weekend, but Smith said he's already connected with Irish coaches from both sides of the ball.
"They're very cool," Smith said of the Irish coaching staff. "I know they have short time, but they make a lot of time to talk with guys."
Smith holds a strong early offer list heading into the spring, including Georgia, Florida, LSU, Michigan, Nebraska and several others.
When he takes visits and evaluates schools, Smith said he keeps his eyes out for a few specific factors.
"I definitely look for academics," Smith said. "And what I can do right after college. "
Smith will visit Notre Dame Saturday, head to Georgia next week then begin to plan more visits for the spring and summer.