2019 QB Hank Bachmeier Has 'Perfect' First Visit to Notre Dame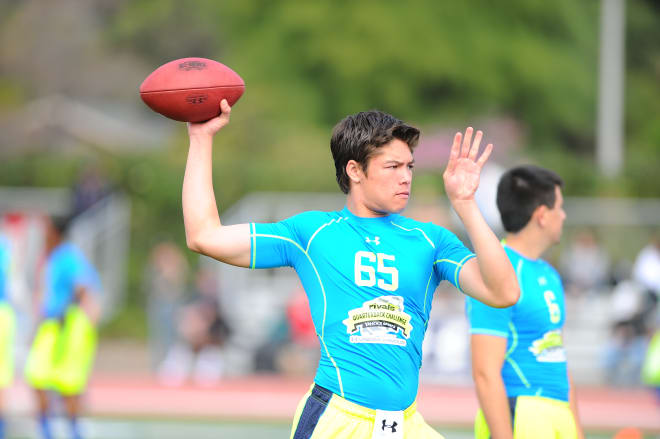 It would seem that Notre Dame made quite the first impression on 2019 dual-threat quarterback Hank Bachmeier of Murietta (Calif.) Murietta Valley.
Bachmeier, who has thrown for more than 1,700 yards and 19 touchdowns in six games this year, said his first visit to Notre Dame could not have gone much better.
"Everything was perfect," Bachmeier said. "I couldn't explain it. It just had that vibe. It's hard for me to explain. You have to go there to feel what I'm saying."
After the game, Bachmeier said it was unlike any atmosphere he's experienced before.
"That was pretty ridiculous," Bachmeier said. "Pac-12 stadiums aren't that full. It was a lot different than west coast games. It was awesome just going out there and seeing a game. I could see myself playing out there in the years to come."
Bachmeier only holds an offer from Colorado as of now, but has been receiving some noticeable attention from some big-time programs, Notre Dame included.
Offensive coordinator Mike Sanford has had contact with Bachmeier's coaches at Murietta Valley, and had a meeting with the young QB during his visit.
Apparently, Sanford told Bachmeier that the coaching staff has been impressed with his film.
"We just talked about how my season was going," Bachmeier said. "I finally got to meet him (Sanford) so that was cool. They were just saying that they're excited to start the process with me and they've been watching my film."
Should Bachmeier ever receiver an offer, he said he'd be thrilled.
"An offer from Notre Dame would be big-time," Bachmeier said. I'd be considering them always. I really just liked the vibe of the school. You can tell that they have a lot of power, and the whole aura and tradition of the school is cool."