2019 Offensive Line Class Continues Recent Tradition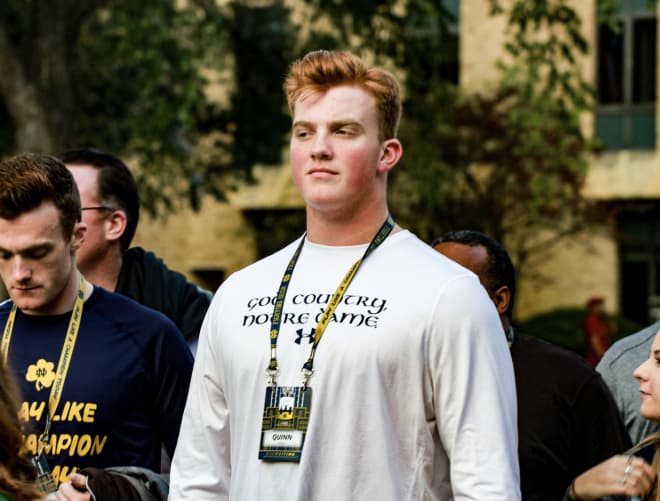 Throughout head coach Brian Kelly's tenure, the Notre Dame Fighting Irish have recruited the offensive line position as well as any team in the country. While former line coach Ed Warinner did a good job on the recruiting trail, his replacement — Harry Hiestand — took things to a whole new level.
Hiestand recruited five full classes at Notre Dame, and the Irish landed a five-star recruit, 14 four-star recruits, five Rivals100 players and 12 Rivals250 offensive linemen. Notre Dame landed at least two Rivals250 players in four of those five years and at least three Rivals250 players in three of those five seasons.
Former Notre Dame star offensive tackle Mike McGlinchey — an All-American and the No. 9 overall pick in the 2018 NFL Draft — was not one of the Rivals100 or Rivals250 players that Hiestand signed. He was an unranked four-star recruit.
When Hiestand left for the NFL there were legitimate question marks regarding whether or not his replacement — Jeff Quinn — would be able to coach and recruit as well what we saw the previous five seasons. It will take more than one season for Quinn to answer either question, but from a recruiting standpoint he has made a big-time splash.
After breaking down the senior film of all four players, there is little doubt that Quinn's first full class can compete with any group that Hiestand signed from a recruiting rankings standpoint.
Notre Dame's four-man haul contains a pair of Rivals100 players and three players that rank within the top 111 players in the country. The only player not ranked in the Rivals250 is the player that received the highest upgrade grade on the BGI Big Board, which means he has the most potential of all of the commitments.
Three of Notre Dame's four commitments rank among the top 150 players in the country according to Rivals. No other team in the entire nation can match that, and only three teams — Alabama, Penn State and LSU — have two linemen ranked that high. That is a feat Hiestand and Warinner never accomplished.
All four recruits have been graded off their senior film and their final grades are ready to be handed out. The players are ordered based on their current BGI ranking.
QUINN CARROLL, OFFENSIVE TACKLE
BGI GRADE: 4.5 Stars (Top-50 Player)
UPSIDE GRADE: 5.0 Stars (Elite Upside)
Carroll entered his senior season as one of the nation's best offensive linemen, and he spent the entire season backing that up. He improved in every area that was already a strength and after breaking down his film he also showed improvement in the areas where he didn't grade out as high as a junior.
Listed at 6-6 and 280 pounds, Carroll has the size and length to thrive on the edge or inside. During his senior season, he spent time playing tight end, offensive tackle and guard, and he looked dominant at both line positions. That versatility only adds to his value as a prospect, and it gives him a chance to find a home in the rotation much faster.
Carroll graded out as an elite run blocker as a junior, and his senior film was even better. The Edina star plays with excellent pad level for such a massive young blocker, and his ability to keep his base and explode through contact is very impressive. He has always been a strong finisher, but as a senior Carroll showed greater power out of his stance, enhanced pad level and his ability to keep his base throughout the play allowed him to be even more dominant at the end of plays.
Carroll has powerful hands and shows good placement in the both the run and pass game, which make them a weapon for him. He dominates partly because he is big and strong, but he showed himself to be a fundamentally sound and smart player as a senior as well. He plays with good technique, good leverage, good angles and his timing as a blocker is advanced for his age.
Athletically he will never blow you away, but I really liked how much quicker his feet were during his senior clips. Carroll looked even more comfortable on the edge in pass protection as a senior, showing the ability to fire out of his stance, get to the speed rush on the edge, quickly react to double moves and the hand speed to compete at a high level on the edge. One knock I had on him as a junior was that he had a tell in his stance that told me when he was going to run block or pass block, but that was gone on his senior film.
ANDREW KRISTOFIC, OFFENSIVE TACKLE
BGI GRADE: 4.0 Stars (Top-100 Player)
UPSIDE GRADE: 5.0 Stars
When you have a discussion about players with the most upside — or the most long-term potential — in the 2019 class it must include Kristofic. Far from a finished product, he has all the tools you look for in an elite offensive lineman. The only question about his future is just how much will he develop, and will he eventually turn his elite potential into elite production. As it stands right now, Kristofic still grades out as a four-star offensive lineman and one of the best tackles in the class.
The reason Kristofic is described this way here is because although he is a talented player and a consensus four-star recruit, there is still a wide gap between what he is and what he can be. He is a two-way player in high school and he played basketball until his senior season, and those two realities mean he hasn't developed his overall line technique or his body the way we have seen from other linemen. There is a lot of technique work needed from Kristofic, more than we see from the other three linemen in this class, but all of the physical tools are absolutely there.
Kristofic has a really impressive frame, possessing elite length and a good build. He is listed at 260 pounds, but he seems bigger than that as a senior, and getting up the 300-plus pounds won't be difficult for him. He has relatively strong hands, but building up his frame and weight room strength will be a must for him. Once the weight room strength catches up to the natural tools his ability to dominate in the run game will explode.
Improving his pad level and bending more at the knees than the waist (which he is more than capable of doing) are the first two keys for Kristofic. What I like about his blocking technique already is that he really does a good job using his hands. He understands the importance of keeping defenders off his body and using his hands to keep defenders at bay.
This especially helps him in the pass game. Kristofic is a pure tackle from a size/athleticism standpoint, and he has a good feel for how to handle protection. When he gets in trouble — which we saw in the opener against IMG Academy — it is about his footwork and technique, which is an example of why his upside is so much greater than his current grade.
ZEKE CORRELL, CENTER/GUARD
BGI GRADE: 4.0 Stars (Top-150 Player)
UPSIDE GRADE: 4.5 Stars
Notre Dame is recruiting Correll as a center/guard prospect, and his game took major steps forward as a senior. He has exploded up the rankings with Rivals, going from an unranked four-star recruit when the season began to a Rivals100 prospect after he completed his senior campaign.
Correll has a frame that is ideally suited for the center position. He isn't as tall as the other commits in the class — listed at just 6-4 — but he has good length for a player his size. That is perfect at center, where you ideally don't want a taller player, but his length (arms) will be an asset inside as both a run blocker and pass blocker. Correll has a thick lower half and after some time in the strength program at Notre Dame he will become a physical force.
Along with good natural strength and power, Correll is also a feisty player and a competitive blocker. He likes to mix it up and when Anderson really got going with its ground attack he seemed to be at his best. He plays with a good base, he has good power in his legs and when he keeps his technique right he is an excellent finisher in the run game. At times he will catch a defender, but when he fires off with attitude and delivers punishment he's outstanding.
Correll is an athletic blocker, which is perfect for the inside of the line. He explodes out of his stance and does a really good job playing with good pad level, which is an area where his lack of height serves him well. He constantly beats defenders off the ball and he is so quick and fluid that he is able to quickly change direction to handle fast blitzes and line stunts. That quickness also makes him an asset against linebackers who try to blitz through his gap. Correll is also really fast getting around as a puller, which is perfect for the Irish offense.
The Anderson star is athletic enough to pass block on the edge, but as an inside player he has the tools to become an elite pass blocker. Right now he isn't there, but his limitations are technique related and can be corrected quickly. At times Correll will stop his feet and lunge in pass protection, and of course he needs to keep getting stronger, especially with his upper body, but all the natural tools are there.
JOHN OLMSTEAD, GUARD
BGI GRADE: 4.0 Stars (Top-250 Player)
UPSIDE GRADE: 4.5 Stars
Olmstead is a different kind of player than the other linemen in the class. He is an old-school blocker, a throwback, a guy whose game is all about power. A tackle for most of his prep career, he moved to guard as a senior, and that is where he will lineup when he arrives at Notre Dame in January.
The St. Joseph's standout is massive young man that uses his weight to push opponents around on either side of the ball. He not only stands out on offense for the Falcons, he is also a starting defensive end in their 3-4 defense. He is a bully on the field, and that is meant to be a compliment. His body needs a lot of refinement, and with time in the weight room he should go through some needed weight distribution. Once that happens I could see him getting over 310 pounds and actually get quicker and more agile, which are areas where his game needs improvement.
Part of the reason Olmstead projects best inside is due to areas where his game is lacking. He isn't an overly quick player in space, he's not overly flexible and despite being 6-6 he doesn't have elite tackle length. There are reasons he projects inside that are positives as well, and that begins with his ability to thrive in the run game. Olmstead is at his best when working in tight quarters. He comes off the ball well and when he moves his feet he can really punish opponents. Consistency isn't always a strong suit of his, but when he keeps his pads low and his feet moving he destroys prep players that he faces.
Moving inside helped his pass protection game quite a bit. Olmstead looked far more comfortable protecting the quarterback this season as a guard because he could play in tighter quarters and because he was able to use his power even than you can on the edge. With improved conditioning and footwork his ability to protect the quarterback should take major strides forward.
He might need some time to reshape his body, and he has to work hard to become more flexible, but Olmstead has the combination of size, power, attitude and finishing potential to eventually compete to become a key component in the Irish offensive line.