2019 DT Jacob Lacey Commits To Notre Dame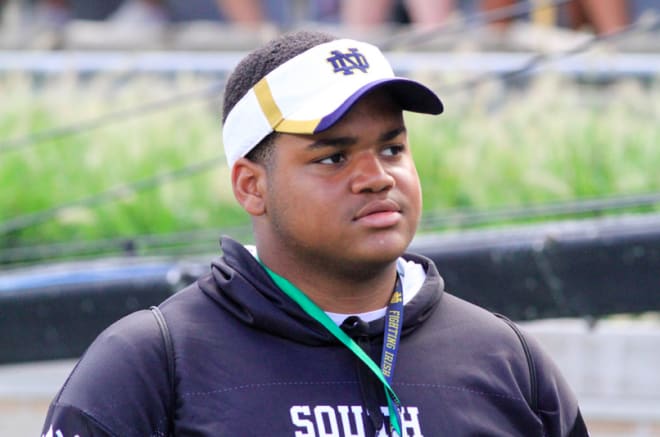 Notre Dame landed a huge addition to the 2019 class after Bowling Green (Ky.) South Warren four-star defensive tackle Jacob Lacey announced his pledge to the Irish.
The 6-foot-2, 295-pounder made his fifth trip to South Bend in just under a year on June 16 and helped seal the deal for the Irish to give its 2019 class their second commitment.
"It was great," Lacey said of the visit. "I've been there so many times. The main thing for me was getting to meet the players and watch them workout. My mom has only been up there once, so getting her back up there again was one of the big deals we had. She absolutely loved it. She loved the coaches and she's a teacher, so she's all about academics. Having great football and academics was a big thing for her to hear."
Lacey picked Notre Dame over several offers including Clemson, Michigan, Michigan State, Penn State, Purdue, Tennessee, Vanderbilt and others.
During that last trip, Lacey felt needed by the Irish.
"Most programs talk about how they want me and they were saying how they need me," Lacey explained. "That was a big thing for me to hear that a school like Notre Dame. It was really humbling."
Lacey's main contact at Notre Dame throughout his recruitment was defensive line coach Mike Elston. The two's relationship grew and especially when Elston moved to the defensive line.
"He's always been able to help me out and give me advice," Lacey said of Elston following the June visit. "He's one of the best all-around defensive line coaches I've ever met. He has a bunch of defensive lineman out in the NFL and that's something encouraging for me to hear and that he can really develop you as a player."
Lacey was one of the first 100 players in the 2019 class to earn a star ranking from Rivals and will likely continue Notre Dame's recent run of successful first commitments.