Three-Star 2018 DL Alex Reigelsperger Recaps First Irish Visit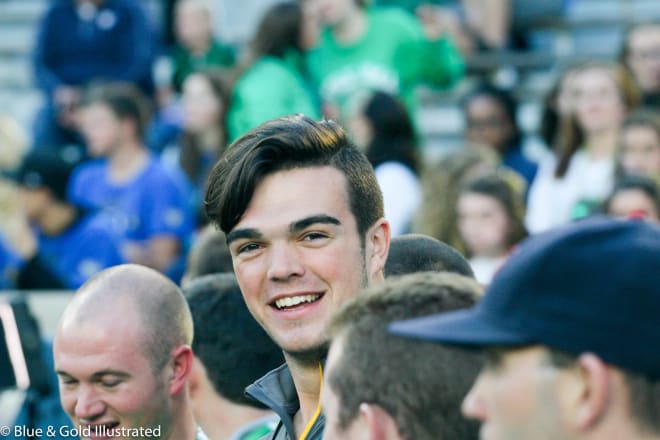 Before arriving in South Bend Saturday, Huber Heights (Ohio) Wayne three-star defensive end Alex Reigelsperger heard about the unique atmosphere around game day at Notre Dame.
He finally experienced it first-hand.
"The game atmosphere is just like everyone says," Reigelsperger said. "You have to go there to experience it. It's really something different."
The 6-foot-5, 230-pound Reigelsperger was able to see and do everything he was looking to do including seeing the facilities Notre Dame offers and fulfilling a childhood dream by seeing the famous 'Play Like A Champion Today' sign.
"Seeing the sign and touching the sign, you could feel the history with the sign and the tradition," Reigelsperger said. "It was really something special.
"My visit was amazing and great. I got to see and do everything I could really want to do."
Heading into the visit Reigelsperger told Blue & Gold he would be paying attention to the defensive line to see how he could potentially fit in the scheme. He liked what he saw and described the coaching staff as a whole as "great coaches."
"It's a lot like [Wayne]," Reigelsperger said. "Speed kills and make sure to use your hands, secure the outside and push everything inside. That's how it seemed they were working and that's exactly how were coached up at Wayne."
The Notre Dame campus stood out especially to Reigelsperger.
"It was so beautiful," Reigelsperger said. "You could just feel the history and education in the air."
Linebackers coach Mike Elston and Reigelsperger spoke briefly during the visit and Elston told the three-star he will be at Wayne following the season.
Reigelsperger will be in Happy Valley this weekend visiting Penn State when they host Ohio State.
Through the first seven games of junior campaign, Reigelsperger has 22 tackles and three sacks. He currently holds offers from Iowa, Kentucky, Pittsburgh Purdue and Rutgers among others.