Three-Point Stance: Dylan Raiola, Irish's OC hire, 2026 Midwest prospects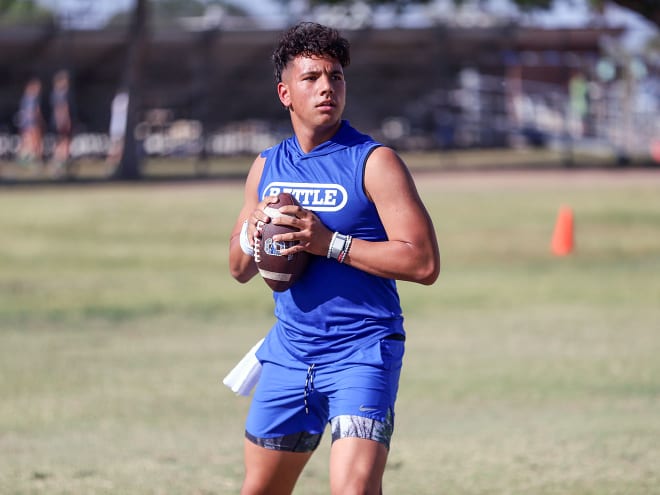 Could Nebraska be the biggest threat to Georgia for quarterback Dylan Raiola?
Dylan Raiola to Georgia once seemed to be a foregone conclusion following his decommitment from Ohio State. But the five-star QB has yet to announce his intentions, which in turn leaves the door open for Nebraska and others.There are many reasons why Nebraska makes sense for Raiola, and his connections to the Nebraska program run deep. Railoa's uncle, Donovan, is currently the offensive line coach for the Huskers and his father, Dominic, was an All-American and Rimington Award winner at Nebraska prior to starring in the NFL.
Then there is the added intrigue of playing for Matt Rhule, who is known for revitalizing programs and taking them to new heights.The question now becomes whether the top player in the 2024 class would like a sure-fire opportunity to compete for national championships at Georgia or whether he would like to follow in the footsteps of his family and potentially be the catalyst to making Nebraska relevant on a national level once again.
Raiola has plans to visit Nebraska soon and to get further analysis on the Huskers' chances of beating Georgia, I consulted InsideNebraska.com recruiting insider Greg Smith for his take on the situation.
Here is what Smith had to say: "If you asked most analysts around the national championship game, Georgia was the clear front-runner. Nebraska has closed the gap significantly. Matt Rhule and his staff have done a great job with Dylan and his family. There is also the fact that his uncle Donovan is the offensive line coach and his dad Dominic's name is in the stadium. My feeling now is this is a heart (Nebraska) versus head (Georgia) battle."
*****
Thoughts on Notre Dame's offensive coordinator hire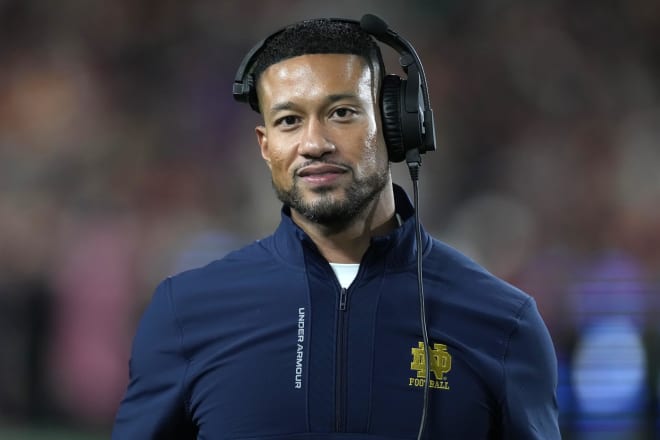 Notre Dame received a major blow earlier this week when offensive coordinator and ace recruiter Tommy Rees left to become Alabama's new offensive coordinator. While the situation is not ideal for Marcus Freeman, it also presents an opportunity to re-evaluate the offensive scheme and find new ways to maximize the talented personnel arriving in the 2023 class, along with making adjustments to get the most out of the current roster. Losing Rees is definitely a blow in terms of stability and the status of quarterback CJ Carr's commitment, but the Irish offense underachieved this past year and Freeman now has the freedom to choose which direction he would like to go.
Freeman will have plenty of options due to the prestige which comes with being the architect of Notre Dame's offense, but as a defensive coach this is a hire Notre Dame's head coach cannot afford to get wrong. It could be a defining moment in his tenure as the head man in South Bend. Should Freeman look in-house for his next coordinator, the obvious choice to me would be current TE coach Gerad Parker. Parker has been an offensive coordinator before, he can relate to being in Freeman's shoes as he was the interim head coach at Purdue and he is a great recruiter as well. Parker brings stability and experience, but at the same time he has not been a quarterbacks coach.
Should Freeman opt to go outside with his hire, the list of candidates becomes exhaustingly long. Two names that make sense in this situation are Charlie Weis Jr., who is currently the offensive coordinator in title at Ole Miss, and Joe Brady, who many credit as being the mastermind behind LSU's prolific offense during the Tigers' 2019 national championship run. Then there is the wild-card name that recently surfaced in former Tampa Bay offensive coordinator Byron Leftwich, who led a Buccaneers team to a Super Bowl title two years ago. There appears to be mutual interest between both parties, but Leftwich has never coached in college and the question becomes whether Freeman is willing to roll the dice on a first-time college coach to lead his offense.
I consulted InsideNDSports publisher Eric Hansen to get his thoughts on whether Leftwich would be the next play-caller for the Irish and this is what he had to say: "The mutual curiosity/interest between Notre Dame and the recently deposed Tampa Bay Buccaneers offensive coordinator is real. But so is his lack of any college coaching experience — on the recruiting trail or in evolving college offenses. Given head coach Marcus Freeman's background on defense and the relative autonomy the OC position at ND requires, there are better fits for the Irish when taking those circumstances into account. And keep in mind, the same coach tasked with honing transfer QB Sam Hartman in his sixth year in 2023 will also be in charge of developing freshman prodigy CJ Carr in 2024 and beyond."
*****
Three 2026 Midwest recruits with star potential
Jonas Williams: The freshman signal caller proved that no stage was too bright for him when he threw a 52-yard dime of a back-shoulder pass on his very first varsity play. The confidence his coach had in him proved to be warranted as the freshman phenom went on to pass for 2,761 yards and 34 touchdowns. Recruiting took off slowly for a player of Williams' caliber, but things have really started to heat up lately, with Power Five offers from Purdue, Louisville and Tennessee coming in recent months. Williams has a chance to be one of the most sought-after quarterbacks in his class.
Chris Henry Jr.: The first time we saw Henry was at the Under Armour camp last spring – prior to him playing a down at the high school level. At a camp filled with national prospects, it was the eighth-grader who managed to be a standout due to his physical and athletic gifts. Henry comes from great football lineage as well: His dad was the late Chris Henry, who was a star for the Cincinnati Bengals. Henry plays with a level of skill that is beyond his years and has a chance to be one of the nation's top recruits in the 2026 class. The Ohio native is already pushing 20 offers, including the likes of Ohio State, Notre Dame, Tennessee, Texas A&M, Wisconsin and others.
Corey Sadler: The Detroit Cass Tech athlete is one of the most versatile prospects in the nation despite only being a freshman in high school. Whether he is returning kicks, defending top receivers or making plays with the ball in space on offense, there doesn't appear to be anything Sadler is not capable of doing. He is elite in almost every area of his game and with three more years of high school ball in front of him there is really no telling how good he can be. Sadler already has double-digit offers, including the likes of Michigan, Miami, Ohio State, Michigan State, Tennessee and others.