The right guy at the right time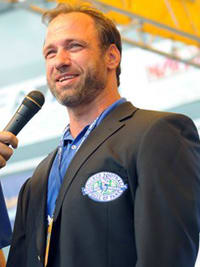 Chris Spielman is glad he doesn't have any more in common with
Brian Kelly
.
During last weekend's College Football Hall of Fame enshrinement ceremonies in South Bend, the former Ohio State All-American got his first look at the program Kelly has been charged with rebuilding. It's hard to imagine the scarlet and gray linebacker having a blue and gold college career, but the thought crossed Spielman's mind.
"My brother-in-law went here and took us on a tour, it's beautiful," Spielman said. "I made the comment to him, 'Man I'm glad I didn't visit here. This is nice.'"
That leaves Spielman's connections to Kelly as professional and personal.
The four-time Pro Bowler is an analyst for ESPN and called what turned out to be Kelly's final home game at Cincinnati, a Thanksgiving weekend win over Illinois. Spielman also appears on a sports talk radio show in Columbus. The connection between Spielman and Kelly extends to family too, as both their wives have won multiple battles with breast cancer. Spielman's wife succumb to the disease last year.
Spielman remains an Ohio State fan, but his allegiances have room for Kelly.
"To me, he's the right guy at the right time for the right job," Spielman said. "I'm looking for big turnaround for Notre Dame under Brian.
"He's won at Grand Valley, he's won at Central (Michigan), he's won at Cincinnati. There's no reason why he can't win here with the caliber of athlete that he's able to recruit. When I looked at the hire I knew it was inevitable when Charlie (Weis) was no longer the coach that this would be the guy that I would go after for this particular job. He understands and respects what's here."
From Spielman's perspective the key to Kelly's success is the coach's mastery of the big and little picture. On the field, Spielman sees teams that execute the fundamentals at a high level. Off the field, the former Detroit Lion sees a coach that knows how to run a program in every sense of the word.
When Kelly called into Spielman's radio show this summer, Notre Dame's head coach offered a dose of the polish that served him so well during his time in politics.
"He understands how to work and how to sell," Spielman said. "He sold at Cincinnati. He had people fired up and excited about the program. When you understand how to, I don't want to say wheel and deal because that wouldn't be the right word, but when you understand how to make things happen, which he does, and how to excite people, which he does … he not only excites his players when they play, he excites the fan base."
While Spielman expects improvement on the field for Notre Dame, he forecasts more of the same when it comes to recruiting Ohio. At least for now. The Irish had five scholarship players from Ohio on the roster this spring, with four freshmen having joined this summer. Of those nine Ohio products, seven came from Catholic schools.
"I think it's realistic for Notre Dame to get kids in the Catholic schools in Ohio," Spielman said. "I don't think it's realistic with the other top-notch players. Ohio State, that whole state, they're fans. Parents bring their kids up to be fans. If you're lucky enough to be a good player, usually if you have the opportunity, Ohio State is going to get you.
"There might be a case where a kid might go to Michigan or Notre Dame, but it's been a long time since Notre Dame has been in the mix. I remember when I was coming up, you remember Frank Stams at St. Vincent-St. Mary in Akron … everybody was on Notre Dame's wish list and must-visit list. I don't know if that's the case with the top players in Ohio anymore. But if Kelly wins, he'll get them back."