WR Geordon Porter Commits To Notre Dame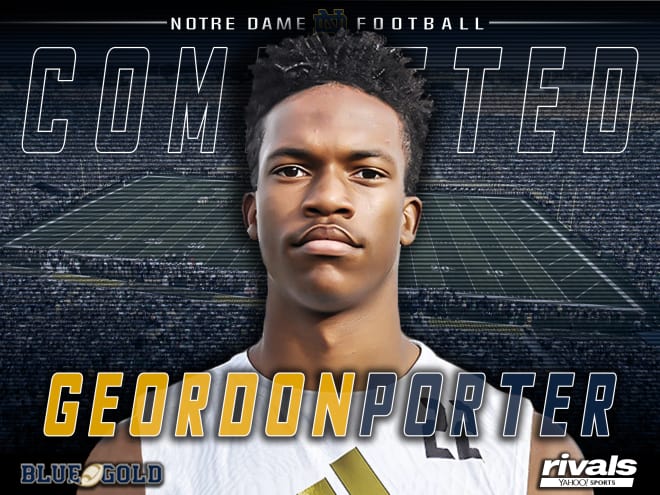 Notre Dame picked up its 18th commitment in the class of 2018 Wednesday when Etiwanda (Calif.) High three-star wide receiver Geordon Porter announced his pledge to the Irish.
Porter chose the Irish over several other offers from all over the country, and said he ultimately picked Notre Dame because it was too good an opportunity to pass up.
"You can't go wrong with that school," Porter told Blue & Gold Illustrated. "You'll have a degree and a life after football. I just like the tradition and the alumni there. There's connections all over the world."
During the fall, Porter took three official visits. The first was to Notre Dame on Sept. 9 for the Georgia game, followed by trips to Arizona State on Sept. 23 and Utah on Oct. 7., and also unofficially visited UCLA for the game against Texas A&M on Sept. 3.
The two biggest goals in Porter's recruitment were finding a school that had a strong academic background and a football program that could help him achieve his dream of eventually playing in the NFL.
The official visit to South Bend helped Porter realize that Notre Dame could be that place for him.
"I like the coaching staff there and the good academics," Porter said. "It's a great school to get a degree from, and they've got a good balanced attack on offense with running the ball, play-action and all that good stuff."
On Tuesday, the night before Porter announced his decision, the first edition of the 2017 College Football Playoff Rankings were released, and Notre Dame checked in at No. 3.
The massive turnaround season in South Bend has Porter excited about being Irish come fall 2018.
"Obviously, Notre Dame is a great school," Porter said. "They're doing what they're doing. They're doing really well right now."
Academics and football played a big part in Porter's decision to be sure, but the new Notre Dame pledge also puts a lot of stock in relationships.
The California talent's main recruiters at Notre Dame were wide receivers coach DelVaughn Alexander and special teams/recruiting coordinator Brian Polian.
Porter said he built a strong relationship with both coaches, and that played a big part in his decision to pick Notre Dame.
"It's really great," Porter said of his relationship with the Notre Dame staff. "They're (Polian and Alexander) both great guys. I love the way they've approached me and the way they kept in touch with me throughout the recruiting process."
Porter is the third wide receiver to join the class and the 18th overall commitment.