SIGNED: DT Ja'Mion Franklin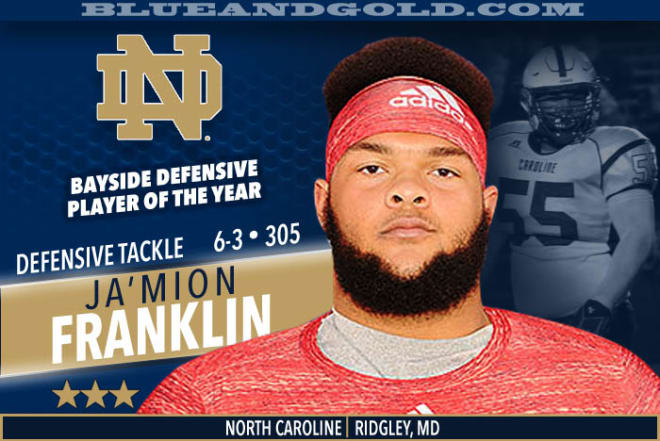 Ridgely (Md.) North Caroline defensive tackle Ja'Mion Franklin has submitted his National Letter of Intent to Notre Dame on Wednesday.
RANKINGS
Rivals: 3-star (No. 11 player in Maryland and No. 34 defensive tackle nationally)
BGI Grade: 4.0-star
Upside Grade: 4.0-star
MEASURABLES
At Nike Football The Opening Washington, D.C. Regional, Franklin recorded a 40-foot power ball toss. His Hudl page lists a 5.05 40-yard dash, 395-pound bench and 550-pound squat.
STATISTICS
SENIOR SEASON: Registered 45 stops, 12 tackles for loss, three sacks and a blocked punt returned for a touchdown.
JUNIOR SEASON: Recorded 63 tackles, six sacks and five forced fumbles.
HONORS
SENIOR SEASON (2017)
Nike Football The Opening participant
2017 Bayside Conference Defensive Player of the Year (voted by conference coaches)
First-team All-Bayside Conference Defense
JUNIOR SEASON (2016)
All-Conference Defense (Bayside Conference)
RECRUITMENT
POWER FIVE OFFERS: Notre Dame, Boston College, Georgia Tech, Indiana, Louisville, Northwestern, Pittsburgh, Rutgers, Syracuse, Vanderbilt, Virginia, Wake Forest and Wisconsin.
Defensive coordinator Mike Elko quickly targeted Franklin as a defensive tackle target and got the three-star prospect on campus for a visit in March where he landed an offer. The Irish became the team to beat and never looked back securing a commitment from Franklin June 6. He was recruited by Elko, defensive line coach Mike Elston and linebackers coach Clark Lea.
Franklin returned for the USC game on an unofficial and took his official during the weekend of the Echoes Awards banquet.
NOTABLE
· Born Nov. 13, 1999.
· Plays basketball at North Caroline.
· Transferred to Baltimore Gilman for a season (sophomore) before transferring back to North Caroline.
· Played for North Caroline as a freshman.
· Finished as the state runner-up in discus and shot put in the spring outdoor track and field season.
2018 PROJECTION
Notre Dame had two freshmen play inside in 2017, and that could happen again in 2018. Franklin and defensive tackle Jayson Ademilola are physical and disruptive players that will make a hard push up the depth chart. Franklin is a pure nose tackle, and Notre Dame is limited at that position.
BGI ANALSYIS
"From the moment Notre Dame started looking into Franklin, he immediately rose to the top of the staff's board at nose tackle. The staff made a hard push for him as soon as they got involved, and Franklin jumped on board soon after. He has remained one of the leaders of the class, and he brings a swagger to the defensive line position that Notre Dame desperately needs.
"Franklin isn't the 6-3 he is listed as at this point, but he's a thick, physical and stout interior player that is perfect for Notre Dame's nose tackle position. Elko's system doesn't want a two-gapping run plugger who just eats up space. There is value to having a guy who can eat up blocks, and Franklin can certainly do that. He is very strong for his size, and with improved hand play he'll be a force at the point of attack.
"What this defense really needs are interior players who can not only hold up against the run, but defenders that can make plays, and Franklin can make plays. He's quick off the ball and he has a tremendous motor. At times he plays too high and he needs to improve his hand play, but Franklin has all the tools to bring disruptive production to the nose tackle position." — BGI football analyst Bryan Driskell