Seven Notre Dame Commits Make Rivals250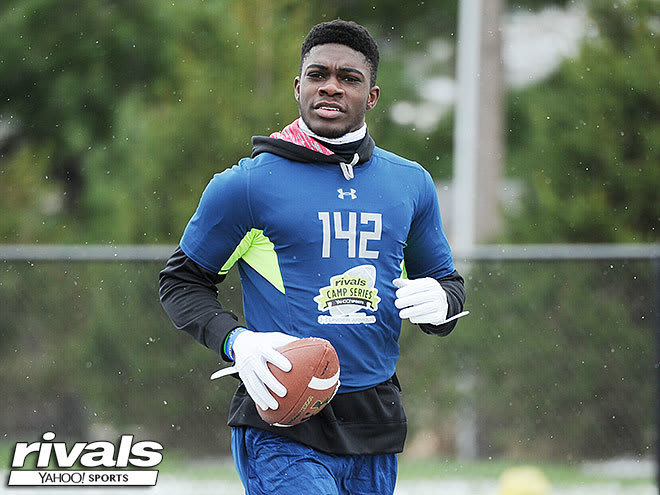 On Monday, Rivals released the updated Rivals100 for the class of 2018, which featured Notre Dame commits Derrik Allen (No. 40), Phil Jurkovec (No. 59) and Kalon Gervin (N0. 100).
On Tuesday, the updated Rivals250 was released, and seven total Notre Dame commits made the list. Along with the three players in the top 100, four Irish commits are listed between Nos. 101-250.
Braden Lenzy, a wide receiver who committed to Notre Dame Feb. 22, moved up 35 spots from No. 238 to No. 203. Fellow receiver Micah Jones dropped from No. 158 to No. 174.
Linebacker Bo Bauer dropped as well, falling from No. 103 to No. 111. Running back Markese Stepp moved from No. 200 to No. 214.
Notre Dame remains No. 2 in the team rankings with 1,348 points, trailing only Penn State (1,534). The class is also tied for second along with Ohio State, Miami (Fla.) and USC with three commits in the Rivals100. Penn State leads the way with four.
The coaching staff will be hard at work the rest of the cycle trying to land more Rivals250 members.
On offense, Notre Dame has several targets in the range of Nos. 101-250. Bradenton (Fla.) IMG Academy wide receiver Josh Moore made the list at No. 119. Coconut Creek (Fla.) North Broward wide receiver Kevin Austin saw a significant rankings bump, going from a three-star prospect to a four-star and the No. 129 player in the country. He plans to visit Notre Dame this summer. Newly offered Irish wide receiver target Michael Wilson came in at No. 212.
Notre Dame also is the mix with some top talent on the other side of the ball. Jersey City (N.J.) St. Peter's Prep outside linebacker Shayne Simon, who is being recruited to play the rover position for the Irish, moved from a three-star to a four-star and the No. 127 player in the country. A visit to South Bend is in the works for Simon.
Defensive tackle target P.J. Mustipher of Owings Mills (Md.) McDonogh, the younger brother of junior center Sam Mustipher, landed at No. 136. Thomas Booker, a defensive end target from Baltimore Gilman School is now listed as the No. 188 player in the country. Defensive end target Aeneas Hawkins landed at No. 241.