Self-Assured Ben Skowronek's Contributions Go Beyond Initial Impressions
The two-word phrase was used because, well, it fit the only on-field data points available to the Notre Dame faithful.
At the time of its uttering, Ben Skowronek was a much-discussed graduate transfer whose impact was still more theoretical than reality, and maybe this first extended look meant it was time to recalibrate.
A hamstring pull forced him out of all but two quarters of the first three games, and in his return, he recorded two catches for 28 yards and two first downs in an uninspiring 12-7 mid-October win over Louisville.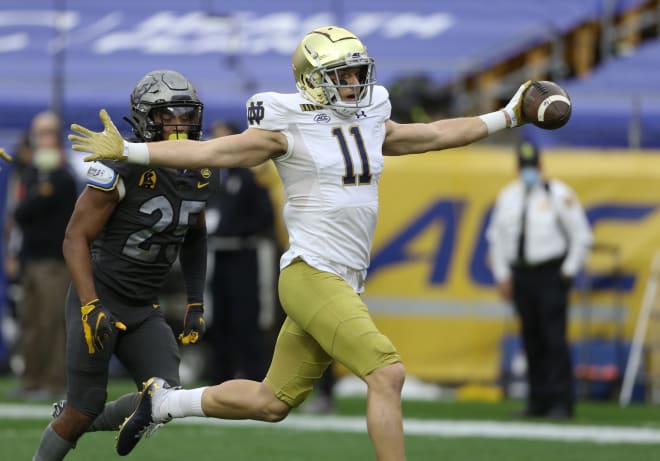 The stat line prompted a post-game question to Brian Kelly about Skowronek's usefulness as a "safety blanket." Fair, given the sampling. But not accurate in Kelly's view.
"I don't know that he wants to be called a safety blanket," Kelly said.
All Skowronek has done since is distance himself from such labels. In four games since, the player who caught 110 passes for 1,417 yards in 43 games at Northwestern has become a weapon Notre Dame needed.

During the four-game stretch from Oct. 24 to Nov. 14, Skowronek notched 12 catches for 211 yards (17.6 yards per reception) and five touchdowns. The Irish passing offense's rise has come with his establishment as a go-to target.
"A lot of people would describe me as a possession receiver," Skowronek said after that Louisville win, "but I just want to be a playmaker, someone who can make a play when my number is called."
Skowronek's importance to Notre Dame's passing game and his ability to handle that role is anything but surprising to those who knew him before he stepped on campus and to fifth-year senior quarterback Ian Book, who Skowronek calls his best friend at Notre Dame. The idea of him as a complementary piece was never reality to him.
Skowronek came to Notre Dame to deliver performances like his three-touchdown day in a 45-31 win over Boston College Nov. 14 and his breakout game at Pitt Oct. 24, when he caught touchdown passes of 34 and 73 yards.
He came to Notre Dame for his final season because he felt it was the right spot to strengthen his NFL case and doing anything less would be, in his eyes, a failure.
"He prepares himself like a professional," said Joe Gaziano, Skowronek's Northwestern roommate and a former Wildcats defensive end.
What everyone is seeing now — the receptions where Skowronek "Mosses" (i.e. former NFL All-Pro wide receiver Randy Moss) defenders and lets them know it, his jump-ball ability and the requesting the ball when he has a matchup he likes — was the expectation all along and entirely in character.
Skowronek plays with an edge, entire Pringles can on his shoulder, befitting of someone who knows he has zero time to waste, belongs where he is and brings much more than a mundane debut stat line ever could convey.
'He Can Run'
Northwestern, like plenty of college programs, uses wearable GPS devices in practices to track player movement, speed and innumerable other minutiae. One day after a summer workout a few years back, the Wildcats' coaches combed through the data and found something unexpected.
Skowronek registered the fastest sprint speed of anyone on the roster. The hulking player from a program not known for having speed and from a passing offense not rich in explosion is capable of both.
"You wouldn't have guessed the guy who's 6-3 and 220 has top-end speed," said Chris Bowers, Northwestern's director of player personnel from 2011-18 who first met Skowronek as a recruit. "He literally registered as the fastest player on the team.
"He ran 23.6 miles per hour, or whatever it was. The system registered him the highest at any point in the summer."
The speed is on film, too, and showed up on the most important catch of his Northwestern career. Trailing 10-7 in the fourth quarter of a November 2018 game at Iowa, Wildcats quarterback Clayton Thorson unloaded a downfield throw to Skowronek, who was one-on-one with eventual NFL third-round pick Michael Ojemudia. A prayer, it seemed, with low catch probability.
"It was one of those balls where it's in the air, and I'm like, 'There's no way he catches that.' It was slightly overthrown, and I didn't know if he had the speed to catch up," Gaziano said.
The result was a 39-yard touchdown that gave Northwestern the lead for good and clinched the Big Ten West division. Around the 10-yard line, Skowronek found an extra gear, got away from Ojemudia and made the catch mid-dive.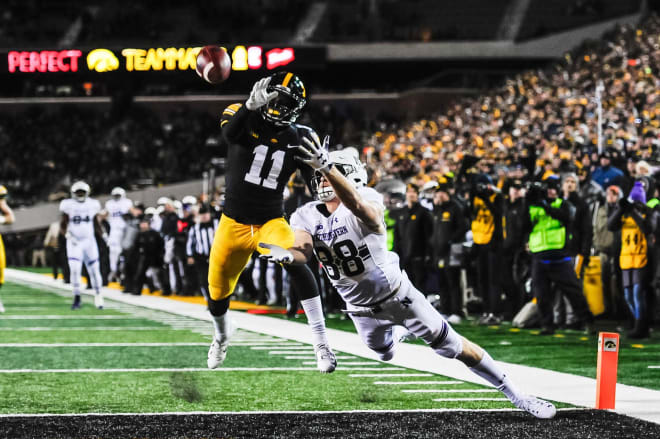 Skowronek spent that game in Pittsburgh running away from Panthers defenders, but just as valuable this season is that big frame and the desire to use it. He has given the Notre Dame receiving corps the bailout, contested-catch skill set it lost when Chase Claypool departed after last season.
Against Boston College, Skowronek was a single-handed cure for red zone maladies. All three of his touchdowns were within 13 yards. The first was a fade route where he boxed out Boston College cornerback Brandon Sebastian, snagged Book's pass and clenched it in his outstretched arms as Sebastian unsuccessfully tried to jar it loose.
Then Skowronek turned to Sebastian and stared a hole through him. The jawing earned a personal foul flag, but no one was too upset.
"He was never an in-your-face guy, but I love to see him playing with that edge," Gaziano said. "The stare-down was pretty cool to see."
Skowronek goes about such catches with the calm assurance of someone who understands he's good enough to have those opportunities and expects to produce no matter who's lined up across from him.
Everything is drawn from faith in his attributes and his work habits. Every rep in practice has purpose in his preparation for opponents. Moments where he doubts the victor in those matchups are well concealed, if they exist at all.

"It's a not-so-quiet confidence," said Bowers, now the defensive coordinator at Football Championship Subdivision school Eastern Illinois. "You wouldn't really see it in practice, because he's not a trash talker out loud or outspoken."
Skowronek does, though, pick his spots to speak up. Before the drive that ended in a one-way conversation with Sebastian, he approached Kelly, Book and the coaching staff with a suggestion after Notre Dame's opening possession stalled in the red zone.
Throw him the ball next time they get down there. He would handle the rest.
"If you didn't know better, you'd think he thinks he's better than he is," Bowers said. "He doesn't lack confidence because he knows he put in the work.
"I don't think a lot of us understood what we were getting from a worker standpoint."
'We Just Clicked'
The demand for the ball would've reverberated less if not for Book and Skowronek's obvious chemistry — first displayed in the win over Louisville, emphasized the following week at Pittsburgh, but with roots back to this spring.
Skowronek first met his current quarterback on his December 2019 visit to Notre Dame, each of them rising fifth-year seniors with one final chance to make an NFL impression.
The Irish needed someone proven after losing Claypool, fellow second-round pick Cole Kmet and slot mainstay Chris Finke to add to a green cast of returnees.
"We weren't returning a lot of guys," Kelly said. "Ian needed someone who had played a lot of football. He fit that bill."
COVID-19 wiped out 14 spring practices and delayed the chance to build an on-field connection, so to help make up for it, Skowronek flew to Book's home in Northern California before the team reported back in June to practice with Book and strengthen the trust that's now conveyed when one speaks about the other.
"He was a flash-card guy, always studying," Book said. "He has strong hands, and he's faster than people think."
Added Skowronek: "Ian is so accurate. It's easy to be on the same page with him. … When we first started throwing together, we just clicked. I love him as a quarterback. He's a damn good football player."
The quarterback-receiver bond almost didn't leave the ground. Skowronek pulled a hamstring in the season opener against Duke Sept. 12, which sidelined him for the following week's game against South Florida. A setback then held him out of the Oct. 10 win over Florida State. Through Notre Dame's first three games, he had one target and no catches.
The thoughts of lost opportunities and a hollow line on the Notre Dame section of his football résumé began to fester.
"I wasn't in a great place mentally," Skowronek said. "I had a great support staff with my family and guys like Ian having my back, always believing in me."
And he had himself — specifically, his work ethic that got him here, laughs in the face of a safety blanket moniker. It just might give him the chance to continue his career.
"He always worked like, 'If I don't go to the NFL, I'll end up on the streets,'" Bowers said. "His mentality is just that he's going to compete, going to be great, going to excel. I don't think that's easy to see and sometimes that can be misunderstood by people. His competitive drive is at a high, high level."