Rivals250 OL Noah Nelson Recaps Notre Dame Visit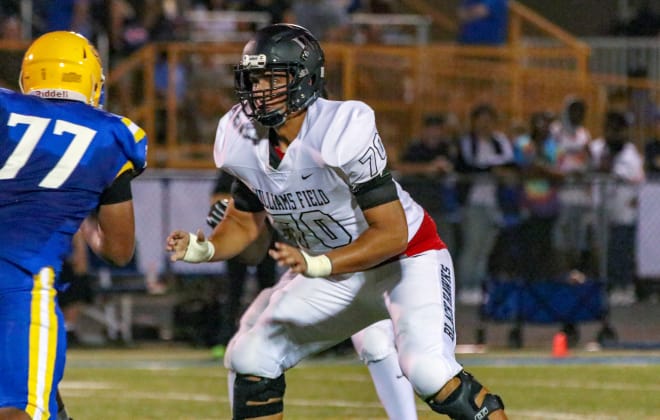 Last week, 2020 Rivals250 offensive tackle Noah Nelson saw Notre Dame for the first time.
The Gilbert (Ariz.) Williams Field product said his first visit to South Bend was an enjoyable one.
"It was pretty cool and the coaches were super nice," Nelson said. "I got to watch a practice, check out the campus and see everything the school had to offer. I saw how prestigious they were on and off the field, so that was pretty cool."
Nelson got to sit in on an Irish spring practice session, and said it helped him get a better feel for the football team operates on a daily basis.
"I got some better insight into how they run their program," Nelson said. "I can better make a decision based off of that."
The Rivals250 member said he was a big fan of the way the practice was run and the energy the team and coaches showed.
"I liked the structure," Nelson said. "I liked how organized they were and how they were constantly doing things and everybody was working really hard."
Following the practice, Nelson was able to spend some time with offensive line coach Jeff Quin, who Nelson said he liked a good bit.
"He seems like an awesome dude every time I've talked to him," Nelson said. "He definitely cares about his players and making sure they get better every day. I really like his coaching style."
Nelson left the visit without an offer, but is hopeful one is on the way eventually.
"It would be pretty cool, especially with their prestigious background," Nelson said. "With how good they were last year, that would be pretty cool."
The Arizona talent currently holds offers from Auburn, Michigan, Oklahoma, Oklahoma State, USC, Washington and several others.