Remembering John MacLeod At Notre Dame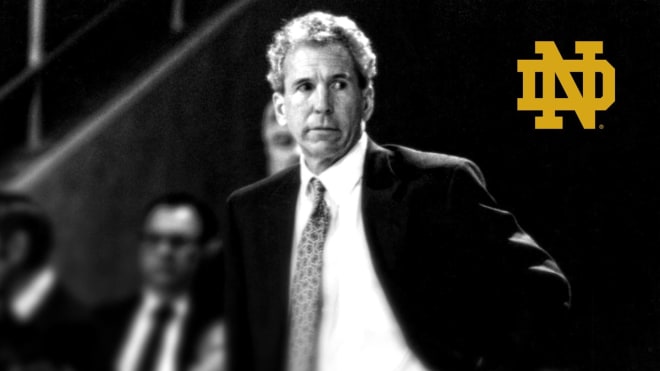 In the coaching profession, the won-lost record always serves as a final report card.
For 1991-99 Notre Dame's men's basketball coach John MacLeod, who died this past Sunday at age 81 after battling Alzheimer's disease for more than a decade, that career record of 106-124 carried a stigma that he was the program's lone coach to finish under .500 since 1923.
There is no getting around that bottom line, which ultimately led to his forced resignation after nine years. After a mostly heavenly basketball coaching life, first at the University of Oklahoma (1967-73) and then with the NBA's Phoenix Suns (1973-87), with brief stops afterwards at Dallas and New York, he undertook his hardwood purgatory by accepting the Notre Dame position in the spring of 1991.
First, some backdrop.
From 1968-81, Notre Dame developed into a top-10 caliber program, propelled first by the enrollment of the peerless Austin Carr and then heightened under the direction of newly hired fireball Digger Phelps as head coach in 1971. However, as the 1980s progressed, a college basketball landscape that once favored the Fighting Irish and its basketball independence was gradually becoming the proverbial ball and chain.
By the end of Phelps' 20-year run in 1991 — and aided by a palpable frost between the athletic administration and Phelps, leading to his forced retirement — Notre Dame reached its nadir in recruiting from 1990-93. In those four recruiting campaigns, Phelps in 1990-91 signed nine players. At worst for any program, three must become 1,000-point scorers. For Notre Dame, only one reached even 600. Among the five then signed by MacLeod in 1992-93, one did reach 1,000 (guard Ryan Hoover). One out of 14 over four years.
The pattern would continue in the four years afterwards.
After Phelps stepped down, Notre Dame scoured the college scene for head coaches, from former Irish assistant Pete Gillen to "right from central casting" Bobby Cremins, and the answer was the same: thanks but no thanks. It had become one of the most unappealing jobs in the country, and under a seeming black cloud. Phelps' prized 1988 recruit, LaPhonso Ellis, went through academic ineligibility as both a sophomore and then the second semester of his junior year, resulting in a 12-20 finish during Phelps' farewell tour in 1990-91.
That same year, sophomore Monty Williams, another future NBA player, was diagnosed with a heart condition that would sideline him two seasons.
Having been in the NBA throughout the 1970s and 1980s, perhaps MacLeod didn't understand what he was getting himself into in the college game — which made his candidacy and availability all the more appealing to Notre Dame. Landing a successful "name" NBA coach was a coup, all things considered
His first season in 1991-92 would turn out to be his best. What he didn't know was that the schedule was set up to hasten Phelps' departure — and at one point from Dec. 9 through Jan. 21 featured nine straight road games against the likes of ranked foes such as Kentucky, USC and North Carolina, plus West Virginia, Virginia, Marquette, among many others in a suicide slate

With Ellis fulfilling his potential on a lineup that featured four seniors, the Irish pulled off several upsets, including No. 2 UCLA and at No. 10 Syracuse, to finish the regular season 14-14, and then as runner—up to Virginia in the NIT for a final 18-15 ledger.
That was as good as it was going to get for MacLeod, even with Williams medically cleared to play again in 1993 and 1994. The recruiting issues began catching up after Ellis' graduation, resulting in 9-18 and 12-17 outcomes the next two seasons.
"This program needs to get into a conference," stressed Louisville head coach Rick Pitino of Notre Dame in 1994, echoing statements from many other opposing coaches who maintained respect for MacLeod.
Finally, in 1995-96, Notre Dame joined the premier league, the cut-throat Big East. It was like moving from eighth-grade mathematics to advanced college calculus in one fell swoop. It was starting from square one again for MacLeod despite already serving four years in basketball purgatory.
That initial season in the Big East did reap an uptick in recruiting with a well-regarded four-man class joining diamond in the rough Pat Garrity, whom MacLeod signed in 1994. Alas, two of the prized members of that 1995 class would depart from the operation: top-25 caliber forward Gary Bell for never quite fitting in, and point guard Doug Gottlieb (now a renowned talk-show host after a superb career at Oklahoma State) following his freshman year because of the use of stolen credit cards.
Consistently overmatched in personnel on the court, the respect for the job MacLeod and Garrity were doing resulted in them getting named Big East Coach of the Year and Big East Player of the Year in 1997, respectively — with an 8-10 record (and 16-14 overall).
Several times I had one-on-one time with MacLeod in his office or on the phone. While the frustration he felt was profound, he refused to bad-mouth anyone and comported himself with professionalism and class. I had my share of disagreements with him, and he let it be known when he resented something, but he was a prince of a man to deal with and earned the respect of those who crossed his path.
In marvelous shape, he was a daily lap swimmer at the Rolfs Aquatic Center located about 80 yards from his office — and on the court he was constantly swimming upstream. Strategically some aspects could be questioned, including insistence on man to man defense while outmatched, and he wasn't necessarily a shake-down-the-thunder figure in the college game, which is not what the NBA is.
By 1998, though, he was beginning to get more of a foothold with recruiting, landing future NBA star and Notre Dame Ring of Honor inductee Troy Murphy, complemented by sharp shooting David Graves, who would finish his career among the top 10 scoring leaders at Notre Dame, and physical enforcer Harold Swanagan, who has worked more than a decade under current head coach Mike Brey.
A year later, MacLeod signed guard Matt Carroll, who would play 10 years in the NBA.
By then, the sand was running out in the hour glass. Another 8-10 mark in the Big East (14-16 overall) eventually precipitated a change in March 1999. Shepherding Notre Dame basketball through its most trying decade/era had begun to run its course. He had set the table and brought the groceries, but was no longer welcomed to stay for the meal.
Nine straight years without an NCAA Tournament bid was not appealing on any resume, but MacLeod had greatly assisted make the job more enticing.
Two years later, first-year Fighting Irish head coach Mike Brey and the Irish captured the Western Division of the Big East and earned the school's first NCAA Tournament bid in 11 years (and the first win there in 12). Upon winning their side of the league, the veteran players — sophomore Carroll, juniors Murphy, Graves and Swanagan and senior point guard Martin Ingelsby, now the head coach at Delaware after working under Brey — personally made a group call to MacLeod to thank him for bringing them together while Notre Dame found its way out of the college basketball wilderness.
That's what "winning" and respect also entails, not just what is in the record books.

"Coach MacLeod was a class act on all fronts," Brey said this week in a Notre Dame release. "He was a great educator to so many young people here at Notre Dame and I am forever grateful to him for mentoring me when I first got the job here 19 years ago."
The record will always be what it says it is, but MacLeod navigated through the darkest decade in Notre Dame basketball annals and made it better for the 21st century.