Observations: Notre Dame Stifles Miami For Second Straight Win
For the first time this season, Notre Dame basketball has put together a wining streak.
The Irish (5-8, 2-5 ACC) defeated Miami 73-59 on the road Sunday night after eight days off and shot 65 percent in the second half. In an unusual move rooted in dissatisfaction over Saturday's practice, coach Mike Brey brought his usual five starters — Prentiss Hubb, Dane Goodwin, Trey Wertz, Nate Laszewski and Juwan Durham — off the bench.
Here are some observations from the game.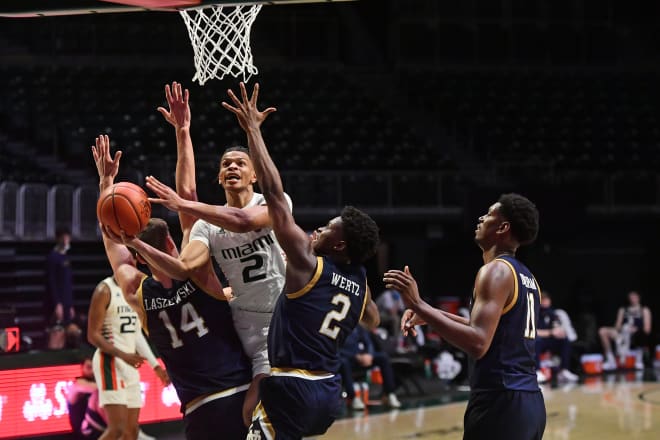 • Notre Dame played zone for nearly all the game, wanting to cut off driving lanes for explosive Miami guard Isaiah Wong and willing to let the ACC's worst three-point shooting team take open perimeter shots. It resulted in the Irish's best defensive game of the year, few rhythm shots for good shooters and the opponent's best player, Wong, held in check.
Wong ended with 16 points on 6-of-17 shooting, with eight of those attempts from three-pointe range (he's a 29 percent shooter from deep).
• That said, Miami was a veritable mess on offense. It had one assist on nine first-half baskets, and too many mid-range jumpers and passes thrown to Notre Dame defenders. The Hurricanes committed turnovers on nearly a third of their possessions in the opening minutes and needed 62 shots to score 59 points. Notre Dame did have trouble containing guard Kam McGusty's dribble drives when he attacked coming off screens. He ended with 20 points.
• Counterpoint to the counterpoint: Yes, this injured version of Miami might be the easiest team to guard that Notre Dame will see this year in conference play, but for a group needing to find something and start feeling good on defense, the Irish have no need to apologize. They kept an All-ACC caliber player in Wong at bay. They had fewer missed assignments. An ability to do both were necessary steps toward starting a win streak.

• The three-point defense stat that matters: Miami freshman forward Matt Cross, the only healthy player on his team shooting better than 30 percent from deep, did not make any of his four attempts. Keeping him at four attempts while playing zone is a win.
• Hubb continues to morph more into a facilitator than scorer. He ended with 19 points, nine assists and was 7 of 12 from the field. Ten of those shots were on 3-pointers or at the rim, fine shot selection because of an absence of mid-range jumpers. Better decision-making as the ball handler in pick-and-roll sets, both passing and driving, is noticeable.
• Hubb did finish with seven turnovers, two of which were poor decisions under his own basket against Miami's full-court press and another when he was trapped 50 feet from the hoop. The press and traps threw Notre Dame off into a spurt of five turnovers in a little more than three minutes, but the closest Miami ever came was seven points after Notre Dame had earlier ballooned its lead to 19 points.
• Just like it did against Boston College, Notre Dame had an answer for Miami's answer. After that initial press struggle and its advantage trimmed to seven, the Irish reeled off three straight assisted layups to remove any drama.
• Laszewski put together a quiet 16-point, 10-rebound double-double. All but three of the points came in the second half. He had two late baskets as a result of Notre Dame breaking Miami's press and a driving dunk to help Notre Dame push away a late Hurricanes' surge.
• A struggle for Wertz. He had five points, was 1 of 3 on two-pointers and committed four turnovers. He easily could've had a couple more giveaways if ill-advised deflected passes didn't bounce to a teammate or out of bounds. Wertz has been a reliable three-point shooter, but his passing decisions have been erratic in a few games.