Observations: Notre Dame Slows Down In Second Half, Loses To Virginia Tech
Notre Dame surged early and swooned late.
The Irish lost to No. 19 Virginia Tech 77-63 Sunday night, dropping to 3-7 overall and 0-4 in the ACC. After taking a 42-35 halftime lead, Notre Dame made just two of its 19 field goal attempts the rest of the way and was out-rebounded 41-24 on the night. It heads into Wednesday's game at Virginia (4:30 p.m. ET, ACCN) on a three-game skid.
Here are some observations from the game.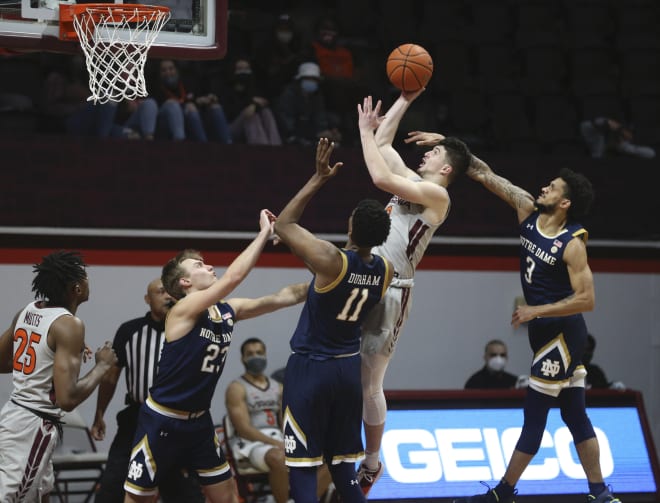 • In a familiar scene, Notre Dame had a long stretch where it was easy to guard and couldn't manufacture clean shots. In this case, it was stunted and unable to break through Virginia Tech's switch-everything defense and ball-screen traps up top. The decision-making — especially in the second half — was suspect. There were frequent passes over outstretched hands. Reckless drives into crowds. The Irish had seven turnovers in the final 20 minutes.
• The first half, though, was Notre Dame's best display of offense in its four ACC games. The Irish generated makeable looks with impressive frequency, averaging 1.35 points per possession. They had 10 assists on 16 made field goals, with only five turnovers. Even the misses were good chances.
• Junior forward Nate Laszewski, after topping 20 points in three straight games, ended with 17. Three of them were on field goals, while the other 11 came from the foul line. Virginia Tech's switching took away the pick-and-pop three-pointers he commonly fired in the last three games. In turn, Laszewski put the ball on the ground and attacked. He drew seven fouls, four of them on shot attempts. He scored 11 of Notre Dame's 21 second-half points. Without the three-point threat, though, his maximum impact was limited.

• Notre Dame started Nik Djogo in place of Dane Goodwin, giving the fifth-year senior wing his first start since Feb. 23, 2019. The stat line was modest, but reflects some impact. He had four points, four rebounds (three on offense), drew three fouls and blocked a shot.
• In his return to the lineup, junior guard Trey Wertz had three points in 17 minutes. He ended up missing only one game due to the ankle injury suffered against Virginia Dec. 30.
• The final numbers may not quite reflect it, but Notre Dame's defense on Virginia Tech sniper Jalen Cone allowed him to do plenty of damage. Too often, Irish defenders went under screens or lost track of one of the ACC's better shooting threats when he moved without the ball. He was 4 of 10 on three-pointers and finished with a team-high 18 points. Any time a good shooter takes 10 threes, it's usually a sign of subpar defense. Guard Prentiss Hubb also fouled him on a three-point attempt.

• Relative to most of its opponents, Notre Dame isn't philosophically concerned with rebounding. It doesn't send multiple players to the glass seeking second-chance shots. The Irish's minus-17 rebound margin, though, is the continuation of a season-long trend. After allowing Virginia Tech to rebound 45.7 percent of its misses, Notre Dame now ranks 266th in defensive rebounding rate. In four conference games, opponents have grabbed 37.1 percent of missed shots.
• No player represents the difference of halves better than Hubb. He was patient and picked his spots early, racking up six first-half assists against one turnover. From there, he was 2 of 10 with three turnovers, bogged down by iffy decisions. In the second half, he was 1 of 5 from three-point range and 1 of 5 inside the arc.